Annenberg and Cal State, San Bernardino Establish New Bicoastal Exchange Program
The inaugural CSUSB-Annenberg Pipeline Program took place this summer.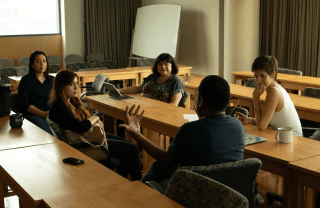 On an unseasonably hot day in June, Esperanza Martinez and Jocelin Monge, upcoming master's graduates in Communication Studies at California State University, San Bernardino (CSUSB) arrived in Philadelphia to experience life as doctoral students at the Annenberg School for Communication.
Martinez and Monge are the inaugural cohort of the CSUSB-Annenberg Pipeline Program, a new exchange in which Communication Studies graduate students from CSUSB spend a month at Penn and doctoral students from Annenberg teach at CSUSB. 
The aim is to develop a doctoral pipeline from CSUSB to Annenberg, and to give Annenberg doctoral students an opportunity to learn from teaching approaches at CSUSB. In the fall, Annenberg doctoral student Ryan Tsaptsaris will be at CSUSB for a month, teaching in the Communication Studies department.
Monge, a consultant at the CSUSB Speaking Center, is writing a thesis on media coverage of U.S. Representative Alexandria Ocasio-Cortez (D-NY) and other members of The Squad, especially focusing on Ocasio-Cortez's visual rhetoric. 
Her poster presentation — "'Yo sí soy Boricua, pa' que tú lo sepas': A Decolonial and Intersectional Rhetorical Media Analysis on Alexandria Ocasio-Cortez" — was awarded the best graduate poster presentation in the College of Arts and Letters at the CSUSB 2023 student research symposium.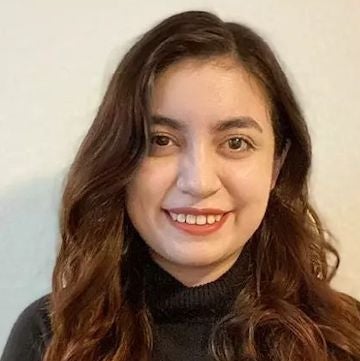 Martinez, who studies strategic communications and skills training in healthcare, is a strategic communications student assistant for the CSUSB's Extended Reality for Learning (xREAL) Lab, who worked on the Lab's Hispanic Heritage Month virtual experience, a VR tour of spaces on campus filled with exhibits featuring Hispanic architecture, clothing, artists, writers, designers, and even a DJ set.
Traveling with Martinez and Monge was Mihaela Popescu (Ph.D. '09), Annenberg alum and Professor of Communication Studies at CSUSB, director of the CSUSB xREAL Lab, and co-founder — with Annenberg's Murali Balaji — of the new CSUSB-Annenberg Pipeline Program.
The program began as a result of a conversation between Popescu and Balaji, who is an undergraduate lecturer and the graduate diversity advisor at Annenberg, about encouraging more students from Minority Serving Institutions to apply to Annenberg's doctoral program. CSUSB is one of the country's 451 Hispanic-Serving Institutions (HSIs).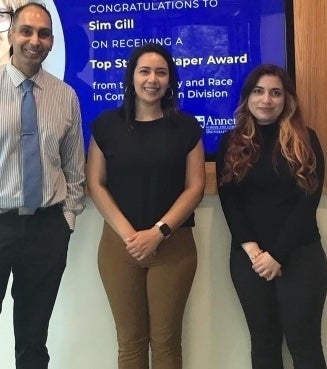 "There's a perception among students and faculty at many MSIs that certain schools are out of reach for even the best and brightest students," Balaji says. "But Annenberg is working to change that, and we are excited to see more admissions of students from MSIs and teaching-centric institutions."
"This program is personally meaningful on different levels," Popescu says. "I started my graduate program at Penn with no prior experience with the American education system. Annenberg became my guiding compass, transforming not just my life, but profoundly reshaping my perspective of the world."
Under the guidance of Popescu and Balaji, Martinez and Monge visited Annenberg's labs and centers, toured Philadelphia, met students and faculty, and saw what Penn has to offer.
One of students' early stops was the Annenberg Virtual Reality ColLABorative (VRCoLAB), which studies technologies such as virtual reality and augmented reality.
VRCoLAB Co-Directors Katerina Girginova and Kyle Cassidy, who have worked with Popescu on VR projects in the past, were thrilled to show Martinez and Monge the beginning stages of their new project: an exhibit of 3D photos taken by General Dwight Eisenhower in the 1940s.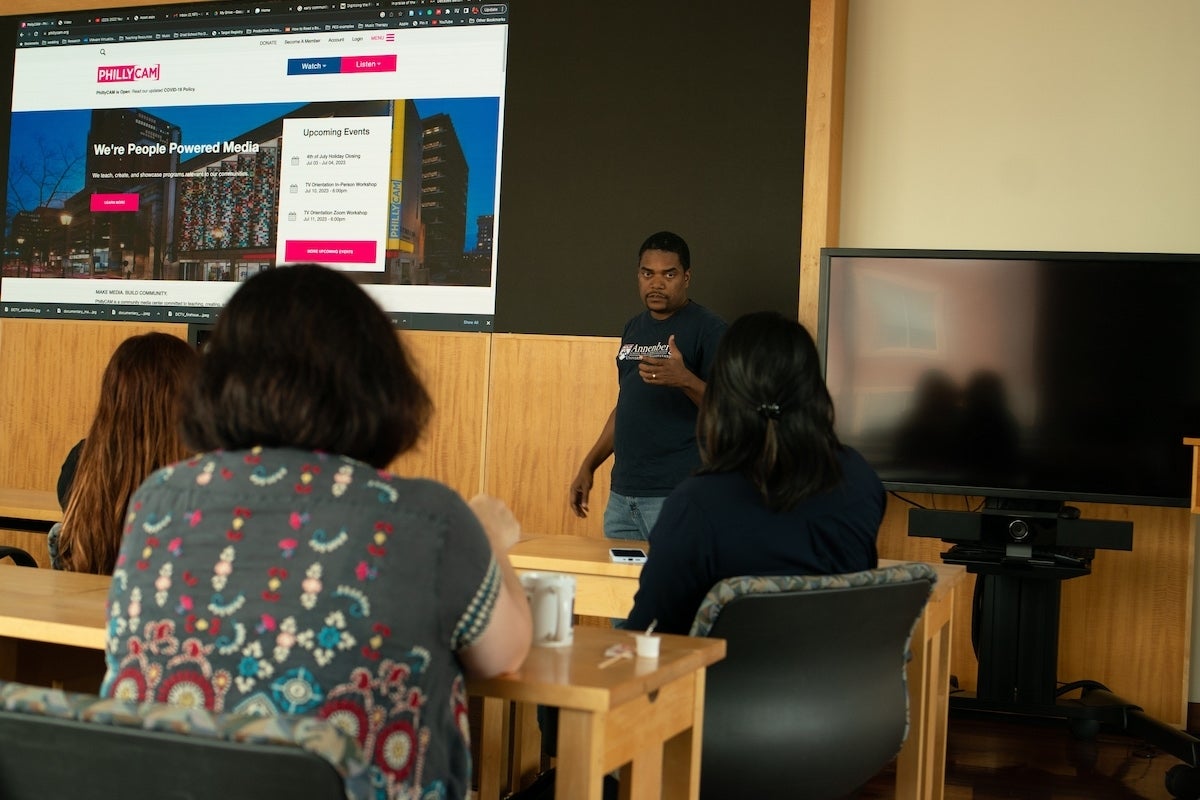 "One of our lab's functions is collaboration, so hosting the students was enticing purely from that aspect," Cassidy says. "We left all of the discussion about how we would create the exhibit until the students arrived and they were instrumental in deciding what directions the exhibit would go."
Popescu, Martinez and Monge also met with doctoral candidate Antoine Haywood, who is creating his own art installation with the lab.
Cassidy and Girginova plan to continue to work with Monge, Martinez, and Popescu on the Eisenhower exhibit and hope that they will return to Philadelphia for the opening.
"We've also invited them to hang out in VR, so at the very least, we'll get to talk to their avatars," Cassidy says.
The cohort had meals with current students, took a trip to the Penn Museum, visited Penn Nursing and the Children's Hospital of Philadelphia (CHOP), and met with interim Dean Delli Carpini.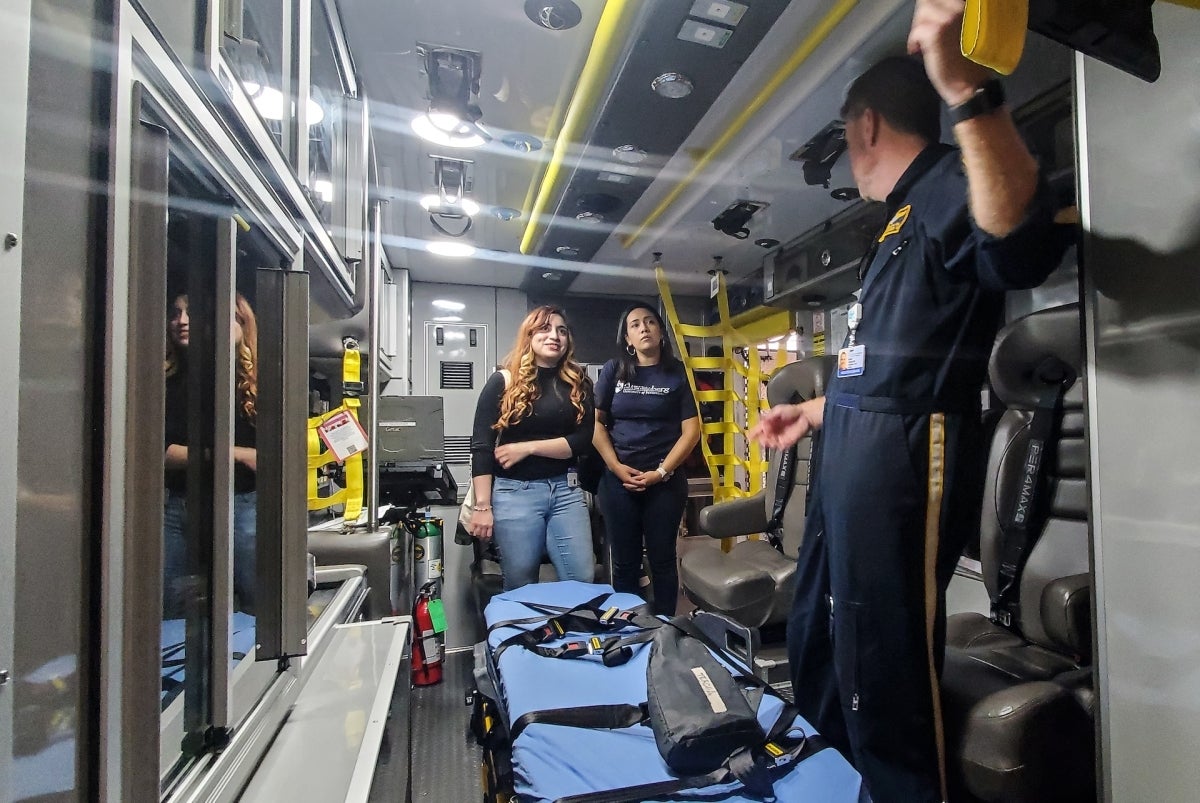 At SAFELab, a lab run by Professor Desmond Patton in conjunction with Penn's School for Social Policy and Practice, seasoned researchers opened up about academic life across the country (and globe). 
"I loved getting to walk around the campus and get a glimpse into student life at Annenberg and Penn," says Martinez.
Monge agrees. "My favorite part of the trip was definitely the luncheons with students and centers from Annenberg," she says. "These conversations felt genuine and authentic and now, I have new friends to visit in Philly when I return in the future."
Now back in San Bernardino, Martinez and Monge have reflected on her favorite part of their visit. 
"It's a tie between getting to meet with current doctoral students at Annenberg and visiting the various centers and labs which are a part of Annenberg," Martinez says. "Both aspects of the trip were incredibly informative about the research conducted at Annenberg and gave me an opportunity to build connections with those currently a part of the Annenberg community."
"Annenberg provided the essential connections, advice, and contacts needed for me to continue my path in applying for Ph.D. programs in the near future," Monge says. 
The CSUSB Pipeline Program was made possible by generous support from CSUSB Provost Rafik Mohamed.
"I know that both students received a message of hope and encouragement from every interaction they had at Annenberg, a message that is already significantly influencing their future scholarly paths,"  Popescu says. "I cannot wait to host Ryan in the fall and see how this program develops."