Annenberg Hosts 7th Annual Graduate Student Symposium
Each year, doctoral students present original research for feedback from faculty and peers.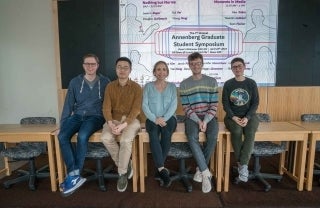 On April 26, Annenberg hosted its seventh annual Graduate Student Symposium. The event was organized by a student committee including Sean Fischer, Megan Genovese, Leeann Siegel, Alex Tolkin, and Tian Yang (pictured above). The day featured presentations by 16 doctoral students and candidates.
Panel 1 — Nothing But Norms

Leeann Siegel — "The Effects of E-cigarette and Tobacco-Related Descriptive Norm Information in Media on Young People's Normative Perceptions"
Rui Pei — "Developmental Trajectory of Peer Influence Effects on Adolescent Decision Making: A Cultural Perspective"
Douglas Guilbeault — "The Network Dynamics of Category Formation"
Yilang Peng — "Predicting Public Acceptance of Self-Driving Cars"
Panel 2 — Moments in Media

Alex Tolkin — "Kavanaugh and the Court: Institutional Legitimacy in the #MeToo Era"
Yasemin Y. Celikkol — "Visualizing Nationalism and Islam"
Sean Fischer — "Wall-E & Political Persuasion"
Virtual Reality Demonstration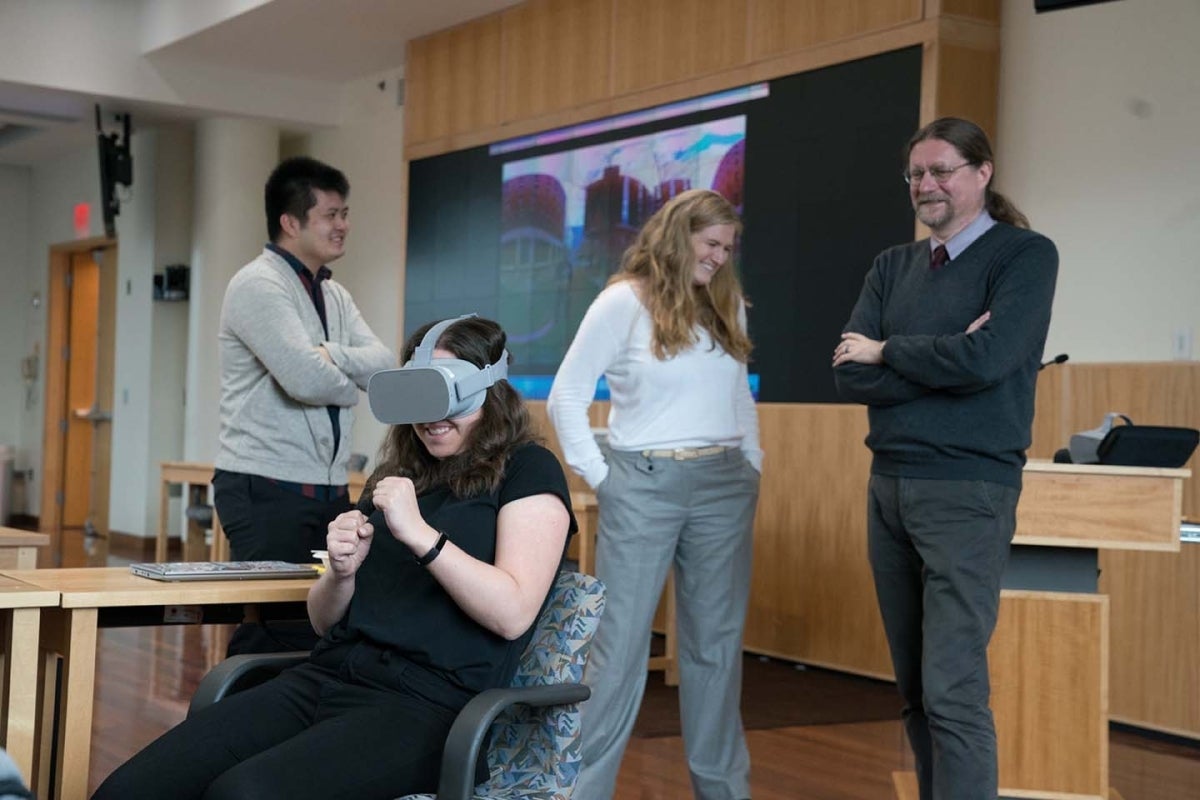 During lunch, Natalie Herbert and staff member Kyle Cassidy presented their work on providing Narcan training through virtual reality.
Panel 3 — Information Production and Producers

Jennifer R. Henrichsen — "Reconceptualizing Indigenous Journalism Through Information Poverty Theory"
Isabelle Langrock — "Digital Collaboration & the Production of Knowledge"
Megan Genovese — "'This Ship and Her History': Recursion in Franchise Narratives"
Brendan Mahoney — "The Presentation of Yelp in Everyday Life"
Panel 4 — Methods Madness

Soojong Kim — "Directionality of Information Flow and Echoes Without Chambers"
Jacob Parelman — "Brain Communities and Communications"
Tian Yang — "Niche News and Peripheral Fragmentation: A Network Percolation Approach to the Analysis of News Consumption"
Do Eon (Donna) Lee — "Partisanship or Culture?: The Effects of Information Variety and Volume on Trust"