Annenberg Hosts Annual Graduate Student Symposium
Each year, doctoral students present original research for feedback from faculty and peers.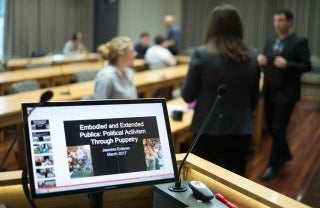 On March 31, Annenberg hosted its fifth annual Graduate Student Symposium. The event was organized by a student committee including Natalie Herbert, Danny Kim, Yotam Ophir, Christin Scholz, Allyson Volinsky, and Celeste Wagner. The day featured 16 presentations by 20 doctoral students and candidates.
Panel 1: More Than Just Entertainment

Jasmine Erdener — "Embodied and Extended Publics: Political Activism through Puppetry"
Elissa Krazler — "Teens and the 'Social Self': Neural Responses to Anti-Smoking Messages are Associated with Perceived Effectiveness and Intentions to Share"
Lee McGuigan — "Selling Jennifer Aniston's Sweater: The Persistence of Shoppability in Framing Television's Future"
John Vilanova and Natalie Herbert — "Not 'Simply the Best?': Querying Quantifying Discrimination at the Grammy Awards"
Panel 2: A Person, The People, and Their Politics

Joshua Becker — "The Network Dynamics of Social Influence in the Wisdom of Crowds"
Eunji Kim and Jin Woo Kim — "First-Time Presidential Voting and Political Trust"
Hye-Yon Lee — "The Impact of Electoral Victory and Loss on Partisan Social Identity"
Subhayan Mukerjee — "Are Audiences Fragmented in How They Consume News Online? An Analysis of Web Browsing Behavior During Two Salient Political Events in the U.K."
Panel 3: Spreading Information and Emotion

Soojong Kim — "Emergence and Stability of Status Hierarchy"
Yilang Peng — "Aggregate Emotional Display of Presidential Candidates Across Online Media Outlets"
Christin Scholz and Elisa Baek — "A Neural Propagation System: Neurocognitive and Preference Synchrony in Information Sharers and Their Receivers"
Jazmyne Sutton — "Investigating the Persuasive Features of Tobacco Warning Labels"
Panel 4: Preserving What Matters

Elisabetta Ferrari — "Fighting 'The Man's Technology': Visions of Technology in the Underground Press of the American Counterculture (1964-1974)"
Helene Langlamet — "Can Digital Technologies Create a Stronger Model for Democratic Participation?"
David Larochelle — "Exclusion from the Networked Public Sphere"
Yotam Ophir and Dror Walter — "The Elephant and the Bird: Republican Candidates' Strategy and Issue Framing on Twitter during the 2016 Republican Presidential Primaries"