Annenberg Hosts Sixth Annual Graduate Student Symposium
Each year, doctoral students present original research for feedback from faculty and peers.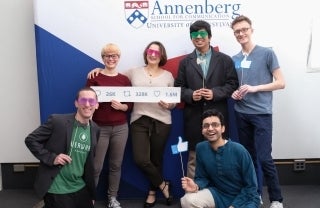 On April 13, Annenberg hosted its sixth annual Graduate Student Symposium. The event was organized by a student committee including Joshua Becker, Sean Fischer, Megan Genovese, Nour Halabi, Subhayan Mukerjee, and Prateekshit Pandey. The day featured presentations by 18 doctoral students and candidates.
Panel 1 — How to Win Trends and Influence People: Messaging and Its Effects
Joshua Becker — "Can Individuals Benefit from the Wisdom of Crowds"
Celeste M. Wagner — "Effect of Sex of Source on Perceived Severity of Sexual Harassment"
Prateekshit Pandey — "Social Influences on Health Message Receptivity: How Physical Activity across Social Network Changes Neural Receptivity to Health Messages"
Leeann Siegel — "Framing an Epidemic: Impacts of Episodic Framing and Exemplar Characteristic in Opioid Epidemic News Articles on Attributions of Responsibility and Policy Support"
Panel 2 — Group Project: Networks of Knowledge and Communication

Sijia Yang — "Fostering Health Discussions Online: Persuasive Messaging, Virtual Networking, and Causal Inference"
Douglas Guilbeault — "The Network Dynamics of Category Emergence"
Opeyemi Akanbi — "Resisting the Cloud"
Alvin Zhou — "Twitter Character Limit Change Increases Incivility of Political Talks"
Panel 3 — Inescapable: The Politics of Everyday Life and Leisure

Sean Fischer — "Hollywood's Political Space"
Yasemin Y. Celikkol — "It's All Good with Food: Communist Bulgaria's Quest of Cleansing of All Vestiges of Turkishness...Except the Food"
Heather Jaber — "(De)Constructing the Global: The Ephemeral Queer Arab and the Globalization of Mashrou Leila"
Eunji Kim — "Entertaining Belief in Economic Mobility"
Elisabetta Ferrari — "Mundane Modernity: How the Hungarian Internet Tax Protests Imagined the Internet"
Panel 4 — All That's Fit to Print: Dynamics of Writing and Reading the News

Yilang Peng — "Mapping and Explaining the Gender Gap in Consuming Science News: Findings from WeChat"
Jennifer R. Henrichsen — "Breaking Through the Ambivalence: Behind Journalistic Motivations and Barriers to Adopt Digital Security Technologies"
Do Eon Lee — "What You Read and See: The Influence of Incongruently Valenced Text and Images in Political News on Readers' Attitudinal Response and Intent to Vote"
Subhayan Mukerjee — "Online Audiences and the Political Cycle"
Lauren Bridges — "Hacking the News: Constructing Murdoch's Professional and the Entrepreneurial Ethic"