Annenberg Presentations at NCA 2020
We've compiled a helpful list of all presentations being given by Annenberg authors.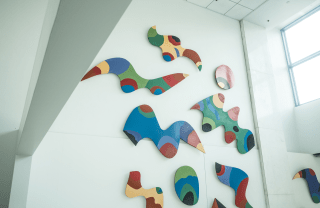 Ten faculty, students and postdoctoral fellows will present research at the National Communication Association's 2020 Annual Convention, to be held virtually. View the convention guide for more information on how to attend sessions.
All Annenberg contributions to the conference are listed below, including both panel name and presentation title. For group presentations, the first author listed is the designated presenter, except where otherwise noted. Non-Annenberg authors have been omitted from this list, except when they are designated presenters, but are available in the full conference program. Alumni are only listed when they are co-authors on faculty or student presentations.
Thursday, November 19
12:30-1:45pm
Data Blitz
Allyson Volinsky (Ph.D. '19) and Robert C. Hornik — "Selecting Health Communication Campaign Message Topics: Evidence of Potential Spillover Effects"
Friday, November 20
9:30-10:45am
Top Papers Session
Arlene C. Fernández — ""Black Like This": Afro-Latinx Performance and Mediated Boundaries of Blackness"
Visual Online Discourse and Photographic Representations
Jeanna Sybert — "Journalism as a Memeplex: Understanding Identity, Practice, and Public Opinion of the U.S. Press through Internet Memes"
11:00am-12:15pm
Digital Media Use and Effects
Alvin Zhou — "Bridging Inter-Movement Networks: A Structural Analysis of Movement Spillover"
3:30-4:45pm
Team Communication Research in the Age of Artificial Intelligence
Nina Lauharatanahirun — Presenter
Saturday, November 21
11:00am-12:15pm
Top Student Papers in Philosophy of Communication
Lauren Bridges — "Recursive Warfare: Securitization, Dutification, and (De)Militarization of the Artificially Intelligent Cloud"
Sunday, November 22
8:00-9:15am
Blurred Lines: Fake News, Hybrid Media Systems, and the Convergence of News and Entertainment
Shengchun Huang and Tian Yang — "No Trade-offs between Online News and Entertainment Consumption"
Yilang Peng (Ph.D. '19) and Tian Yang — "An Anatomy of News Consumption Networks: How Individual Characteristics Differentially Contribute to Audience Fragmentation"
It's All about the Messages: Features of, Reactions to, and Considerations for Health Message Design
Kwanho Ko (presented by YoungJu Shin) — "Interpersonal Communication about Suicide, Perceived Social Support, and Suicidal Intention in Korean Adults"
9:30-10:45am
Critical Studies of Television at the Crossroads
María Celeste Wagner — "Affect, Curiosity, and Positionality in Context: Watching Television Entertainment in Argentina and the United States"