The Annenberg School Welcomes 6 New Visiting Scholars and Postdoctoral Fellows
From filmmaking to civic leadership to neuroscience, these scholars' work spans the field of Communication.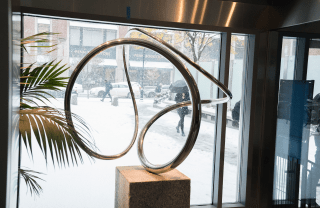 As the Spring 2020 semester begins, the Annenberg School for Communication and our various research centers welcome four new visiting scholars and one new postdoctoral fellow. These scholars will research alongside and collaborate with Annenberg faculty, staff, and students for anywhere from one semester to several years. 
Visiting Scholars
Annenberg School
Senior fellow at Penn GSE, Amitanshu Das has produced broadcast documentaries, filmmaking courses, and workshops which all focus on the demystification and democratization of media technology and film-crafts.
Maori Karmael Holmes is a filmmaker, graphic designer, and the director and founder of BlackStar Film Festival. Her work has been internationally screened.
Former President & CEO of the NAACP, Ben Jealous is an American civic leader and journalist. He is interested in the nexus of social change, media, and emerging technologies.
Hannah Werner is a Ph.D. candidate in political science at the University of Amsterdam and the KU Leuven interested in political psychology and political behavior.
Center for Advanced Research in Global Communication (CARGC)
Annemarie Iddins, Ph.D., Assistant Professor in the Department of Communication at Fairfield University, studies transnational media industries and cultural politics in the Maghreb and its diaspora.
Postdoctoral Fellows
Communication Neuroscience Lab
A recent graduate of the University of Oregon, Danielle Cosme, Ph.D. is interested in using neuroscience to design and evaluate translational interventions that facilitate health behavior change.
Silvio Waisbord, who was introduced in our Fall 2019 story, joined the Center for Media at Risk as a visiting scholar in January.