Ben Jealous has spent his professional life at the nexus of social change, media, and emerging technologies.
He is currently the President of the People for the American Way, former National President & CEO of the NAACP, former Executive Director of the National Newspaper Publisher's Association (NNPA), and for more than half a decade has been investing in social impact startups.
While at the NAACP, Jealous led a series of wholesale changes in how the organization used social media and related technologies to enhance its organizing. His efforts started with proving the efficacy of online viral voter registration drives in the 2008 Presidential Election. The NAACP's numbers of online activists really took off when Jealous began using their platforms to organize support for individuals fighting injustices in the criminal justice system. The last such campaign he led for the NAACP signed up more than 600,000 new activists on email and approximately 400,000 via text in less than two weeks. These efforts have also been credited by a major polling firm with shifting public opinion and paving the way for landmark civil rights state legislative victories.
Like his mentor Julian Bond, Jealous' leadership in Civil Rights has been enhanced by his training as a journalist. He cut his teeth in 1994 as an investigative reporter at Mississippi's Jackson Advocate newspaper. It was frontline journalism. The black community weekly was firebombed four times and shot up once between 1980 and 1998. In the midst of that, Jealous quickly saw that technological change was the true existential threat to the paper and its mission.
Throughout the past quarter century, Jealous has actively wrestled with how to best serve grassroots communities' need for local news in a rapidly changing technological landscape. In the mid 1990s, he was managing editor of the Jackson Advocate when they digitized its production. In 2000, while leading the NNPA, he developed a platform that allowed dozens of Black community newspapers to publish online and exchange content. While at the NAACP, he served on the Knight Foundation/Aspen Institute Commission on the Information Needs of Communities in a Democracy. Today, he advises Citizen, an app that provides 911 alerts in real time and allows its users who are on location to broadcast what they are seeing.
A former Rhodes Scholar, Jealous is a graduate of Columbia University and Oxford University. He is a former Visiting Professor at Princeton University's Woodrow Wilson School where he taught social entrepreneurship. He is currently co-teaching social innovation at Penn's School of Social Policy and Practice. He is co-editor of the national-bestseller Reach: 40 Black Men Speak of Living, Leading and Succeeding (Atria Books, 2015), and his next book is due out in 2021.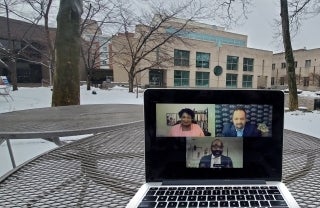 News
The Georgia politician sat down with Ben Jealous to discuss topics from gerrymandering to romance novels in a virtual discussion.