Annenberg Welcomes 18 New Visiting Scholars and Postdoctoral Fellows
From children's media to hacktivism to live cultural production, these scholars' work spans the field of Communication.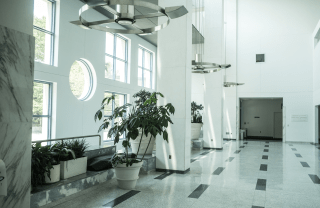 This semester, the Annenberg School for Communication, the Annenberg Public Policy Center, and other Annenberg research centers are welcoming 13 new visiting scholars and five new postdoctoral fellows. These visiting scholars and postdoctoral fellows will spend anywhere from one semester to several years researching and collaborating with Annenberg faculty, staff, and students.
Visiting Scholars
Annenberg School
Howard Blumenthal, best known as the creator and producer of the PBS series Where in the World is Carmen Sandiego?, is the author of 25 books. He has a long history as a media executive and is currently working at a public media company in the Northeast.
Hong Chen, Ph.D., is a professor and associate dean at the Communication School at East China Normal University. She researches new media and society, public opinion, global communication, and crisis communication, and she has published several academic monographs and dozens of academic articles.
A Ph.D. candidate at Renmin University of China, Hui Fang studies sociology of knowledge, intellectual history, and cultural studies. She is currently the editor of Chinese Journal of Journalism & Communication.
Martyna Gliniecka is a doctoral student at the University of Wroclaw in Poland, where she is also a lecturer in the Journalism and Social Communication department.
A doctoral student at Higher School of Economics (HSE) in Russia, Nikita Savin researches deliberative democracy and public opinion. He is a senior lecturer at the Department of Integrated Communications at HSE.
Yu Weili, Ph.D., has 23 years of experience at China Central Television (CCTV) as a reporter, editor, and producer. She is currently a deputy director at CCTV.
Junfang Zhang, Ph.D., is a professor at Shanghai International Studies University. A Fulbright scholar, she will focus on analyzing the content and evolutionary trajectory of the public discourse on cybersecurity in China and the U.S. during her time at Annenberg.
A Ph.D. candidate at Zhejiang University of China, Ying Zhou studies cinema and cultural and creative industries. Her research is focused on Huallywood cinema studies from the perspective of media geography.

Des Freedman, Ph.D., is Professor of Media and Communication Studies at Goldsmiths, University of London. His research centers on the relationship between media and power together with the political and economic contexts of media policymaking, regulation, and reform.
A scholar, artist, and activist, E. Patrick Johnson, Ph.D., is the Carlos Montezuma Professor of Performance Studies and African American Studies, chair of the department of African American Studies, and the founder and director of the Black Arts Initiative at Northwestern University.
Marin Allen, Ph.D., is the former Deputy Associate Director for Communications and Public Liaison and the Director of the Public Information Office at the National Institutes of Health. While a visiting scholar at APPC, she will also serve as a lecturer in the undergraduate program at Annenberg.
A doctoral candidate at Koç University in Turkey, Bülay Doğan is interested in digital activism, particularly hacktivism. She primarily focuses on the interaction of social movements and ideology with science and technology.
Peace and Conflict Neuroscience Lab
Michael Niconchuk is a Senior Researcher with Beyond Conflict's Innovation Lab for Neuroscience and Social Conflict. His research focuses on the embodied implications of forced displacement and migration.

Postdoctoral Fellows
George Gerbner Postdoctoral Fellowship
A 2017 graduate of the Annenberg School, Andrew Daniller, Ph.D., researches the role of media in shaping citizens' trust of democratic institutions and processes. His dissertation demonstrates that exposure to like-minded partisan media exacerbates the distrust of the electoral process.
Rayya El Zein, Ph.D., is interested in processes of live cultural production, popular culture and media, and audiences in urban Arab contexts and diasporas. Her research examines the political economy of consumption and leisure as an important part of the politics of reception and spectatorship.
A scholar of development, international relations, feminist theory, and communication, Samira Rajabi, Ph.D., researches international communication, trans-national boundaries, and the way culture has consequences for social systems and movements.
Tobacco Center of Regulatory Science (TCORS)
Jennifer Morgan, M.P.H., Ph.D., studies media campaigns, message design, and persuasive communication and explores how health communication strategies and interventions can prevent and control cancer.
Annenberg Public Policy Center (APPC)
A former Fulbright scholar at Harvard University, Ivy N. Defoe, Ph.D., studies policy-relevant questions concerning adolescent risk behaviors.

Media Contact
Michael Rozansky
(215) 746-0202
michael.rozansky@appc.upenn.edu