Marin Allen Joins Annenberg as Lecturer and APPC Visiting Scholar
Allen is interested in the definitions of health and disease and the images used to represent them.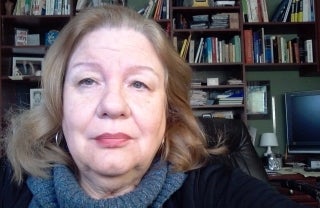 Marin P. Allen, a former top communications official at the National Institutes of Health (NIH), has joined the Annenberg Public Policy Center for the 2017-18 academic year as a visiting scholar and is teaching a new course this semester at the Annenberg School for Communication.
Communicating about health is increasingly challenging, says Allen, in a time when communicators must deal simultaneously with audience generated content, industry generated algorithms, and a culture rife with deniers and factoids. Her undergraduate course, entitled "Communicating About Health: Strategic Communication in the New Media Environment," examines the uses and misuses of strategic communication across a wide variety of health messages, audiences, and purposes. It explores new approaches to audience segmentation, message design, and delivery systems within the health messaging arena.
Speaking more broadly about her research interests, Allen said she's "looking at issues surrounding visualization of health and disease, and definitions of health and disease," including the ways in which health warnings rely on visual symbols and colors to convey messages.
"We have sort of a standard library of iconography that may or may not work across cultures, and doesn't work in various settings," Allen said. "And I think we need to take the same kind of steps to carefully consider the visualization of health and disease issues as we do with the rhetoric or language of these messages. That's something I've had a lifelong interest in."
Images commonly used in the United States don't mean the same thing to different international audiences, she said, while graphics and warnings that rely on red and green colors to convey important information will not be effective with the part of the population that has a relatively common form of colorblindness.
Allen added that the idea of health communication has evolved in a natural way over the last few decades. What once was seen as taking place in one direction — coming from the physician or medical practitioner — has become a much more complex process that requires the engagement and involvement of different audiences and the support of various communication systems.
"There have to be systems in place that work, and work across cultures," Allen said. "The range of understanding that people have of something — from an icon or a logo to an illustration or to a cartoon — it's really interesting how much that communicates to people about your concern for them, and their seriousness. I'd like to see more work done in the arena of which imagery really works."
Allen said her research and teaching will examine the ways that health literacy, health education, and health communication "have to work together, because they come from different perspectives and literatures." She is co-author of a discussion paper on the subject that was published in July by the National Academy of Medicine.
Allen is the former Deputy Associate Director for the Office of Communications and Public Liaison (OCPL) and Director of the Public Information Office in OCPL in the Office of the Director of the National Institutes of Health. OCPL is responsible for all phases of internal and external strategic communication and is a focal point for health and science writing and health literacy for NIH.
Allen has 30 years of communications, public health education, outreach, and media-relations experience. She was previously a full tenured professor and Chair of the Department of Television, Film and Photography in the School of Communication at Gallaudet University. She also has two Emmy awards as a producer of programs that aired on the Discovery Channel and PBS.
Media Contact
Michael Rozansky
(215) 746-0202
michael.rozansky@appc.upenn.edu