Ashley Parker (C'05) Delivers 2018 Annenberg Graduation Speech
Parker reflected on her time at Annenberg and offered advice to graduates.
On May 13, Ashley R. Parker (C'05), White House reporter for the Washington Post, delivered the 2018 commencement address for Annnenberg's Communication Major Graduation Ceremony. Parker's Communication major set the stage for an impressive journalism career: She has covered Congress, the White House, and the presidential campaigns of Mitt Romney, Jeb Bush, and Donald Trump. Click here to read more about Parker.
The text of the speech follows:
Dean Delli Carpini, Kathleen Hall Jamieson, proud parents, antsy siblings, Annenberg Class of 2018 and everyone else — congratulations!
Now, I have a confession: I walked across this same stage a mere 13 years ago, and I remember exactly nothing about it. I can't name the commencement speaker, or what he or she said.
I do remember being painfully, impossibly hungover. I was also in a fight with my dad, because he had said something embarrassing in front of my boyfriend — who, by the way, is now married with two kids. To someone else. So, things change.
And my only vivid memory is of just wanting the whole ceremony to… be over, so I could go get a Bui's breakfast sandwich (bacon, egg and cheese, and obviously Sriracha) and a blue Gatorade and collapse back on my couch and try to avoid thinking about the future. 
So my first message is: I hear you. I will try to be brief.
But I am also incredibly honored to be asked to speak at Annenberg's graduation this year, because for me, Penn — and especially this little sliver of it — helped prepare me for life outside of Locust Walk and West Philadelphia.
And now, you've done it. You've written the papers, and taken the tests, and pulled the all-nighters in Van Pelt, and showed up for 9 a.m. class after closing down Smoke's, and helped your family score those hard-to-get Stephen Starr reservations. And whether you know it or not, just by graduating from Penn and Annenberg, you already have the skills and the power to navigate the next 15 years of your life.
Also, let's be honest: Those Intro to Comms classes often felt like giant sorority chapter meetings. So even just managing the social dynamics here at Penn has steeled you for the real world. Trust me. 
And then there are the actual classes we all took, where you're now leaving with the most valuable skills of all — the ability to write and think and communicate, clearly and forcefully.  And, if you're like me, maybe even with some sources.
Kathleen Hall Jamieson — whose classes I always looked forward to, even though they were Friday afternoons, at the worst possible time — is now the go-to expert I call whenever I need a smart analysis on something a politician has said.
Jon Huntsman once helped me with an article after I cold-called him and introduced myself by saying: "Before you hang up on me, I just wanted to say I went to Penn and I really, really, really enjoyed studying in your hall."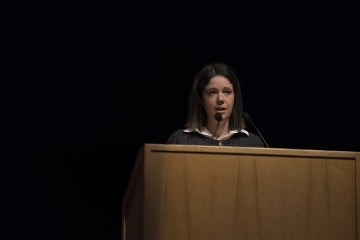 So, those Penn connections can come in handy in unexpected ways.
Which brings me to the actual gist of my speech. I had no idea what to expect when I graduated from college. I imagined writing Gay Talese-style New Yorker profiles. Instead, I've basically spent the past decade living in rundown Courtyard Marriotts in place like Dubuque, Iowa and Reno, Nevada, writing daily newspaper stories under crushing deadline.
Now, I set my alarm for 6 a.m., 6:15 a.m., 6:30 a.m., and 6:45 a.m. so I can be awake when the president starts tweeting. And I wouldn't want it any other way. Except, you know, maybe less tweets.
Most of you probably don't know what to expect, either. And that's totally fine, and normal. The next ten years will be so much more exciting and exhilarating — and so much more devastating — than you can possibly imagine.
So here are some pieces of advice that have served me well, or that I wish someone had told me but never did — like, for instance, don't try to have sex under the Button.
Anyhow, my first job out of Penn was as a research assistant for New York Times columnist Maureen Dowd, who was an amazing boss and still is an amazing mentor. But as fantastic as my experience was, here's a brief bonus bit of advice: Do not be an entry-level assistant for five years. Seriously, don't do it.
We recently had lunch so she could help me puzzle together this speech. And we talked about how as a journalist, your adrenaline-filled days are also often someone else's worst days. The sorts of things that make the front page of the paper or get all the clicks on Twitter are also the tragedies, the most trying and difficult moments in someone's else life.
A school shooting.
A terrorist attack.
A town ravaged by heroin.
So at the very least, just try to go into every situation with a modicum of compassion. It is worth remembering that everyone — literally everyone — is dealing with something and is just as bored or frustrated or terrified or anxious or depressed or annoyed as you are.
Life is not a zero sum game, not at all, but it's messy and complicated and maddening.
So, in short, don't be a jerk. That is my first key piece of advice. Try, for as much as possible, to be a basically decent human being.
Here's another example that is, to be clear, far, far, far more trivial and also more personal. I cover the White House for the Washington Post. My fiancé, Mike, covers the White House for the Wall Street Journal.
Normally, there's enough news to go around. But occasionally, our jobs put us in direct competition. Like, two months ago, when we were both chasing the exact same story — that the White House was preparing to fire then Secretary of State Rex Tillerson.
I got home from work, walked in the door, and told Mike: "I need to make some works calls tonight."
He looked back and me and said: "I also need to make some work calls tonight."
I claimed the kitchen table, Mike claimed the upstairs desk, and the two of us spent our night not speaking, frantically calling sources. The next morning, I rolled over around 5: 30 a.m. and discovered, to my horror, that Mike was no longer in bed. Somehow, he was already awake and still reporting. So I scrambled out of bed, too, and around 7 a.m. — a full two hours earlier than I'm usually up and mobilized — I headed out the door.
"Bye, I love you," I called.
"Bye, I love you too," he said, before eyeing me suspiciously and adding, "BUT why are you heading into work so early?"
After my colleagues and I had finally confirmed the story — that Tillerson was, in fact, about to be fired by Tweet — and were just writing it up, we found out we were about to be scooped.
"By who?" I demanded.
"Well, this is awkward, but by your fiancé," came the reply.
Graduate, I scooped him. By about three minutes.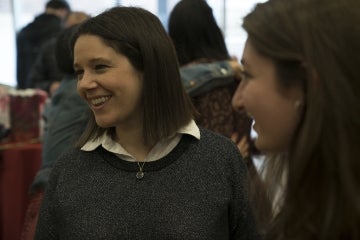 But the situation just as easy could have been reversed. And as much as I wanted to gloat, the first thing I did was call him— not to rub it in, but to make sure he was okay. And instead of being angry or sullen, he was proud, and said if the scoop wasn't his, he was happy it was mine. 
So, if my first piece of advice is the general clarion call of humanity, my second and final piece of advice is: Don't be an entitled jerk.
But first, some brief backstory.
One of the benefits of being a Comms major is that no matter what you end up doing with your degree, you're likely to encounter people who are cooler, smarter, more interesting, bigger, faster, stronger, taller than you… So as soon as I was asked to deliver this year's Annenberg commencement, I began culling some life tidbits from some the people I've been lucky enough to meet through my personal and professional travels.
Lots of people had lots of good advice. I don't have time to share it all. But one through-line emerged, from person after person after person.
From Alison Williams, one of the stars of HBO's "Girls," on the importance of just absolutely crushing it in any first job, even if it's not all you dreamed it would be: "If you're making somebody's coffee, make it more quickly and exactly as they like it. Hustle. Be indispensable. Older generations like to make fun of our work ethic — let's prove them wrong."
From Audrey Gelman, the founder of The Wing, a female-only work space and social club: "Be the first in each morning and the last out at night. Millennials and Generation Z get a bad rap for their work ethic (or lack thereof), so prove them wrong. Managers always note who has arrived in the office before they have, and who doesn't head for the door the second the clock chimes six."
And from all the guys at Pod Save America: "Don't think you're above menial crap."
And it's true. You're graduating today from Penn, one of the best schools in the country, with a degree in Communications, and possibly even a second or third major. You have reason to be proud and confident and eager to take on the world. And you should.
But use that confidence to also be humble and hard-working. Earn the respect you think you deserve.
I know this makes me sound like the impossibly old person at the party — the one who wants to remind you that back when I started at Penn, Fresh Grocer didn't even exist — but I have been a lowly assistant, and I have worked with other lowly assistants. And I am always stunned at how many scoff at doing the basic grunt work of being a young person in the work force, and how those who do always say yes — yes to working weekends, yes to staying late, yes to making those Xerox copies that you probably didn't need a $150,000 degree to collate — are also always the ones who manage to get ahead.
Here is a wildly abbreviated list of some of the things I have done in my thirteen years as a professional journalist:
I have booked my boss and I non-refundable, non-changeable flights to Paris for the wrong date, and then led us to the wrong airport to catch our flight that had, in fact, departed three days prior. And then I've scrambled to fix it.
I have gotten a call from an editor close to midnight, telling me to hop on the first flight out to Tulsa, Oklahoma the next morning at 5 a.m. And I have done it.
I have stood for nine straight hours on a windy street corner in frigid temperatures, staking out the home of a government official without breaking for food, water or even to use the bathroom.
And I have served drinks, cocktail style, to my colleagues at a party where the editors were too cheap to hire wait-staff and instead asked all of the young female news assistants to do it. (This one, in retrospect, I wish I had declined, since it was actually a highly sexist request).
And on and on and on.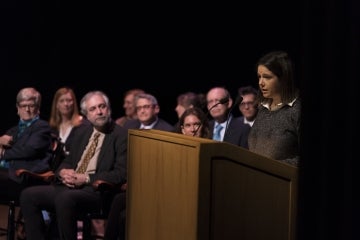 I'd like to think I'm smart, and a good writer and a tenacious reporter, and maybe on my best days I am some combination of those things. But really, I'm a hard worker…which isn't sexy or glamorous and even always all that fun. But how hard I work is the one thing I can always control — and more importantly, the one thing you can always control — and just being the person who always says yes without complaining is also how I managed to stand out for opportunities in a city full of talented writers and reporters.
It also meant that whenever I got a shot, I was prepared. And even when I wasn't sure I could handle the assignment, or the deadline, or the pressure, I was certain of one thing — that I could work hard enough to compensate for any other deficiencies — and that gave me the confidence to take risks.
Like saying yes to a commencement address where I really had no obvious advice to impart.
So, in sum: Be willing to say yes. Work hard. Pay your dues. And also just be a generally good person. And with that, I look forward to one day writing about all the exciting things you will do, and congratulations to the Annenberg Class of 2018!