The Center for Advanced Research in Global Communication Welcomes Four New Postdoctoral Fellows
Yakein Abdelmagid, Clovis Bergère, Stanislav Budnitsky, and Giang Nyugen-Thu join CARGC this month.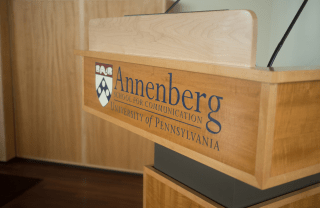 Marwan M. Kraidy, Anthony Shadid Chair in Global Media, Politics & Culture and Director of the Center for Advanced Research in Global Communication (CARGC), says "Fellows are the core of CARGC." That core is expanding as CARGC welcomes four new postdoctoral fellows this month: Yakein Abdelmagid, Clovis Bergère, Stanislav Budnitsky, and Giang Nyugen-Thu.
Yakein Abdelmagid recently received his Ph.D. in Cultural Anthropology from Duke University. He is interested in digital creative industries in the Arab world, focusing on ways in which both the crisis of authoritarianism and the persistence of authoritarianism are visible. His research examines cultural production and media industries that cannot be contained by the state.
During his CARGC fellowship, Abdelmagid will investigate the relationship between state-sponsored neoliberal entrepreneurship and publics created beyond the reach of the state. He aims to employ bottom-up media theory and ethnographic methods to his research.
Clovis Bergére, a visual ethnographer, is a recent graduate of the doctoral program in Childhood Studies at Rutgers University Camden, where he has been an instructor for several years. During the Spring 2018 semester, he taught COMM 325: Global Youth Media to Annenberg undergraduate students.
Bergére's research examines the politics of youth in relation to digital media in Guinea. Previous research projects have used digital ethnography and participatory visual research to examine the ways in which social media, youth, and politics intersect in the public sphere.
Stanislav Budnitsky is a 2018 graduate of the School of Journalism and Communication at Carleton University in Ottawa. His research investigates how national identity relates to the politics and governance of digital technologies. This "digital nationalism" includes both domestic policy and international agenda.
His work at CARGC will build on his dissertation research, examining Russia's media and internet governance over the last two and a half decades. This work traces the trajectory of Russia's changing national identity and the history of its relationship to media and the internet.
Having recently received her Ph.D. from the University of Queensland, Giang Nguyen-Thu is a scholar of media studies. Her past work focused on the relationship between Vietnamese television and national belonging, and her first book Television in Post-Reform Vietnam: Nation, Media, Market is forthcoming later this year.
While at CARGC, Nguyen-Thu will investigate the emotional politics of social media in Vietnam. She is interested in how Vietnamese mothers are using Facebook to express their feeling of economic precarity, as it relates to the health and education of their children. She aims to contrast this with the male dominated mass media landscape.
For more information about CARGC, please contact Marina Krikorian.