Clark-Parsons and Stonecipher Win James D. Woods Award
The award recognizes Annenberg graduate students for outstanding teaching.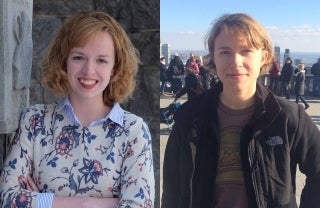 Doctoral Candidate Rosemary Clark-Parsons and Doctoral Student Rachel N. Stonecipher received the James D. Woods Award at the 2017 Annenberg Graduation Ceremony. Given in memory of Annenberg graduate student James D. Woods, the award is granted to an outstanding graduate teaching assistant.
Clark-Parsons was nominated for her work as a teaching assistant in Professor Amy Jordan's class COMM 125: Introduction to Communication Behavior.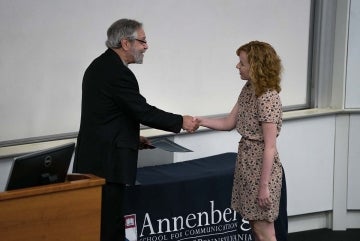 "Rosie's teamwork, openness, and commitment to being fully engaged has earned her my very highest regards," said Jordan, Associate Dean for Undergraduate Studies. "She has been a gift to the undergraduate program at Annenberg, and one day she will be a gift to her own students."
Students in COMM 125 praised Clark-Parsons for being great at answering questions, encouraging them to help one another with the material, and being willing to help with anything they needed.
Clark-Parsons studies the dynamic relationship between contemporary feminist social movements and media in the United States, focusing specifically on popular media's appropriation of feminist rhetoric, digitally mediated feminist activism, and the do-it-yourself media tactics of grassroots feminist collectives in Philadelphia. She is also a student organizer for the Media Activism Research Collective, led by her advisor, Professor Guobin Yang.
Stonecipher was nominated for her work as a teaching assistant in Professor Sharrona Pearl's class COMM 470: Freaks and Geeks: Outsiders on Display.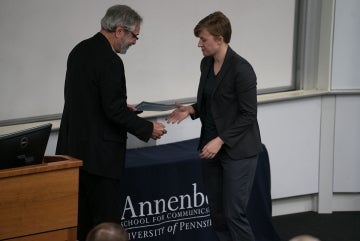 "Rachel kept the students engaged, enthusiastic, and prepared," said Pearl, Assistant Professor of Communication and Stonecipher's advisor. "She took the complicated material and broke it down with the students but did not do the work for them, instead helping them struggle with the ideas on their own terms."
The students in the course connected to Stonecipher both personally and intellectually, and she was highly accessible to them, meeting regularly both during and outside scheduled office hours.
This is the second year Stonecipher has served as a teaching assistant in COMM 470. Last year, she won a Penn teaching assistant prize for her efforts.
Stonecipher's work explores comparative ontologies and political theories of lesbian/queer womanhood, drawing upon black lesbian feminism, trans studies, and black queer studies.