Jordan Joins Sesame Workshop Board of Trustees
Jordan is a leading scholar of children and media.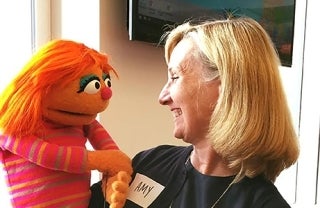 Professor Amy Jordan has been rubbing elbows with some pretty famous celebrities lately — furry elbows.
Jordan was recently elected to the board of trustees at Sesame Workshop, creators of Sesame Street and a nonprofit organization focused on early childhood development. Associate Dean for Undergraduate Studies and Adjunct Full Professor of Communication at the Annenberg School, Jordan was elected to the Sesame Workshop board to provide her expertise on the effects of educational media on children.
"I am honored to fill the shoes of my predecessor on the board, [Northwestern University professor] Ellen Wartella," Jordan said. "She is one of my role models and mentors."
Since its inception in 1966, Sesame Workshop's mission has been to help kids grow smarter, stronger, and kinder. In addition to overseeing Sesame Street, Sesame Workshop uses media initiatives to address child development in more than 150 countries around the world.
Jordan, who received her Ph.D. from the Annenberg School, is a leading scholar in children and media and a perfect fit for Sesame Workshop's board of trustees. She is the author or editor of six books, including Children, Adolescents, and the Media: The Future of Research and Action (Routledge 2017), and her work has been published in Pediatrics, Communication Research, Journal of Family Communication, and Media Psychology, among others. In addition, she is currently the co-editor of the Journal of Children and Media.
As the chair of the education subcommittee of Sesame Workshop's board, one of Jordan's core responsibilities is to provide feedback to the team developing educational properties that address the needs of today's children.
"As a trustee, I have the privilege of learning about the research behind Sesame Workshop's programming, and to understand the ways in which their initiatives meet their mission," said Jordan. "But part of what's so wonderful about Sesame Workshop is they learn from what's not working, and they pay close attention to ensuring that they're meeting their educational objectives."
As a trustee, Jordan has an up-close view of the thinking behind many of Sesame Workshop's initiatives, including projects aimed at helping children develop strategies to overcome tragedy and hardship, like Sesame Street in Communities, and a child development program designed to address the unique developmental needs of children in refugee camps. The latter program, launched in partnership with the International Rescue Committee, has been selected as a finalist for the MacArthur Foundation's 100&Change grant.
Though she has a soft spot for Super Grover, Jordan is excited about the introduction of Julia, a new Muppet who has autism, who will sometimes appear as part of the Sesame Street cast. She says that Julia is an important addition to the show because children with autism rarely see themselves on television. She also sees this as an opportunity for typically developing children to learn how to relate to peers who are neurodiverse.
Jordan hopes to bring her research-based, scholarly approach to the table as she helps Sesame Workshop achieve its mission.
"It's always been my belief that media, as much as they can potentially have harmful effects, have the potential to really do wonderful things for children and their families," said Jordan. "Educational media in particular can address some of the disparities that we see in terms of children's early life opportunities."