In Memoriam: Susan Haas (Ph.D. '14), Undergraduate Lecturer and Internship Coordinator
Haas, who suddenly passed away last week, was deeply devoted to her students, family, friends, and social justice causes.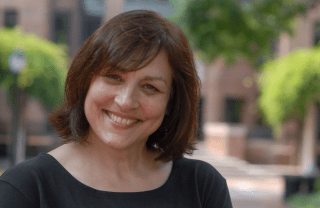 Everyone on her block of Cedar Avenue knew her as "Susie." Sitting in the garden that she grew from nothing, often working and writing with her laptop and Bijon mix, Barkley, she would wave and chat with everyone, giving them flowers and talking politics.
Her two adult children were surprised to hear people refer to their mother as "Susie." Growing up, they always heard her insist on being called Susan. And after she received her Ph.D. from the Annenberg School in 2014, anyone who used "Ms." or "Mrs." was set straight: It was Dr. Susan Haas. 
While she had some health problems in recent years, it was a shock to her family and to the whole Annenberg community when Haas, a lecturer at the Annenberg School and at Penn's School of Social Policy and Practice, passed away suddenly last week after suffering a heart attack. She was 63. 
Susan Marie Dominach was born in Bethlehem, Pa. Both of her parents were second-generation Americans – Slovak on her father's side and Irish/Italian on her mother's. Her father's career as a metallurgical engineer and executive at Bethlehem Steel and Union Carbide took the family to Pennsylvania, New Jersey, and Illinois. 
Haas attended Hood College in Maryland, studying Chemistry and intending to become a nurse, before she later transferred to Eastern Illinois State University and changed her major to Art History. 
She moved to Allentown, Pa. to work for the Lehigh County Historical Society, running its gallery, doing archival work, and advising on historic restorations. There she met her husband, David, a fine arts photographer whom she married in 1987.
While co-parenting their two children, Haas wrote ardently feminist columns for the Lehigh Valley's newspaper, The Morning Call. From time to time, she received hate mail from readers, which she always saved and used as motivation. During that time, she discovered her love of teaching as an adjunct professor of Art History at Kutztown University and earned an M.A. in Nonprofit Management at Penn State University. 
When her marriage ended in 2001, Haas looked for a change. Long fascinated by Eastern European history, she was working on a book about a Czech refugee when she started to learn more about Radio Free Europe. She decided to pursue a Ph.D. in Journalism or Communication and see where that inquiry would take her. 
When she got the acceptance letter from the Annenberg School in 2004, she screamed with happiness. 
To complete her dissertation, "Communities of Journalists and Journalism Practice at Radio Free Europe during the Cold War (1950-1995)," Haas travelled around Europe conducting and recording interviews with more than 70 journalists who worked at Radio Free Europe at the height of the Cold War between the United States and the Soviet Union. She also located and included unpublished corporate archives, personal correspondence, and reflections by informants on the front lines of the embattled news organization.
"It is a brilliant study of the internal news life of Radio Free Europe, and the only history of its kind that has been done," says Haas's dissertation supervisor, Emeritus Professor Carolyn Marvin. "She assembled an extensive, unparalleled oral and written archive of the organization's news practices with lasting historical value, and with it created a theoretically astute case study that directly addresses RFE's stigmatized reputation by showing how journalistic standards and ethics are always a negotiated product of conflicting conceptions of professional practice under pressure of internal tensions and external influences and events."
Dean John L. Jackson, Jr. was on Haas's dissertation committee. 
"It was such a pleasure getting to know Susan as she was completing her doctoral research and staying connected to her long after she defended her dissertation," says Jackson. "Her commitment to the research project was impressive and inspiring. The work mattered to her, and she wrote about it in ways that made it clear why she was so passionate about understanding the practice of journalism in a decidedly global context."
Haas was proud of being the first member of her family to earn a Ph.D. and enjoyed being part of Penn's scholarly community. She was equally thrilled when her daughter, Olivia Haas C'12, got into Penn, and they would often see each other on campus. She was enormously proud of and fiercely devoted to her children, and spoke of them often with joy and pride. 
After graduating from Annenberg, Haas returned to teach the school's undergraduate Communication Internship Seminar, and she taught it each year through 2020. This seminar allows students to earn credit for their internship experiences at communication-related organizations by providing a scholarly lens through which to analyze and understand their experiences and develop their own independent research agenda.  
Haas also taught Policy Communications to Masters of Science in Social Policy students at Penn's School of Social Policy and Practice from 2012 until 2019. 
"Susan always thought about the students first, and taught them how to insert their point of view on a policy into a Twitter conversation and become an important source," says her co-instructor Meg Shope Koppel, Chief Research Officer at Philadelphia Works. "She taught them how to take their passion and get attention within a large arena."
Over the years, Haas also taught at other nearby universities, including Saint Joseph's, Temple, and Rutgers. 
"She loved her students more than anything," says Olivia Haas. "After my brother and I were out the door and on our own paths, she put everything into her students."
In 2018, Haas also became the Internship Coordinator for the Annenberg School, a newly created position to help identify relevant internship opportunities and share those with Communication majors. She also began to oversee the school's Annenberg in Washington program, which provides financial support to students pursuing summer internships in Washington, D.C.
"Susan was passionate about advancing educational equity," says Associate Dean of Undergraduate Studies Litty Paxton, "and one of her greatest achievements was the successful work she did to diversify the AIW fellow pool. She made sure that traditionally underrepresented students understood that they have vital contributions to make as communications interns, and she worked tirelessly to support our students as they began their professional journeys."
Her classmates and co-workers repeatedly echo that Haas was a kind-hearted, generous person as well as deeply committed to the cause of social justice, and in particular, to the underdog in any fight. 
She had a deep capacity for friendship and generosity, and the long, thoughtful conversations she enjoyed with people left lasting impressions.
"Dr. H was not only my advisor, she was also my mentor and friend," says Valerie Toledo C'19. "Throughout my time at Penn, there were countless nights she stayed up helping make my work the best it could be, long hours she spent helping me navigate my experience at college, and dozens of letters of recommendation she wrote for me. She gave 100% to every student and I know she genuinely cared."
At graduation, Haas gave Toledo a book entitled "Women Who Don't Wait in Line." Inside the book, she wrote: 
"Valerie,
Run the line – don't wait in it. Eventually, the line will be for you.
Dr. Haas"
The Annenberg School is collecting messages and memories of Susan Haas to share with her family. To contribute a note to the family, please visit this link. 
During her life, Haas made it known that she did not want a funeral or memorial service. Donations in her memory can be made at this link to help support her children in settling her estate. Any remaining funds will be used to help archive her dissertation interviews in the hopes that they will be studied by future scholars.