Muira McCammon Receives Penn Prize for Excellence in Teaching
McCammon has served as a teaching fellow for both undergraduate and graduate courses.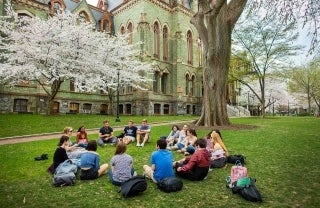 Doctoral candidate Muira McCammon has received the 2020 Penn Prize for Excellence in Teaching by Graduate Students. The highly competitive award recognizes the profound impact of graduate students on education at Penn, and nominations come directly from undergraduate and graduate students. Ten prizes are awarded annually by the Office of the Provost.
"This award is well-deserved," says Professor Monroe Price. "After all, Muira brings to the table a unique mix of passion, self-awareness, and a deep-rooted desire to help students become the strongest thinkers they can be."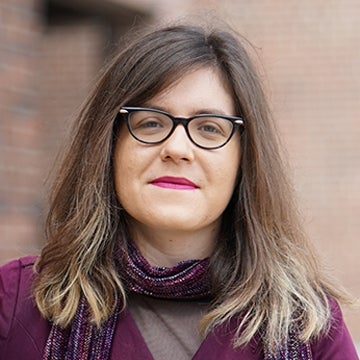 At Annenberg, McCammon has served as a teaching fellow for both undergraduate and graduate courses. In the Spring 2019 semester, she was a teaching fellow for COMM 322: History and Theory of Freedom of Expression, taught by Professor Emeritus Carolyn Marvin. And in the Fall 2019 semester, she was a teaching fellow for COMM 703: International Communication: Power & Flow, taught by Professor Monroe Price and cross-listed with Penn Law as LAW 914.
"COMM 703 was a challenging course, with an extremely interesting and talented mix of students, including Penn undergraduates, Annenberg Ph.D. students, and Penn Law masters and J.D. students," Price says. "Muira made it a charming and intellectually productive environment, and her own research and journalistic efforts provided a compelling backdrop to thinking about the course themes of power and the flow of information."
In addition to her Annenberg teaching experience, prior to coming to Penn, McCammon worked as a full time ESOL lecturer at Erzincan University in Turkey as part of the Fulbright English Teaching Assistantship Program.
"One of my goals in the classroom is to meet students where they are, and then encourage them to question popular assumptions and to model how to be deliberate in constructing evidence-based arguments," McCammon says. "Working alongside Carolyn and Monroe gave me the chance to grow in that department, something I will always treasure. And as higher education institutions adopt new norms in response to COVID-19, I remain very understanding of the fact that I myself still have much to learn."
Through the lens of law, journalism studies, and platform historiography, McCammon studies the media, the military, and the relationship between the two. Taking inspiration from George Orwell's 1984, she writes about deletion and the U.S. government's digital memory holes. She is writing her dissertation on trauma narratives of people who have passed through the Guantánamo Bay detention center, and some of her Gitmo research was recently featured in Penn Today.
McCammon is the fourth Annenberg student to receive this award in its two decade history. Past winners include: Allyson Volinsky (Ph.D. '19), Rachel Stonecipher (M.A. '16), and Kevin Gotkin (Ph.D. '18).