A New Librarian Ushers in the Future of the Annenberg Library
As longtime Librarian Sharon Black retires, Katie Rawson (pictured) begins her tenure and continues the library's journey into the future.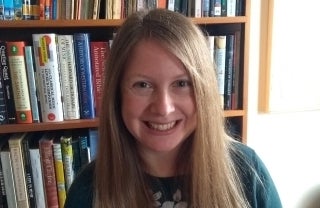 Librarians Laurie Allen and Lauris Olson are two of retiring Annenberg Librarian Sharon Black's heroes. They are also heroes of Katie Rawson, Black's successor. This tidbit is just one example of the many ways that Black and Rawson are on the same page, about libraries and scholarship in general and about the Annenberg Library specifically.
Black, who will retire at the end of the month after four decades at the Annenberg School, has spent the last couple of years brainstorming about the future of the Annenberg Library. As the nature of scholarship evolves, so too, she believes, must libraries evolve to meet scholars' changing needs. In Rawson, she sees the right person to carry the Annenberg library into the future.
Prior to becoming Director of Library Services & Operations at Annenberg, Rawson was the Director of Learning Innovation for Penn Libraries, where she worked to advance librarian instruction across 15 libraries at Penn. In that role, she created access systems, learning opportunities, and partnerships around new technologies and oversaw the Weigle Information Commons, Education Commons, and library classrooms. Previously, she held two other library positions, one at Penn and one at Emory University, where she earned her Ph.D., focused in American studies and Anthropology from the interdisciplinary Institute of Liberal Arts. She is also the co-author of Dining Out: The Global History of Restaurants (Reaktion Books, 2019).
In her former position, Rawson was asked to sit on the committee — composed of Annenberg community members and Penn librarians — that worked with Black over the last year to develop a vision for the future direction of the Annenberg Library, which allowed her to gain valuable knowledge about the school and its constituents.
"While I was working with Sharon and the rest of the committee, I really wasn't thinking about becoming the new librarian at Annenberg," Rawson says. "I was just focused on doing my part to help envision what the role might be, but then when the position was posted, and I read the final job description, I thought 'This is everything I want to be doing.' So I had to apply!"
Rawson's experience in both traditional librarianship and new kinds of scholarly expression, including digital methods, interdisciplinary research, and multimodal projects, will help usher the library into a new era. As our understanding of what scholarship is continues to expand, Rawson sees a need for the library to adapt as well.
"I'm interested in the future of libraries and librarianship," says Rawson, "And Annenberg is at the forefront of those discussions, so it's an exciting place to be."
As Rawson begins her tenure, she's focused on the things the committee identified as being key to the library's future, including: supporting students and faculty in creating new forms of scholarship that move beyond text, or even film, and incorporate digital aspects and/or multiple forms of media; determining how to archive this type of scholarship and make it available to other researchers; making the physical space of the library as useful and welcoming as it can be; and thinking about public engagement and how to make academic work accessible to all. In service to that final goal, one of her first decisions was to make Annenberg a founding member of MediArXiv, community-led, open source, digital archive for media, film, and communication research.
"Katie is not only a very solid librarian, she is a rising star in the field," Black says, "In addition, her scholarly interests and history connect with the culture at the Annenberg School in all kinds of interesting ways that perfectly position her to excel in this role."
Black's praises of Rawson are characteristic of her kind and thoughtful manner. In addition to being an excellent librarian, she is a wonderful colleague, and many people have already expressed how much they will miss her. As a case in point, two of the most popular posts — of all time — on the Annenberg School Facebook page were about Black.
Thankfully, her accomplishments will live on, perhaps most notably the establishment of the Annenberg School for Communication Library Archives (ASCLA), whose collections include the papers of Communication scholars like George Gerbner and Elihu Katz, oral histories of Annenberg faculty members like Charlie Wright and Klaus Krippendorff, the International Communication Association's archives, the historic journal Studies in Visual Communication, and many others. (For more on Black's tenure with Penn Libraries, read this Q&A.)
"Sharon has expertly helmed the Annenberg library for many years," says John L. Jackson, Jr., Walter H. Annenberg Dean. "I am grateful for her leadership and vision for the future of the library, including playing an integral role in the search for her successor. Sharon leaves big shoes to fill, but I have no doubt that Katie will thrive at Annenberg and that we will benefit from her presence in so many ways."