Pawel Popiel Named Future of Privacy Forum's "Privacy Papers for Policymakers" Award Winner
Awards recognize scholarship showcasing influential privacy research for policy decision-making.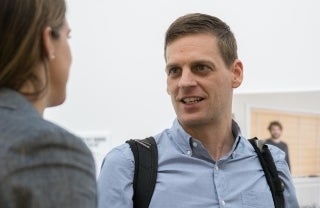 Pawel Popiel, Ph.D., a George Gerbner Postdoctoral Fellow at the University of Pennsylvania's Annenberg School for Communication, was named a Privacy Papers for Policymakers (PPPM) award winner by the Future of Privacy Forum (FPF) — a global non-profit focused on data protection headquartered in Washington, D.C.
The PPPM Awards recognize leading privacy scholarship that is relevant to policymakers in the U.S. Congress, at federal agencies and for international data protection authorities. Six winning papers, one honorable mention, a student submission and a student honorable mention were selected by a diverse group of leading academics, advocates and industry privacy professionals from FPF's Advisory Board. 
Popiel's report, co-authored with Internews Advocacy and Research Advisor Laura Schwartz-Henderson (formerly an Annenberg staff member), was entitled "Understanding the Challenges Data Protection Regulators Face: A Global Struggle Towards Implementation, Independence, & Enforcement." In the paper, Popiel and Henderson analyze the challenges facing data protection authorities in Africa and Latin America.
"With growing diffusion of internet access in the Global South and rapidly expanding and integrating global data economies, Data Protection Authorities (DPAs) have become central actors in governing regional data flows," says Popiel.
Since 2018, more than sixty countries around the world have enacted or proposed new data protection laws, with those numbers steadily increasing each year. However, while these regulatory agencies have immense public responsibilities to enforce data protection laws, they often face significant challenges. 
"Our report draws on academic and policy literature, and extensive conversations with data protection regulators and civil society advocates in Africa and Latin America to assess these challenges," he says.
The paper identifies two key obstacles to effective data protection oversight: resource constraints and threats to agency independence and advocates for best practices and recommendations aimed at tackling these challenges, including collaboration among regional DPAs and between regulators and civil society.
This report is part of the Advocating for Data Accountability, Protection, and Transparency (ADAPT) project by Internews, an international media support nonprofit. ADAPT seeks to foster a coordinated advocacy effort to promote rights-respecting privacy policies and help internet users understand what protections currently exist to keep their data, and themselves, safe online. 
"Academic scholarship can serve as a valuable resource for policymakers," said Jules Polonetsky, FPF's CEO. "Now more than ever, topics such as discriminatory exclusion, punitive surveillance, algorithmic fairness, cross-border data flows, reproductive health and the enforcement of data protection rules are at the forefront of the privacy debate. These papers are 'must-reads' for legislators and data protection regulators grappling with data protection issues and enforcement."
PPPM acknowledges researchers like Popiel for the strength of their work, and provides institutions a platform to share their critical privacy research and proposed policy solutions with policymakers and regulators in the U.S. and abroad.
On February 16, Popiel and Henderson will showcase their award-winning paper at the 13th Annual Privacy Papers for Policymakers on Capitol Hill.