Twelve New Doctoral Students Join the Annenberg School
Learn about where they've lived, their previous work experience, and what they study.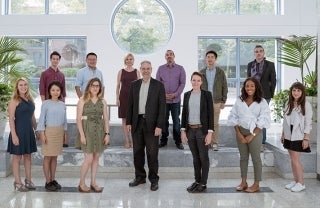 This fall, the Annenberg School welcomes twelve new doctoral students as its 2017 cohort. From activism to neuroscience to media systems to politics, they bring a variety of interests and experiences to Annenberg, and have already begun collaborating with faculty and other students.
The new cohort has lived all over the world. Tian Yang is from China and completed his graduate studies in communication and new media in Singapore; he plans to focus on computational communication research at Annenberg. Chioma Woko, who studies health communication, originally hails from Lagos, Nigeria and was most recently an analyst at RTI International. Interested in digital culture and the American war machine, Muira McCammon spent her summer as a Sitka Fellow in Alaska, and wrote her Master's thesis on the Guantanamo Bay Detainee Library. Yao Sun, who has lived in both China and Japan, was most recently a researcher in international affairs at the Carter Center and in economic policy at the Manhattan Institute for Policy Research.
Many of the new students have held professional positions in writing or publishing. Alvin Zhou, who studies activism and social networks, was an editor at Vista Story in Beijing. Interested in media industries and global media systems, Lauren Bridges has worked as a consultant to an academic publishing house. In addition to nonprofit communications and management, Diami Virgilio has written and published comic books. His research focuses on digital culture and critical race theory.
The new students have held interesting professional positions in other fields as well. Heather Jaber was the communication coordinator for the KIP Project on Gender and Sexuality, and she studies gender, sexuality, and pop culture. Jacob Parelman, who will study social neuroscience and psychology at Annenberg, was the lab manager for the Social Neuroscience and Games Lab at the University of Colorado Boulder.
About half of the incoming students arrive to Annenberg with master's degrees, and two of them even hold multiple master's degrees. Interested in publics and counterpublics, Ryan Tsaptasaris earned his master's degrees in American Studies from the University of Massachusetts and in Liberal Arts from Penn. Yasemin Celikkol holds master's degrees in Language Teaching and Sociolinguistics from International Christian University in Tokyo and in Intercultural Communication from Penn's Graduate School of Education. She plans to study global communication while at Annenberg.
Currently a joint Ph.D. / J.D. student at Annenberg and Penn Law, Chloé Nurik is the only student joining the cohort directly from her undergraduate years; she is interested in communication, gender, and law.
Welcome new students!