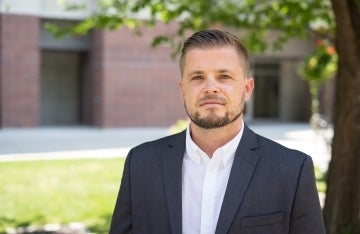 Lunchtime Talk: Reece Peck, CUNY Graduate Center & College of Staten Island
November 2, 2023
11:30am-1:00pm
Room 108, Annenberg School for Communication, 3620 Walnut St, Philadelphia
Audience
Open to the Public
"The Power of Political Style: Comparing Populist Media, From Fox News to The Young Turks, From Cable to YouTube, From Right to Left"
Since the early 2000s, Fox News has dominated the cable news arena in ratings, but its true impact far outreaches its primary partisan audience, as it often shapes the national political debate and sets the agenda for other outlets with its coverage. So what makes it so much more influential than just a cable news network? 
This presentation offers insights into why the Fox News Channel has been both commercially successful and politically effective. Where existing explanations of Fox's appeal have stressed the network's conservative editorial slant, Professor Reece Peck sheds light on the importance of its style as a generative mode of ideology. In addition to tracing Fox's historical ascendancy, this talk compares the conservative cable giant with the progressive YouTube-based network the Young Turks (TYT). TYT stands as one of YouTube's longest running and most successful "news and politics" channels on the platform and it played a crucial role in creating the Justice Democrats, the progressive PAC that recruited Alexandria Ocasio-Cortez and other "Squad" members. This progressive digital network has long embraced a populist anchoring style that resembles Fox News and the style of its conservative YouTube competitors. This talk stresses the importance of style as an analytical category for studying modern news branding and political movements and argues that there is no inherent connection between media populism and political conservatism — even though today, thanks to Fox News, many conflate the two. 
About the Speaker
Reece Peck is an associate professor at the CUNY Graduate Center and the College of Staten Island, where he teaches courses in journalism, political communication and popular culture. Trained as an interdisciplinary Communication scholar, his research uses concepts and methods from sociology, political science, and media industry studies to examine populist rhetorical styles, tabloid journalism, and partisan media branding. He has been particularly interested in how conservative media represents social class in the United States.
This event is co-sponsored by the Media, Inequality & Change Center, Center for Media at Risk, and the Center for Information Networks and Democracy.
Disclaimer: This event may be photographed and/or video recorded for archival, educational, and related promotional purposes. We also may share these video recordings through Annenberg's website or related platforms. Certain events may also be livestreamed. By attending or participating in this event, you are giving your consent to be photographed and/or video recorded and you are waiving any and all claims regarding the use of your image by the Annenberg School for Communication. The Annenberg School for Communication, at its discretion, may provide a copy of the photos/footage upon written request.