Annenberg Presentations at IAMCR 2018
We've compiled a helpful list of all presentations being given by Annenberg authors.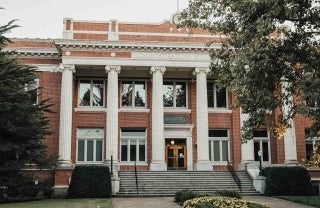 Eleven Annenberg faculty, students, and postdoctoral fellows will present at the International Association for Media and Communication Research's 2018 Conference, to be held June 20-24 in Eugene, Oregon.
The presentations are listed below, and include room location in parentheses. All events are at the University of Oregon. For the full program, visit IAMCR's conference website.
Thursday, June 21
8:30
Audience Measurement and Economy (Fenton Hall 110)
Emily Hund — "Institutional Logic for Individual Users: Tensions Over the Audience in Social Media's Influence Economy"
14:00
Praised and Forgotten Personalities in the History and Practice of Media (EMU Miller 107)
Barbie Zelizer — "Who and What Get Forgotten in the News, and At Which Cost"
Rethinking the Nation: Postcolonialism, Identity and the Media (Straub 252)
Diaspora Meaning-making Amidst Crisis (EMU Coquille 104)
Samira Rajabi — "Mediating Possibility after Suffering: Meaning Making of the Micro-political through Digital Media"
Indigenous Communities and Environmental Communication (EMU Diamond Lake 119)
Hanna E. Morris — "Mediating Global Warming as Hyperobject"
16:00
Identity in Consumer Society (Friendly Hall 214)
Emily Hund and Lee McGuigan — "A Shoppable Life"
Friday, June 22
8:30
Memory and History (EMU Miller 107)
Media Activism (Straub 254)
N. Bülay Doğan — "Hacktivism: Rethinking Democratic Sustainability"
Social Media and Social Movements (Willamette 110)
Elisabetta Ferrari — "Mundane Modernity: How the Hungarian Internet Tax Protests Imagined 'the Internet'"
Social Media and Data Issues in Digital Capitalism (Mckenzie 229)
Pawel Popiel — "Terms of Public Service: Framing Mobile Privacy Discourses"
14:00
The Wiring Under the Board: The Political Economy of Internet & Telecommunications (Mckenzie 229)
Victor Pickard — "Confronting the New Digital Monopolies: Infrastructure for People, Not Corporations"
16:00
Public Media, Public Interest, Public Good (Straub 252)
Samantha Oliver — "'Move the Memorial!': Public Participation and the Development of the Canadian Victims of Communism Memorial"
Saturday, June 23
8:30
Land of the Free: Trump, Neoconservatism and Fake News (Mckenzie 221)
10:30
Ecology, Carbon Capitalism & Consumption (Mckenzie 221)
Zane Griffin Talley Cooper — "Rainbow Over Burundi: Mining for the Future of Data and Energy in East Africa"
Sunday, June 24
10:30
Community Media 3.0 — Workshop — Interactive Technologies for Social Change: Video Games (Willamette 110)
Elisabetta Ferrari — Chair
14:00
Special Session: Reimagining Environmental Sustainability for the Academic Conference (Allen 221)
Hanna E. Morris — Presenter