Annenberg Welcomes 21 New Research Staff, Visiting Scholars, and Postdoctoral Fellows
This accomplished group specializes in studying topics that include persuasive health messaging, Black feminism, media policy, and much more.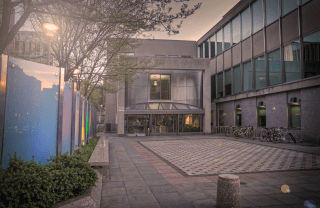 As the 2021-22 academic year begins, the Annenberg community has begun to return to campus. While we have been thrilled to see familiar faces in person, we're also pleased to welcome three new Social Action Lab research staff,  four new visiting scholars, and nine new postdoctoral fellows to Annenberg.
Social Action Lab Research Staff
Sally Chan will join Annenberg as a research associate in October. She is currently focused on using a data science approach and machine learning algorithms to examine the influences of the person-in-context on well-being.
A member of the Social Action Lab, Marta R. Durantini is a Research Director at the Annenberg Public Policy Center, where she works on refining resources for attracting and retaining hard-to-reach audiences in health promotion programs.
Research Associate Bita Fayaz-Farkhad researches how public programs and policies affect individuals' health behavior.
Visiting Scholars
Visiting Fulbright Scholar
Kharoll-Ann Souffrant is a doctoral candidate at the University of Ottowa's School of Social Work, where her research explores digital feminist activism, race, anti-Black racism, misogynoir, gender, and power dynamics in traditional/mainstream media.
Annenberg Public Policy Center
Twice a member of Pulitzer Prize-winning teams, journalist Tyler Bridges is a Professional in Residence at APPC. He reports on Louisiana politics for the Baton Rouge/New Orleans Advocate.
Center for Media at Risk
Annenberg alumna and undergraduate lecturer Claire Wardle (Ph.D. '04) is considered one of the world's leading experts on misinformation. She leads the strategic direction and research for First Draft, a non-profit she co-founded in 2015. 
Courtney Radsch is a journalist, academic and advocate working at the nexus of technology, media and rights. She focuses on tech policy and human rights, internet governance and the geopolitics of technology, media sustainability and the future of journalism and power dynamics in digitally inflected information ecosystems. 
Communication Neuroscience Lab
Visiting Fellow Rebecca Martin is the research director of the lab's Brain-Based Prediction of Influence Message Effectiveness study, which uses neural, behavioral, cross-cultural, and computational methods to examine how, when, and why health and climate information goes viral.
Excellence Through Diversity Predoctoral Fellowship, University of Pennsylvania Provost's Office
A doctoral candidate at UCLA's Department of Cinema and Media Studies, A.E. Stevenson pursues research dedicated to furthering Black feminist epistemologies across the fields of Black studies, cinema and media studies, and philosophy.
Postdoctoral Fellows
Gilbert Seldes Multimodal Postdoctoral Fellow
A multimodal cultural anthropologist and an ethnomusicologist, Juan Castrillón is the first scholar to be named a Seldes Fellow. His research studies theories of listening, media archives, and contemporary healing arts. He is also a Middle East Center Regional Scholar at Penn. Read more about Castrillón.
George Gerbner Postdoctoral Fellow
A recent Ph.D. graduate of the Annenberg School, Pawel Popiel is staying at Annenberg as its 2021-23 Gerbner Fellow. His research examines the politics of platform regulation and communications policy.
Center for Advanced Research in Global Communication (CARGC) & Center on Digital Culture and Society (CDCS)
Woori Han is a postdoctoral fellow at both CARGC and CDCS, where her research examines cultural activism by the marginalized, with a focus on the roles of affect and digital media in reconfiguring citizenship in the context of globalized identity politics and (post)developmental nationalism.
Center for Advanced Research in Global Communication (CARGC)
CARGC postdoc Ali Karimi is a critical information scholar, with a focus on instruments of quantification and techniques and technologies of populations surveillance in the Global South.
Ayesha Omer, a CARGC postdoc, examines how infrastructure technologies mediate sociopolitical life. Her scholarship combines multimodal ethnographic, archival methods to offer a situated, feminist analysis of the political and ecological effects of global media and communication technologies.
A 2018 Annenberg Ph.D. graduate, Katerina Girginova is returning in October as a CARGC postdoc. Her research involves global communication, media, and audience engagement.
Center on Digital Culture and Society (CDCS)
CDCS postdoc Dasol Kim studies issues of race and gender in digital media spaces, with a special focus on influencer culture, the platform economy, and the transnational connection between East Asia and the U.S.
Center for Media at Risk & Annenberg Center for Collaborative Communication
Perry B. Johnson is a postdoctoral fellow at both the Center for Media at Risk as well as the Annenberg Center for Collaborative Communication. Her research and practice focus on music, popular culture, and American cultural histories with an emphasis on archives, public scholarship, power, identity, and belonging.
Center for Media at Risk
Center for Media at Risk postdoctoral fellow Chaz Antoine Barracks conducts research that centers Black queer aesthetics, joy, and multimodal media that reflect home-making practices within Black cultural spaces. He also studies the impact of storytelling as a form of theory-making.
Health Communication & Equity Lab
Sixiao (Vivian) Liu researches the effects of narrative persuasion and message framing in health and science communication, focused on issues such as e-cigarette use, vaccination, and ocean plastic pollution.
Social Action Lab
Haesung Annie Jung studies social-cognitive processes involved in people's prosocial health decisions.
Tobacco Center of Regulatory Science (TCORS)
While he joined the TCORS team last spring, George Pearson is newly-arrived on campus. He studies how the structure of digital media systems influences the cognitive processing of tobacco-related messages.