Bleakley Receives Grant to Study Youth Consumption of Sugary Beverages
She will develop media messages aimed at reducing adolescent consumption of sports and energy drinks.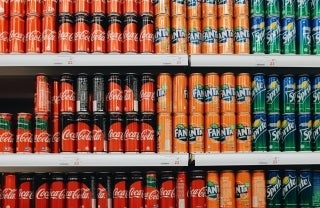 Sugar-sweetened beverages (SSBs) — which include things such as sports drinks, non-diet sodas, energy drinks, fruit drinks, and flavored milk products — cause dental erosion and cavities and play a significant role in health concerns such as obesity and diabetes. Although soda consumption is declining, sports and energy drinks remain popular among youth, in part because of confusion regarding their potential health benefits.
Senior Research Scientist Amy Bleakley, along with a team of collaborators, recently received a grant from the National Institute for Dental and Craniofacial Research (NIDCR), part of the National Institutes of Health (NIH), to study the ambivalence about the healthfulness of sports and energy drinks among adolescents and analyze the media environment that perpetuates such confusion.
The researchers will analyze video advertisements of popular sports and energy drink brands to determine the persuasive strategies used, and they will also identify key adolescent beliefs about sports and energy drinks. This data will inform the researchers' development of media messages designed to reduce adolescent consumption of sports and energy drinks.
"Most prior research into SSBs has not looked exclusively at sports and energy drinks and their distinct messaging," says Bleakley. "Media communications can raise public awareness of the relationship between sports and energy drink consumption and health outcomes such as diabetes and poor oral health, and this study is an important step toward determining how to best do that."
Bleakley is a scholar of youth, media, and health, and her research focuses on how media affect various health risk behaviors and cognitions. Her work has been published in academic journals like American Journal of Public Health, Journal of Sex Research, Journal of Health Communication, Journal of Adolescent Health, and Media Psychology. She received her M.P.H. and Ph.D. from Columbia University.
In addition to Bleakley — who is the principal investigator on the project — the research team includes: Amy Jordan (Ph.D. '90), Professor of Journalism and Media Studies at Rutgers University; Michael Hennessy, Researcher at the University of Pennsylvania; Morgan Ellithorpe, Assistant Professor of Advertising and Public Relations at Michigan State University; and Robin Stevens (Ph.D. '09), Assistant Professor of Nursing at the University of Pennsylvania.