Comm Major Alum Jordan Grossman C'08 Pursues Career in Public Service
Grossman is running for City Council in Washington, D.C., where his family has lived for five generations.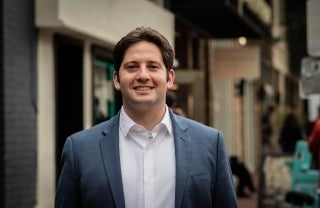 Undergraduate students who major in Communication go on to careers in a wide variety of industries, including media, research, marketing, and law. For years, there also has been a small but steady stream of Communication majors who pursue careers in politics and government.
Jordan Grossman C'08 falls into that category, having dedicated his life to public service. He has worked for a federal judge, for an agency focused on Medicaid and homelessness services, and as a staffer for Senator Amy Klobuchar and President Barack Obama. And now he is running for office himself, joining a competitive race for Ward 2 City Councilmember in Washington, D.C.
Grossman has longstanding ties to the community; his family has lived in Washington, D.C. for five generations, since his great-great-grandparents emigrated there from Eastern Europe in 1907. He and his wife, Julie Siegel C'10, who works as an advisor on economic policy to Senator Elizabeth Warren, were both born in Ward 2. In the June 2 primary — which in Democrat-dominated D.C. is a de facto general election — Grossman is running on a platform of issues including making it easier for residents to afford a home, find high-quality child care, and pay off student loan debt, among other things.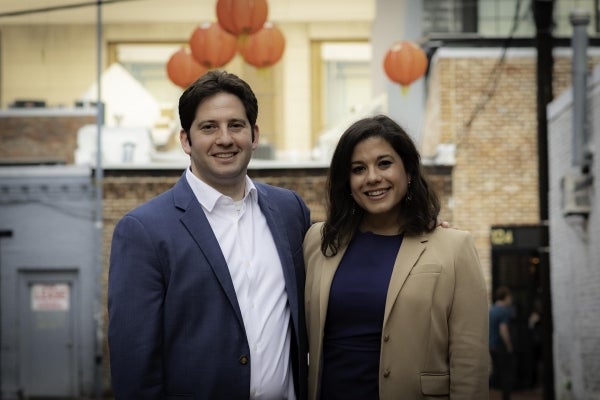 "Digging in and making government work better and making services easier to access is something that lights a fire in me," says Grossman. "You can actually make people's lives better."
During his undergraduate days at Penn, Grossman traveled to six states campaigning for President Obama. He cites that experience, along with the political internships that he got through Annenberg School connections, as additional motivation for his career path.
"My internships with FactCheck.org, the Democratic National Campaign Committee, and the Center for American Progress gave me an inside look at how politics really works on a day-to-day basis," Grossman says. "And I just remember thinking, 'This is what I want to do.'"
In addition to internships and campaigning, his time in the classroom at Annenberg helped him build a solid toolkit for entering the world of politics. Among the first Communication majors to participate in the Communication and Public Service Program (ComPS), Grossman learned the foundations of political communication under Annenberg faculty members David Eisenhower, Al Hunt, and Kathleen Hall Jamieson.
In fact, a lot of these courses came recommended by Jordan's older brother Seth Grossman C'01, who gave the alumni speech at Annenberg's Communication Major Graduation Ceremony in 2017.
Jordan Grossman's campaign has connected with another Communication major alum who was inspired to politics by her time at Annenberg. Morgan Finkelstein C'13, also a ComPS program graduate, is currently an advisor to Grossman's campaign. The two met serving on a local government committee in D.C., and they instantly bonded over their shared Annenberg alumni status.
When the coronavirus pandemic forced Grossman's team to rethink their campaign strategy, he asked Finkelstein, who has extensive campaigning experience, to advise how best to transition their campaign efforts.
"Campaigning for President Obama taught me that you have to meet voters where they are," says Grossman. "Once I could no longer meet voters at the farmer's market or the metro station, we had to figure out what to do instead. We decided to focus our efforts on one-to-one texting, phone calls, and personalized postcards."
Grossman and Siegel's 2-month-old son has even joined the campaign, making a cameo appearance in a campaign video where the couple mailed in their ballots.
In addition, Grossman's campaign mailed vote-by-mail applications to all likely voters in his district and invested in new media, buying ads on Hulu, YouTube, and Facebook. Finkelstein describes the team's pivot as an interesting communications challenge and good learning opportunity.
"There's a lot of cynicism right now, and it's a tough time for a lot of people," says Grossman, who has held 50 meet-and-greet events for the campaign, two-thirds in person before the pandemic and one-third online after. "One thing I have learned — and this may sound cheesy — is that people really care. They are excited to have a voice in their local government."