Congratulations to Annenberg's 2023 Ph.D. and M.A. Graduates
Twelve students earned their doctoral degrees, and eight students received M.A. degrees.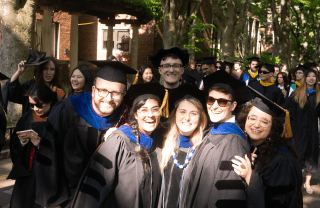 Earlier today, the Annenberg School for Communication held its annual graduation ceremony for doctoral students. The in-person celebration honored 12 graduate students who have earned their doctoral degrees in Communication.
Here is a short recap video that captures the spirit, joy, and pride that we all felt that day:
The ceremony honored the following students, listed with their dissertation titles:
| | |
| --- | --- |
| David Elliot Berman | "The Optimizers: Cultural Production in the Age of Platform Capitalism" |
| Lauren Bridges | "The Digital Growth Machine: The Politics of Land, Labor, and Waste at the Digital Frontier" |
| Zane Griffin Talley Cooper | "BIT/COIN/RARE/EARTH: Data, Energy, and Extraction Across the Arctic" |
| Kelly Diaz | "Lights, Camera, [Social] Action!: The Goals, Messages, and Impact of Youth Activism on Television" |
| Sean Fischer | "Don't Judge an Album By Its Cover: Testing Competing Theories of Partisan Cultural Polarization" |
| Emma Jesch | "Cascade of Confusion: Examining Incongruent Spillover Effects From Exposure to Conflicting Health Information Across Two Methods" |
| Mia Jovanova | "A Person-Specific Approach to Study Health Behaviors" |
| Ava Kikut | "What You Know or Who You Trust? Examining the Interactive Effects of Behavioral Beliefs and Source Trust on Prevention Behaviors Throughout the COVID-19 Pandemic With Longitudinal Survey, Experimental, and Youth Participatory Action Research" |
| Isabelle Langrock | "The Irony of Openness: Gender Inequality in Self-Governed Knowledge Systems" |
| Muira McCammon | "The Making and Unmaking of the 'Memory Hole': Deletion as Stagecraft and Statecraft" |
| Roopa Vasudevan | "High-Level Creativity: New Media Art and the Priorities of the Tech Industry" |
| Diami Virgilio | "Contesting Lineage: #ADOS and the Online Reparations Discourse" |
Congratulations are also in order to the following Annenberg students who have earned their M.A. in Communication en route to the completion of their doctoral degrees.
Matthew Conaty 
Julia Cope 
Neil Fasching
Emilie Grybos
Liz Hallgren 
Thandi Lyew
Lucila Rozas Urrunaga
Brittany Zulkiewicz
In addition, Jenny Lee and Brendan Mahoney were recognized with the James D. Woods Award for outstanding teaching by a graduate assistant.