Dinner at Dr. Litty's: Comm Majors Get to Know Faculty and Each Other
Felicity "Dr. Litty" Paxton hopes the dinner series will foster meaningful relationships.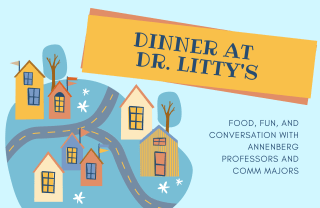 The family pets — Ellie, an elderly dog, and two cats Felix and Ilsa — greet everyone warmly. Communication majors gradually fill up the dining room as a round of brief introductions gets underway. Shortly after, dinner is served and conversations flow, with topics ranging from spring break plans to research the guests are working on. Whether Thai, Indian, or Chinese cuisine, the conversation is just as diverse as the dinner menu.
This was the scene at any given "Dinner at Dr. Litty's," a series of seven dinners held this academic year by Felicity "Dr. Litty" Paxton, Associate Dean for Undergraduate Studies at the Annenberg School. Designed to facilitate Communication majors getting to know faculty members and one another, each Dinner at Dr. Litty's welcomed six to eight undergraduate students and one faculty guest.
"It's always fun to get to know students, and it's a lot easier to do that sometimes when you're outside the school walls," says Annenberg Assistant Professor Jessa Lingel, who was the faculty guest at the dinner that took place on November 7. "I learned a lot about the students and what it's like to be an undergraduate at Penn."
Initially available to senior Communication majors only, the dinner series received overwhelmingly positive reviews, prompting Paxton to open it up to Communication majors of all years in the Spring semester.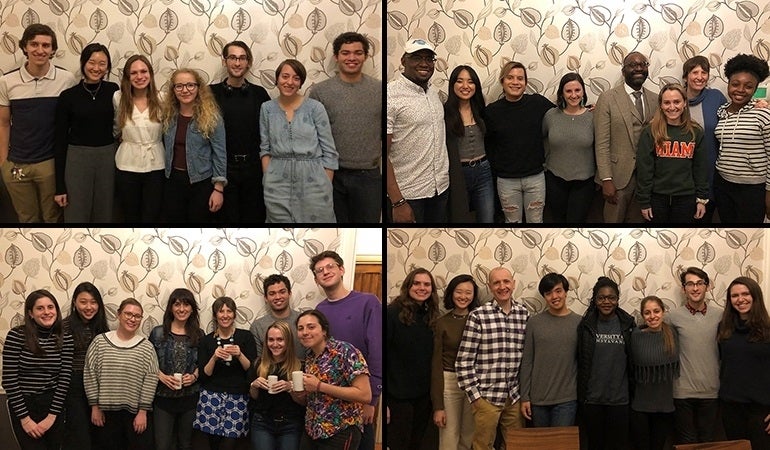 Inspired by Penn's Take Your Professor to Lunch program as well as Professor Emily Falk's dinners for Annenberg doctoral students, Paxton hopes the dinner series will foster meaningful relationships.
"I remember vividly the very few times as an undergraduate that I went to have dinner at a professor's house," says Paxton. "I think those moments really do stay with you as something very different from the day to day interactions that students and faculty members experience in the classroom."
The informal setting of the Dinner at Dr. Litty's series offered students a chance to learn just as much about each other as they do about the faculty members. By the end of the night, Paxton hopes that the students and faculty guests alike have either learned something or met someone new.
"I am very grateful to Dr. Litty for opening up her home, and making me feel like a valued part of a community," says Scott Rubenstein (C'19). "I wasn't expecting to find a home at Penn in my major, and Dinner at Dr. Litty's has been one of the most positive surprises of my Penn experience."