Exploring Life as a New Doctoral Student Through Film
Doctoral student Nya Mbock and a crew of Annenberg staff members made a short film about life as a first-year Ph.D. student.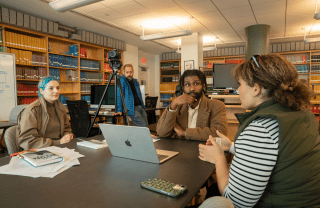 In Nya Mbock's short film, the lone author, an anonymous student goes through a routine day on campus. He waits to cross the street. He checks his teeth in the mirror. He goes to the library. He flips through books. He takes notes. All the while, the world around him seems to be moving at warp speed, leaving him behind.
"His life becomes a quiet and constant recitation of reading, isolation, and rough drafts," Mbock, a doctoral student at the Annenberg School of Communication explains. 
Mbock started working on the lone author in the spring of 2023, inspired by the theme of the Penn CAMRA Screening Scholarship Media Festival: "works in progress."
As a first-year graduate student, Mbock had been struggling with feelings of loneliness and isolation. She noticed that many of her friends felt the same. 
"Your first term as a Ph.D. student is saturated with bonding events and getting to know people," she says. "As the events taper off and you get into the day-to-day work, it can feel like you have to play a role. When you're around your intellectual peers, you're 'on,' and it's only when you are alone that you can be who you really are. It gets lonely."
The idea of seeing herself and her peers as works in progress felt freeing, she says, removing that pressure to be the perfect academic.
A Lead Role
The star of the film is Terrence Topping-Brown, a doctoral student in the Department of Biology at Penn. He plays "Bennett," the eponymous "lone author" whose day is captured in the film.
Mbock knew that the film would follow an individual student, but that it would have to capture feelings of loneliness and isolation that affect many people, in different disciplines and with different personal stories.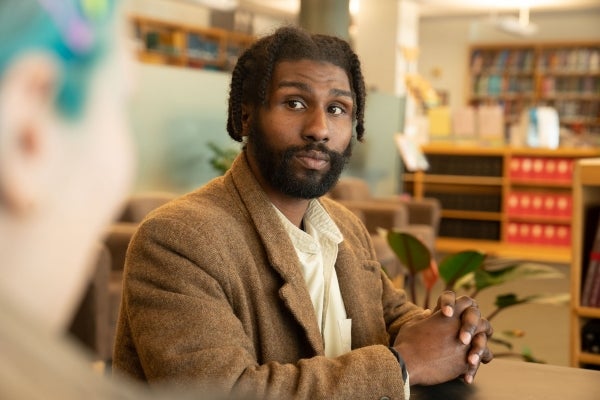 She asked Topping-Brown if she could base Bennett on his experiences as a first-year, first-generation Ph.D. student and father juggling childcare while pursuing a doctoral degree.
"The conversation around loneliness and isolation becomes more compounded the more intersectional your identity is outside of the institution," she says. "Terrence brings so many complexities to his education and to his pursuit of knowledge just by being a young father pursuing such a rigorous degree."
In the first half of the film, Bennett is alone and silent. It's only when he brings his daughter to campus that he begins to speak, though the dialogue is muted throughout the film.
"We asked Terrance to take us through what he would do normally, and it was really interesting to see his lab space and how he was with his daughter," Mbock says.
The Annenberg Crew
After Mbock settled on a concept for the film, she turned to Anna Gamarnik, manager of the Paul Messaris Media Laboratory, which provides equipment and support to Annenberg faculty and students pursuing multimodal scholarship.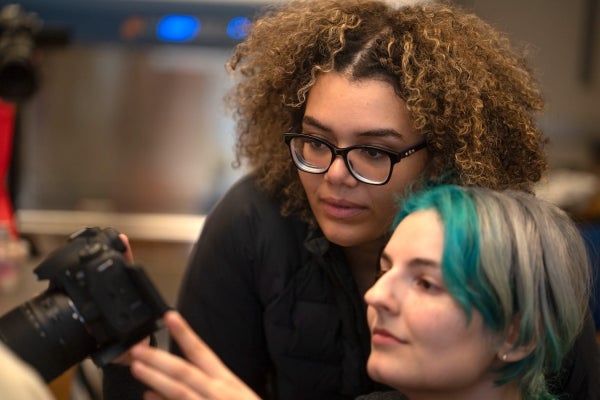 "Anna was immediately interested in helping me with the project," Mbock says. "She coordinated getting the equipment we needed from the Media Lab — microphones, lighting, and cameras — and acted as the director of photography for the film. On our first filming day, she could read my mind. She's so good at capturing the essence of a scene."
Annenberg staff members formed the crew: Waldo Aguirre, Director of Multimedia Services as camera operator, Gamarnik as videographer, and Annenberg Digital Design Specialist Kyle Cassidy as photographer and camera operator.
"I'm so lucky that everyone from the Media Lab was just as excited about the project as I was," Mbock says.
A Happy Ending
The film had its premiere at the Screening Scholarship Media Festival on April 1, 2023, during the "Mind and memory, knowledge and spirit" panel.
"One of the highlights of my experience at Annenberg was doing the festival," Mbock says. "I had invited our dean at the time, John Jackson, because I had told him about the project earlier. I thought he wouldn't have the time, but he came and watched the whole thing. It meant the world to me."
She hopes that the final scene of the film can help other graduate students feel less alone. 
Bennett steps away from work and meets up with friends on campus, played by Mbock and her real life friend group. What follows is pure ebullience — laughing, joking, dancing.
"You can't hear what we're saying, but at that moment we were talking about projects and ideas that we're excited about. We're still having these intellectual conversations, but it's in a way that invites play and life," Mbock says.