Health Care Podcast Tradeoffs to Launch at Penn
Exploring our confusing, costly, and often counterintuitive health care system.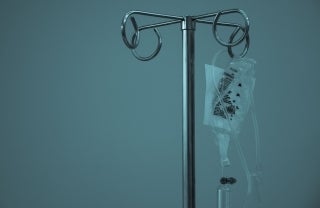 Veteran radio journalist Dan Gorenstein is being collaboratively supported by three University of Pennsylvania entities, the Robert Wood Johnson Foundation, and the California Health Care Foundation in the launch of a new media outlet producing in-depth podcast reports analyzing topical health care issues.
Called Tradeoffs, the show goes live on October 16th when it publishes its first podcast on the Acast Podcast Network, Apple Podcasts, Spotify, Google Podcasts, and Stitcher, all accessible directly or through the new Tradeoffs website. Episodes will air every other Wednesday, alternating between 30-minute narrative pieces and 15-minute interviews with experts formatted more like The Daily, the popular news podcast of the New York Times.
The editorial office of Tradeoffs is currently housed in the Leonard Davis Institute and the actual podcasts are being produced in the Annenberg School's Media Lab. The project's tagline is "Exploring our confusing, costly, and often counterintuitive health care system. "
Policy Prescriptions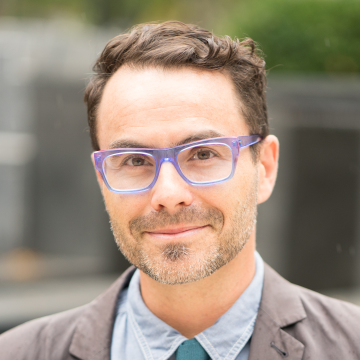 "Lots of people, on the right, in the center, and on the left, all have different ideas about how they want to fix, improve, strengthen, and reform our health care system," said Gorenstein, an LDI Adjunct Senior Fellow, a Mediamaker-in-Residence at the Annenberg School, and a former senior reporter on the Marketplace radio show. "All of these are effectively policy prescriptions and none of them are cure-alls. They all come with tradeoffs. Our podcast aims to look at these policy prescriptions and honestly evaluate them. Is it working? What are the pros? What are the cons? Essentially, we want to systematically explore the details of the actual tradeoffs in ways other media companies don't routinely do."
Gorenstein graduated from the Quaker-run Earlham College in Richmond, Indiana, with a B.A. in Human Development and Social Relations. He began his journalism career at the unique Chicago Reporter, an award-winning regional monthly journal focused on exploring the drivers and consequences of poverty and racism in that city. He went on to work as a reporter at the NPR's New Hampshire Public Radio station for 11 years before moving to American Public Media as senior health care business reporter on the Marketplace show. Late last year, he left Marketplace to produce the health policy podcast made possible by grants from the Robert Wood Johnson Foundation and the California Health Care Foundation.
Leading Academic Researchers
During his six years at Marketplace, Gorenstein cultivated and routinely consulted a bevy of leading academic health services researchers as major sources for his reporting. A number of those health care experts have now become collaborators with him on the Tradeoffs project. One of them — Katherine Baicker, Ph.D., Dean of the University of Chicago Harris School of Public Policy — was the inspirational source of the new show's name.
"Kate Baicker was one of the people I often called when I was working on a Marketplace story and trying to understand what was really going on around an issue," said Gorenstein. "I'd be asking her questions for half an hour or so and she would repeatedly answer with the caveat that 'you can look at it this way, or you can look at it that way. Here are the tradeoffs with A and here are the different tradeoffs with B.' She was always talking about tradeoffs as the central mechanism of health care policymaking. It made me think about all the health policy conferences I'd been to where the speakers also talked constantly about 'tradeoffs' that had to be made in order to achieve some specific health care policy goal. I realized how right Kate was about the need to address the complexity of every health care policy issue and admit upfront exactly what tradeoffs would be required. 'Tradeoffs' was the perfect moniker defining the focus of what our reporting will be about. We want to be intellectually honest about the fact there's no easy solution, just difficult choices if we are to make strides in the real improvement of health care costs, access and quality."
Virtual Radio Station
Far more than a one-man operation, Tradeoffs has assembled what amounts to a virtual radio studio with editorial and technical personnel across the country. It has signed up journalist-editors in Los Angeles and Washington, a radio producer in San Francisco, a sound designer in New Hampshire, and an operations engineer in Chicago. Courtney Summers, M.S.W., Associate Director of Penn's Center for Public Health Initiatives, is Tradeoffs' Manager of Business Operations.
There are also eight top health care research experts onboard. Two — Harvard physician and economist Anupam Jena, M.D., Ph.D., and Vanderbilt University economist Sayeh Nikpay, Ph.D., M.P.H. — will be co-hosting the Tradeoffs audio programs. An additional scientific advisory committee consists of health economist Daniel Polsky, Ph.D., of Johns Hopkins University; Jill Horwitz, Ph.D., J.D., of UCLA Law; Heather Klusaritz, M.S.W., Ph.D., Director of the Center for Community and Population Health at the Perelman School of Medicine; Harold Pollack, Ph.D., Co-Director of the University of Chicago Crime Lab; Amitabh Chandra, Ph.D., Harvard Professor of Public Policy; and Chicago University health economist Katherine Baicker.
Evidence-Based Context
"We're not just producing podcasts," said Gorenstein, "we're building a non-profit media company. It's humbling to have so many top professionals willing to take a leap with us, including institutions like the Leonard Davis Institute of Health Economics. Working with LDI is really amazing. Its hundreds of Senior Fellows have such deep expertise in so many areas of health care delivery. What really marries LDI and Tradeoffs is that we are both so interested in what the scientific evidence says about the most effective ways to improve health care."
"Marketplace was a show about business and about how money touches everything related to health care and that is a huge part of the story," said Gorenstein. "But I also think it's important to humanize health care by looking at the impact on patients and doctors and nurses as well as health care delivery executives, pharma executives and even at the impact on health policy researchers."
"There are about 17 million employees in health care," Gorenstein continued. "We think our audience will be made up of some segment of those health care workers, as well as those studying health care and those aiming to shape it, such as lobbyists, industry executives, researchers, and advocates. We also think that part of our audience is going to be the curious class; the people who listen to public radio and read the New York Times or the Washington Post or the Wall Street Journal, and are civically-minded and interested in wanting to better understand this phenomenon that's really kind of had a strangle-hold on Washington for the last 15 to 20 years."
Why is Tradeoffs different from a host of other news outlets' coverage of health care? Gorenstein was asked.
The Power of Podcasts
"Podcasts make it easier to get in-depth into issues that are hard to handle when you're a reporter on a daily deadline," Gorenstein said. "It's like when the Trump administration issues an executive order to increase price transparency and the reporter has just two or three hours to get that story together and up. She or he may have time to interview an expert or two, but not more than that. They don't have time to review the full body of evidence or to identify and tell the stories of people affected by a policy like that. But in-depth podcast projects can do that and have the benefit of enabling audience members to listen to those reports at a convenient time of their own choosing."
On the 16th, Tradeoffs' first published podcast will be an in-depth look at a new paper by the Urban Institute, a nonpartisan think tank, that uses microsimulation modeling to analyze the cost and coverage implications of leading Democratic health reform proposals. It's a topic that, for some, may sound boringly technical and obscure. But it's not. Microsimulation modeling analyzing how enormous numbers of individuals or units are likely to behave and interact in any given situation are now heavily used to test the assumptions and goals of proposed marketing campaigns, legislation, regulations and political campaign claims and pronouncements.
'A Smarter, More Honest Conversation'
"This is really big," said Gorenstein. "Democrats have dedicated a lot of their primary debates to health care, but so far, the conversation has been very hard to follow. This is the first analysis of the election cycle to actually put these popular Democratic plans head-to-head and quantify their likely impacts. The hope is that by injecting actual numbers into the debate, everyone can see and think clearly about the tradeoffs that these candidates are proposing but not often mentioning. This paper is really a microcosm of what we hope to do as a show — to illuminate the evidence in an engaging way and ultimately help our country have a smarter, more honest conversation about our health care problems — and possible solutions."