Improving Journalists' Access to Public Information Records
Researchers consider how local and state level bureaucracies have impacted the functioning of contemporary Philadelphia newsrooms.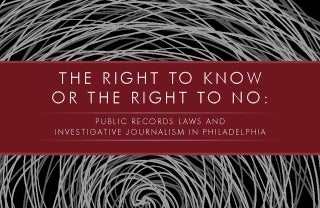 The City of Philadelphia has a transparency problem impacting its newsrooms. Though Pennsylvania's Right to Know (RTK) Law is designed to promote access to official government information, practical and logistical issues stymie journalists seeking public records for investigative stories.
With limited or no training, news media professionals have had to learn to navigate an opaque and unpredictable bureaucratic system in which delays and denials are the only routine part of the process. To make matters worse, many local and state news outlets face continued economic uncertainty, compounding the difficulty journalists face in dealing with unpredictable and labor-intensive methods to access needed information.
A new report from the Media, Inequality and Change (MIC) Center and the Center for Media at Risk explores the impacts and infrastructure of RTK laws through interviews with 16 Pennsylvania-based journalists. The researchers — doctoral student Muira McCammon and former postdoctoral fellow Daniel Grinberg — consider how local and state level bureaucracies have impacted the functioning of contemporary Philadelphia newsrooms.
"Many researchers to date have focused their attention on how journalists use the Freedom of Information Act to access federal documents and data," says McCammon. "Our work takes a slightly different approach and looks at the strategies local newsrooms leverage to get the facts and figures they need to tell meaningful stories about the City of Philadelphia."
The report highlights the results that the interviewees' records requests have yielded and includes a comparative assessment of how Pennsylvania's RTK laws stack up against other states as a mechanism of transparency and accountability. With special consideration to the difficulties that journalists face when they encounter resistance from open-records officers, the researchers ask how journalists telling stories in and around Philadelphia can more effectively optimize the resource of public information in service of investigative reporting.
In addition, the researchers outline a series of primary strategies that journalists and editors alike use to compel government agencies to disclose information. They also recommend a series of industry and policy reforms in order to ensure a future in which the RTK law functions as a powerful investigative tool in Philadelphia's newsrooms.
The researchers stress that ensuring the future of transparency in Philadelphia requires looking beyond it, and they encourage scholars to conduct comparative research on trends and norms of RTK use by media practitioners in other Pennsylvania cities.