New Juneteenth Documentary Explores Notions of Freedom and Citizenship
An exclusive Penn screening of the film produced by the Annenberg Public Policy Center, plus a conversation with activist Opal Lee and Penn's Mary Frances Berry, moderated by APPC's Director of Outreach and Curriculum Andrea (Ang) Reidell, takes place on Feb. 28.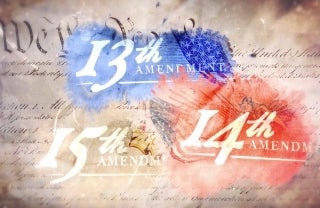 For years, Opal Lee fought to get Juneteenth recognized nationally, and her activism paid off in 2021 when President Biden signed a bill making June 19 a federal holiday. Now, a new documentary from the Annenberg Public Policy Center features Lee, Penn's Mary Frances Berry and Kermit Roosevelt, and many others discussing the day in 1865 that enslaved people in Texas finally learned—more than two years after the Emancipation Proclamation—that they were free.
On Tuesday, Feb. 28, Annenberg Classroom, the APPC program responsible for the 28-minute documentary, will host an exclusive screening for the Penn community in a free webinar (registration with a Penn email required), followed by a conversation with Lee and Berry moderated by Andrea (Ang) Reidell, APPC's director of outreach and curriculum.
Penn Today spoke with Reidell about her hopes for the documentary, now and in the future.
How does this film fit into others in the Annenberg Classroom series?
We have more than 65 short documentary videos that relate to constitutional concepts and Supreme Court cases. This is a little bit of a departure from that in that it's focusing on a specific event instead of a specific Supreme Court case, but it's so clearly tied to constitutional concepts, citizenship, and freedom, and changes to the Constitution that resulted from the Civil War. It's all connected.
In broad strokes, how does the documentary describe and discuss Juneteenth?
Juneteenth recognized the official end of slavery for about 250,000 enslaved people in Texas who hadn't been informed about the Emancipation Proclamation that Lincoln signed in January 1863. In June of 1865, soldiers finally made it to Galveston, where they read General Order #3, which let enslaved people in Texas know that they were free. So, one of the key concepts we want people to learn about, and why we subtitled this event 'Exploring Freedom's Stories,' is that we want people to think about freedom, about what that meant and how that relates to citizenship, especially after the Civil War.
What will the event entail?
We'll be doing programs about the film through the summer and into the fall, but we wanted to debut it here for the Penn community when Penn students are on campus and could benefit from it. We want as many people as possible to be able to attend; that's why we didn't want to wait until June, but instead decided to do this during Black History Month. For the event itself, we'll have a screening, then we'll host our special guests, Ms. Opal Lee and Penn's own Dr. Mary Frances Berry. I have some questions for them, then people on the webinar will have the chance to ask questions.
How do you envision people will use this documentary in the future?
Teachers haven't always had the best resources around Juneteenth. For a long time, people thought it was just a Texas thing. But of course, even though it happened in Texas, it affected 250,000 people and is part of an institution that was unfortunately so much a part of the U.S. up to that point. It really does affect us all. So, we want our documentary to be a resource available for use in classrooms.
To that end, we're working on a pilot project now. Three teachers—one in California, one in Washington, and one in Illinois—are writing middle and high school lesson plans around the documentary and those will be made publicly available in April. Then in mid-April, we're hosting a national teacher webinar to let teachers know about the film and what free resources can go with it. As far as I know, ours is one of the first documentary films about Juneteenth, hopefully the first of many similar resources, and there have always been great primary sources. But this brings it all together into a narrative for teachers to share with their students.
 The film will be available for view in March on the Annenberg Classroom website.