New Report Comprehensively Reviews the State of Extended Reality (XR) Research
Published by the Annenberg School's Virtual Reality ColLABorative, the report summarizes augmented, mixed, and virtual reality research in the social sciences.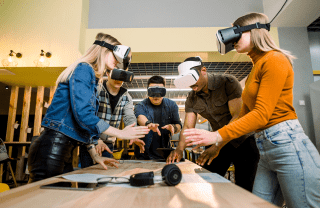 Most of us interact with virtual technologies in our everyday lives, whether it's scanning a QR code to see a restaurant menu, taking a selfie with a fun Instagram filter, or playing video games with a VR headset.
Despite this, the impact of virtual reality on society is vastly understudied, says Katerina Girginova (Ph.D. '18), co-director of the Annenberg Virtual Reality ColLABorative (VRCoLAB), a group at the Annenberg School for Communication focused on the critical and creative study of extended reality (XR) — augmented, mixed, and virtual reality — technologies.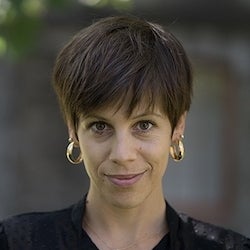 Last week, the lab launched "Social Grammars of Virtuality," the first publication dedicated to the review of XR research in the social sciences.
"Only 5% of the research on XR comes from the social sciences," Girginova says. "The other 95% is dominated by medicine, engineering, and computer science — fields that are not only at the forefront of using XR technologies, but also are actively developing them."
This is worrying, she says, because social science research is critical in understanding the impact of XR technology on individuals and societies: its ethical implications; its role in our daily lives. By considering the social dimensions of XR, researchers, technologists, and developers will not only be able to create more ethical and effective technology, but also expand the way humans communicate.
For the first issue of "Social Grammars of Virtuality," published in English and Spanish, Girginova and VRCoLAB Co-Director Kyle Cassidy, along with a team of scholars, reviewed the 1,457 peer-reviewed papers on XR and the social sciences published in 2022.
They analyzed trends in vocabulary, subjects, locations, and publications — then developed guidance on how to improve and expand this burgeoning field of research.
Their findings include:
Globally, many more people in 2022 experienced AR technologies (like QR codes or TikTok filters) on a daily basis than VR technologies. Yet, VR research dominates academic literature.
In general, XR research in the social sciences significantly lags behind technological developments.
Almost half of the papers were backed by some kind of funding, mostly by national-level agencies, and 94% of all social science XR articles were co-authored.
A large percentage of the articles studied were from the field of education, many inspired by challenges educators faced during the COVID-19 pandemic.
Key terms in XR research — like immersion, presence, and embodiment, all borrowed from cognitive psychology — do not yet have explicit definitions in regards to XR research and are often seen as static concepts, rather than as ideas to critically interrogate.
There are not yet consistent methods to measure the physical movement often involved in XR media consumption — like walking during a museum tour or jumping during virtual sports training.
"Social Grammars of Virtuality" is hosted on Manifold, a digital platform for scholarly publishing developed by researchers, publishers, and developers at the CUNY Graduate Center, the University of Minnesota Press, and Cast Iron Coding. It is the first University of Pennsylvania publication to use Manifold, and the team at VRCoLAB hopes that more researchers at Penn will join them on the platform and collaborate digitally.
It made perfect sense to choose an online platform for a publication on XR, Girginova says. Through Manifold, readers can interact with the text directly through writing annotations and sharing them with others. But most importantly, the platform is open source.
"We hope to promote critical scholarship on VR that might better harness how new technologies are used to shape a more just and sustainable world," says Girginova. "Manifold gave us the space to host the report where anyone can access it."
"Social Grammars of Virtuality" is published in English and Spanish and was authored by Girginova and Cassidy, along with Maxwell Foxman, assistant professor of Media Studies/Game Studies at the University of Oregon, Katie Rawson, director of Library Services and Operations at the Annenberg School for Communication, and Matthew O'Donnell, research associate at the Communication Neuroscience Lab at the Annenberg School for Communication.