Twelve Undergraduates Present Honors Theses
The seniors presented their Communication theses, a culmination of their year-long work, to a panel of professors and guests.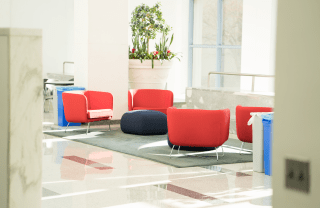 On April 20 and 21, twelve Penn seniors presented their Communication theses to a panel of professors and guests, a culmination of their year-long work. The students wrote an honors thesis and/or a Communication and Public Service Capstone Thesis as a required part of their ComPS concentration. All will graduate with honors at Annenberg's ceremony on May 15. From feminists on TV to hate speech laws to suicide bombers, their subjects span the field of Communication.
Elizabeth Ames
"Gendered Terrorism: Contrasting Newspaper Coverage of Male and Female Suicide Bombings"
Thesis Advisors: D. David Eisenhower; Kimberly Woolf
Does the media treat male and female suicide bombers differently? By comparing pairs of male and female attacks with similar characteristics and then looking at the length, framing, and number of newspaper articles that resulted, Ames found notable differences. She found that the articles about female bombings were shorter, less numerous, less accurate, and less graphic.
Scott Cesta
"Secularism, Religious Dissent, and the American Presidency: An Analysis of Campaign Speech and Public Opinion"
Thesis Advisors: D. David Eisenhower; Kimberly Woolf
There has been an increase in acceptance for African-American and women presidential candidates in America, but one group continues to be considered "unelectable": the non-religious. This is at odds with a growing number of secular Americans overall. Cesta studied the way that religious minority candidates in the past have addressed their faith during their campaigns. Using survey research, he also explored what impact a lack of religiosity may have on perceived electability and viability of candidates today.
Robert Klein
""We've Lost the South for a Generation": Civil Rights, Populism, and the Rhetoric of Political Realignment in the 1960s"
Thesis Advisors: D. David Eisenhower; Kimberly Woolf
Before 1964, "the solid south" meant that American Southerners could be relied upon to vote Democratic. Today, nearly the opposite is true. Klein did a historical analysis to look at how politicians used rhetoric, often racial, to drive that realignment.
Minji Kwak
"Unfriended: The Relationship Between User Sentiments, Business Management, and Successful Online Social Network Diffusion"
Thesis Advisors: Sandra González-Bailón; Eran Ben-Porath
What makes a social network site fail or succeed? Why did MySpace and Friendster surge and then fade, but Facebook continues to dominate? Kwak considered the ways in which users value privacy and trust these networks, as well as the sites' ability to adapt and change to user needs and attitudes. She found that the success of social networks is associated with the regular and rapid introduction of new network features and not on how well sites address privacy concerns.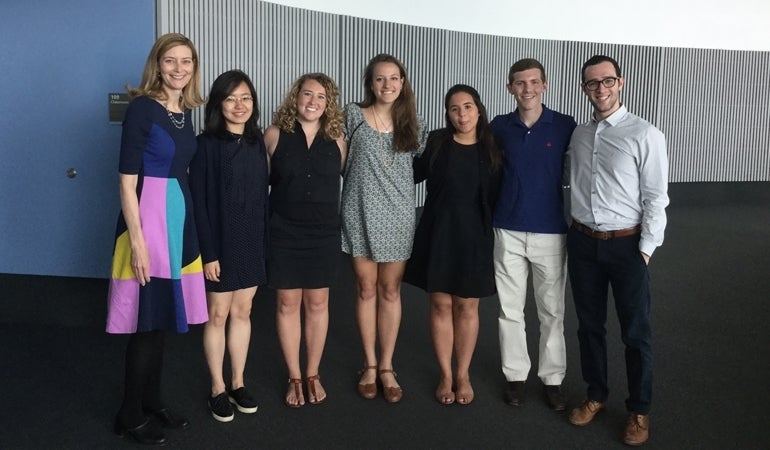 Do Eon (Donna) Lee
"Online Expression of Hatrism on Homosexuality in South Korea: The Relationship Between the Online Community Landscape and Public Engagement in Issues Surrounding Homosexuality"
Thesis Advisors: Sandra González-Bailón; Kimberly Woolf
Lee did an analysis of network links among anti- and pro-homosexuality Korean websites. She found clusters of polarization among top-visited websites. She paired this analysis with survey research of 500+ respondents, considering demographic factors and online media activity that influenced their attitudes towards homosexuality.
Erica Nicokiris
"From Sex and the City to Broad City: An Analysis of the Representation of Female Sexuality in Television"
Thesis Advisors: Sharrona Pearl; Eran Ben-Porath
Nicokiris looked back at three distinct eras of feminism in the twentieth century, and then applied that to a textual analysis of two recent television shows: Sex and the City (1998-2004) and Broad City (2014-present). She looked at the ways in which two characters — Sex and the City's Samantha Jones and Broad City's Ilana Wexler — reflect the ideals of third wave feminism. In particular, she looked at their descriptions of past sexual experience, their partners, the way they express sexual desire, their sexual preferences, and the descriptions of what they want from a relationship.
Yunhee Park
""Block Attack": A Study of the Advertising Industry's Reaction Toward Ad Blocking Over Time
"Thesis Advisors: Joseph Turow; Eran Ben-Porath
There's no doubt that the advertising industry currently is faced with many changes and challenges, particularly heightened fear around ad blocking. Park looked back at three periods of time — 1986-1995, 1996-2005, and 2006-2015 — to show that fears around the "death of advertising" have been ongoing and varied, including fears over the remote control, VCR skipping, the V chip, and DVRs. She also did a qualitative textual analysis of the popular and industry press regarding these issues.
Cheyenne R. Rogers
"Digital Media for Democratic Minds: A Study of Critical Digital Democracy in Middle School Social Studies Classrooms"
Thesis Advisors: Kimberly Woolf; Eran Ben-Porath
How do teachers use digital media to enhance digital democracy among their middle school students? How do teaching strategies vary based on the socioeconomic level of the class itself? Rogers explored these questions by interviewing teachers and observing four classrooms in both urban and suburban settings in the Philadelphia region. She also split her analysis between charter schools and public schools, finding that charter school teachers in low SES districts are likely to use more aspects of critical digital democracy in their classrooms.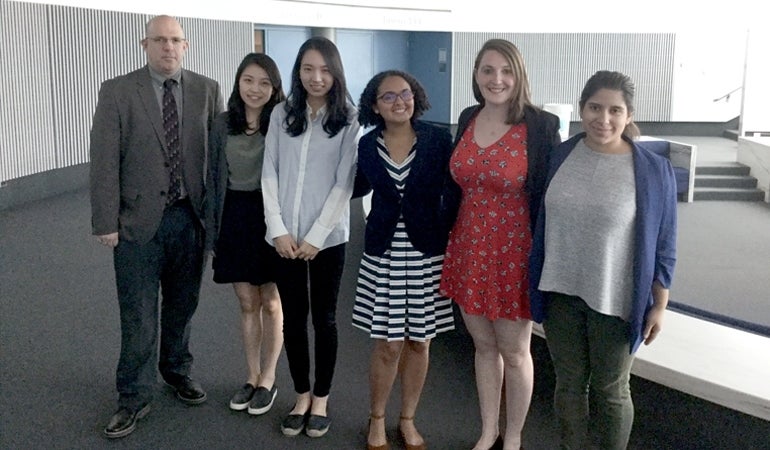 Laura A. Ruiz-Colón
"Hate Speech Laws in Liberal Democracies: The Experience of England and France"
Thesis Advisors: Carolyn Marvin; Kimberly Woolf
For her thesis, Ruiz-Colón looked at hate speech laws in England and France and how those were applied in high profile cases. She considered press coverage, judicial opinions, and legal commentary. In both countries, she found a considerable gap in the number of reported hate crimes and the number that are prosecuted, and a second gap between the number prosecuted and those that resulted in sentencing. She also found differences between the countries in terms of how the laws are applied and the themes that emerge in press coverage of the laws. 
Lianna Serko
"What's Lost in Words: Rhetoric and Gender Inequality in the Workplace"
Thesis Advisors: D. David Eisenhower; Eran Ben-Porath
It is often found that in the American workplace, women earn 80 cents for every dollar a man earns. Serko looked at the way that pay gap is discussed, and how the rhetoric around it might also contribute to that gap. She found that political messages tended toward logos (logical, rational) approach, whereas activist messages took the more pathos (emotional) route, thus overlooking the continued experience of wage discrimination. The media tends to cover legislative success more than activism.
Virginia Walcott
"Highlighted, Slighted, and Misconstrued: Competing Narratives Within Brazilian Media Coverage of Human Rights Violations, the 2014 World Cup and the 2016 Olympic Games"
Thesis Advisors: D. David Eisenhower; Kimberly Woolf
As host of the 2014 World Cup and the upcoming Olympic Games, Brazil has been in the media spotlight. Preparations for these events have been costly, and often at the expense of the poor: evicting people from and demolishing favelas and funding sporting facilities while underfunding education, healthcare, and social services. Walcott analyzed different Brazilian media outlets for their coverage and framing of Brazil's human rights violations.
Jongwon Alice Yu
""Good Job!": A Study on Preschool Children's Socialization Through Computer Use"
Thesis Advisors: Paul Messaris; Eran Ben-Porath
Do computers facilitate social interactions among preschool students, or do they effectively block socialization and lead to more isolated playtime? Yu did an ethnographic study of four preschool children — two girls and two boys, all aged 4 — on how they used their playtime and how computers affected their social interactions. She found that computers facilitated social interaction, sometimes better than other types of play.