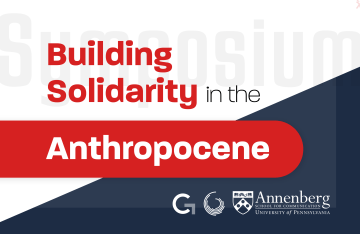 CARGC-CDCS Symposium: Closing Discussion with Filmmakers
April 29, 2022
9:00am-10:30am
"Documentary Films for Imagining Futures: Celebration & Concluding Roundtable with Global Filmmakers"
This is the closing event of the month-long CARGC-CDCS Symposium, "Building Solidarity in the Anthropocene: Approaches to Infrastructure, Environment, and Global Communication." In this concluding roundtable, filmmakers will discuss documentary films that have been screened during the Symposium month. Please see below for the detailed Symposium description.
Download the Symposium program
About the Closing Discussion
Each week of April, our Symposium has provided access to a different documentary film which explores relationships among technology, infrastructure, environment, and affected communities in India, US, China, Greenland, Jamaica, and other Caribbean countries. In this concluding roundtable, we invite all filmmakers to celebrate and discuss their works in relation to these themes more broadly. The roundtable is moderated by Alissa Jordan, Associate Director of the Center for Experimental Ethnography (CEE), and Kinjal Dave, CARGC Doctoral Fellow & Member of the Collective for Advancing Multimodal Research Arts (CAMRA). During the roundtable, we welcome the audience to engage with our invited filmmakers through a live Q&A. You can also submit questions/comments about any of our featured films in advance.
About the Films and Filmmakers
April 7-10: The Lake and The Lake (2019) by Sindhu Thirumalaisamy
The Lake and The Lake dwells in the peripheries of Bellandur lake in Bangalore, where the act of observation is interrupted by flying foam, noxious gases, daydreams, and questions from passers-by. Despite its spectacular toxicity, the lake remains a valuable resource and refuge for counterpublics. Standing in this toxic commons alongside fishing communities, migrant workers, foragers, security guards, dogs, catfish, and children, it is evident that there is no nature that doesn't also include all of us. 
Sindhu Thirumalaisamy is an artist and award-winning filmmaker whose work centers (un)common spaces and the possibilities for speech and action with/in them. She has worked in relation to hospitals, parks, streets, kitchens, temples, mosques, and lakes—spaces that hold potential for collective resistance and care.
Register for the film screening on April 7-10
April 11-15: As If Sand Were Stone (2019) by Ben Mendelsohn
As If Sand Were Stone is an essay documentary about the intersections of nature and technology along the New York City waterfront. Narrated by landscape architect Gena Wirth, the film analyzes processes of dredging and sand filling as a key infrastructural process in the production of urban space. Combining observational footage of New York's harbor deepening project with a series of self-reflexive research spirals, the film also explores how sedimentary landscapes interact with digitally mediated landscapes of discourse and image.
Ben Mendelsohn is Assistant Professor of Film and Digital Culture at Portland State University. Previously, he was a Mellon Postdoctoral Fellow with the Penn Program in Environmental Humanities (PPEH) at the University of Pennsylvania. His films have been screened at the Rockaway Film Festival and the Block Museum.
Register for the film screening on April 11-15
April 16-20: Behemoth (2015) by Liang Zhao
Beginning with a mining explosion in Mongolia and ending in a ghost city west of Beijing, political documentarian Zhao Liang's visionary film Behemoth details, in one breathtaking sequence after another, the social and ecological devastation behind an economic miracle that may yet prove illusory.
Zhao Liang is an independent documentary filmmaker as well as a multimedia artist in photography and video art. His films have premiered at Cannes, Venezia, and Berlinale; artworks being exhibited at the International Center of Photography (New York), Walker Art Center (Minneapolis), Haus der Kullturen der Welt (Berlin), Sala Grande Venezia (Venice), Museo Reina Sofía (Madrid) and numerous film festivals, art galleries and museums worldwide.
Register for the film screening on April 16-20
April 21-25: In the Shadow of Tugtupite (2020) by Inuk Jørgensen
A cinematic portrait of despair and anxiety towards an unknown future for the Inuit of the world's largest island. The film questions the rationale behind past and future mining prospects in Greenland and how they are connected to a search for identity for the fledgling nation. This film, in many ways, laid the foundation for the events that eventually led to a call for an early election in Greenland during the spring of 2021.
Inuk Jørgensen is a filmmaker and activist from Greenland. Inuk holds a master's degree in film studies, is a voting member of the European Film Academy, sits on the board of Film.GL, and has a long history of producing shorts and advertising content of different sorts. His short films have been shown at more than 100 film festivals worldwide and on every continent, winning awards in as diverse countries as, the U.S., Finland, India, Greenland, and Ukraine.
Register for the film screening on April 21-25
April 27-28: Fly Me to the Moon (2019) by Esther Figueroa and Mimi Sheller
Fly Me to The Moon is a feature documentary by Jamaican independent filmmaker Esther Figueroa, that takes us on a journey into the unexpected ways we are all connected on Planet Earth, by following aluminum – the metal of modernity – around the world and into space. We travel for over one hundred years, visiting places as far flung as the Moon, Jamaica, India, Suriname, Canada, Cuba, Japan, Hungary, Iceland, Australia, Vietnam, the United States of America, encountering along the way human triumphs, technological innovations, multiple wars, societal upheavals, environmental devastation. And in the urgent here and now of the climate crisis, the film challenges us to think about the consequences of our consumption, to reimagine the ways in which we live, and to change our material culture and political economy that is destroying the planet we all depend on.
Esther Figueroa is a Jamaican independent filmmaker, writer, educator, and linguist with over thirty five years of media productions. Her activist filmmaking gives voice to those outside of mainstream media and focuses on the perpetuation of local and indigenous knowledge and cultures, the environment, social injustice, and community empowerment. Her films are screened and televised all over the world and taught at numerous universities.
Mimi Sheller is Professor of Sociology and the Dean of The Global School at the Worcester Polytechnic Institute. Dr. Sheller has published more than 125 articles and book chapters, and is the author or co-editor of fifteen books, including Advanced Introduction to Mobilities (Edward Elgar, 2021) and Island Futures: Caribbean Survival in the Anthropocene (Duke University Press, 2020).
Link to register for the film screening on April 27-28
This closing discussion and global film series are co-sponsored by the Center of Experimental Ethnography (CEE) and the Collective for Advancing Multimodal Research Arts (CAMRA) at the University of Pennsylvania.
Our Co-chairs
Alissa Jordan is a multimodal cultural anthropologist who received her Ph.D. from the Department of Anthropology at the University of Florida in 2016. She is Associated Director of the Center for Experimental Ethnography (CEE) at the University of Pennsylvania. Her research focuses on questions of bodily being, bodily security, and creativity across field sites in rural Haiti, urban Ghana, and in social spaces in virtual and augmented reality. She investigates these questions using methods of experimental writing, collaborative nonlinear filmmaking, sensory mapping, photography, museum exhibition, and digital experimentations. She is currently researching women's experiences of birthing, and care as resistance, in the context of hospitals that imprison mothers, infants, and other patients for debt.
Kinjal Dave is a doctoral student at the Annenberg School for Communication at the University of Pennsylvania and a doctoral fellow at CARGC. She researches the politics of information at the intersection of Communication Studies and Science and Technology Studies. Prior to joining Annenberg, Dave worked as a Research Analyst at Data & Society Research Institute on the Media Manipulation and Disinformation Initiative. Dave received her bachelor's degree in Philosophy and Political Science at Villanova University. Her research has been published in Hyperallergic and Data&Society Points.
About the Series
"Building Solidarity in the Anthropocene: Approaches to Infrastructure, Environment, and Global Communication"
Oceans rise. Trees burn. Shales fracture. Mines pollute. Viruses spread. Cities under lockdown. Infrastructures attack. Ecologies go feral…. We are in an era where infrastructures and environments are ever closely intersected on a global scale. How to make sense of the different but intersecting logics, networks, and poetics of infrastructures and environments? What critical roles do media and mediation play in shaping the anthropocene, both in the Global South and North? At the 2022 CARGC-CDCS Spring Symposium, we invite speakers to discuss how they address these important questions in their respective works.  
 
The 2022 Symposium will bring together leading scholars, artists, activists, journalists, and other experts to collaboratively envision our shared futures. Speakers will share their research and multi-modal works from wide-ranging and multidisciplinary perspectives. The main topics of discussion include resource extraction, decolonial practices, politics of environment, urban infrastructure, environmental racism, trans-oceanic supply chains, and communication infrastructures amidst global health emergencies. We envision each roundtable as a generative space for open dialogues and critical reflections. Our month-long Symposium will also feature filmmakers and their works which explore the relationships among technology, infrastructure, environment, and affected communities. Their films will be made available for online screening (access with codes) during the Symposium month. Our Symposium month will conclude with a cross-panel discussion about this year's overarching themes and our featured films.
Disclaimer: This event may be photographed and/or video recorded for archival, educational, and related promotional purposes. We also may share these video recordings through Annenberg's website or related platforms. Certain events may also be livestreamed. By attending or participating in this event, you are giving your consent to be photographed and/or video recorded and you are waiving any and all claims regarding the use of your image by the Annenberg School for Communication. The Annenberg School for Communication, at its discretion, may provide a copy of the photos/footage upon written request.