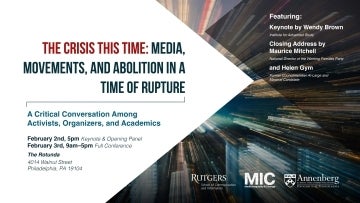 The Crisis This Time: Media, Movements, and Abolition in a Time of Rupture
February 2-3, 2023
Various Times
The Rotunda, 4014 Walnut St., Philadelphia
Audience
Open to the Public
Join MIC and Rutgers University for a conference exploring methods to articulate critical interconnections between crises and forms of resistance. 
We live in a time of rupture. 
The social, economic, and ecological crises that confront us today compound longstanding inequalities on a global scale. In response to these asymmetries, we are witness to a flourishing of rebellions and resistance movements emerging over the last decade. A major challenge facing contemporary movements is how to harness new and existing media in order to articulate critical interconnections between crises and forms of resistance. 
Across three main themes—policing the crisis, mediating the crisis, and powering through the crisis—we call together scholars and activists to ask: What is the relationship between media and movements today? What role do media play in building effective resistance? What are the problems and possibilities of the current media ecosystem as we organize to build an effective movement of movements? 
We convene this conference at an important time for movements to deepen their connections with each other and articulate a positive vision of a free society. This two-day convening will therefore aim to both understand the moment while putting forward possible pathways towards our collective future.
Full Program
February 2, 2023
5:00-5:45pm | Keynote: The Crisis This Time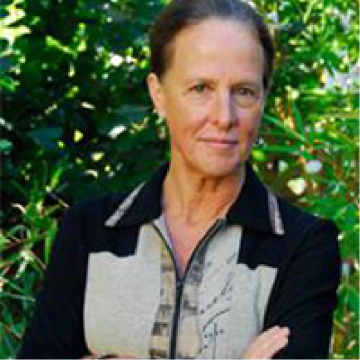 Wendy Brown, Institute of Advanced Study
The keynote is intended to set the tone for the convening by offering a sweeping vision of the crisis landscape we find ourselves in and definition of the stakes of organizing and movement building in the moment. What defines this conjuncture? In what ways do we see the social formation begin to fracture? What are the critical ways in which ruling agendas in a time of crisis are represented, articulated, and mediated? How are movements responding to the moment and where do we see the movements that may offer collective and concerted direction for a new 'common sense'?
6:00-7:30pm | Panel Discussion
PANELISTS
Liz Theoharis, Co-Chair of the Poor People's Campaign and Director of the Kairos Center for Religions, Rights, and Social Justice
Maximillian Alvarez, Editor-in-Chief of The Real News Network in Baltimore and the host of Working People
Wendy Brown, Institute of Advanced Study
Chenjerai Kumanyika, Assistant Professor at NYU and podcast host (Moderator) 

February 3, 2023
9:00-9:45am | Breakfast
10:00-11:30am | Panel 1: Policing the crisis
What is the crisis we see right now? What are the ways communities are resisting? What do these communities tell each other—and tell us? 
The 2020 George Floyd uprisings brought to center stage the crisis of policing in this country. Long-standing abolitionist organizers who oppose prisons and cages as a form of justice and oppose the consolidation and expansion of the prison industrial complex have laid the critical groundwork for understanding the crisis of police and prisons in a wider framework of carcerality. How did law and order and policing in its various dimensions come to be the solution to various crises? How do these interlock with growing inequality as well as the rise of new forms of authoritarian state power and populism in the U.S. and the world? How are these various crises policed and articulated through carceral logics?
PANELISTS
Tony Jefferson, Professor Emeritus, Keele University
Keisha-Khan Perry, Presidential Penn Compact Associate Professor of Africana Studies, University of Pennsylvania 
Dan Berger, Professor, University of Washington
Kris Henderson, Executive Director, Amistad Law Project
Britt Paris, Assistant Professor, Rutgers University School of Communication and Information (Moderator)

11:30-1:00pm | Panel 2: Mediating the Crisis
This panel explores the role of media in stitching together the frameworks, narratives, and common sense of this moment of compounding crisis.  
What are the structural possibilities of the media system to reflect the new directions that are emerging from social movements today? What is the media our movements need? What critical lessons can we draw on from movement media organizing in contemporary organizing—ten years ago (during the Arab Spring / Occupy cycle) and twenty years ago (at the advent of Indymedia during the antiglobalization "movement of movements")?
PANELISTS
Jean Friedman-Rudovsky, Co-Executive Director at Resolve Philly
Natalie Fenton, Professor of Media and Communications, Goldsmiths University of London
Donna Murch, Associate Professor of History, Rutgers University
Joseph Torres, Senior Director of Strategy and Engagement, Free Press
Malav Kanuga, MIC Center Postdoctoral Fellow

1:00-2:30pm | Lunch
2:30-4:00pm | Panel 3: Powering the Resistance
How are we building strategies with media, through media, that build our power? This panel seeks to put those strategies on the table, to think with the experiences, critical reflections, and viewpoints of movement media strategies. 
PANELISTS
Marcus Gilroy-Ware, Author and Lecturer at SOAS, University of London
D. Noble, Activist, Professor, and Radical Cultural Worker, UNC Greensboro
Alessandra Renzi, Associate Professor, Communication Studies, Concordia University
Lilly Irani, Associate Professor, UC San Diego
Bryan Mercer, Executive Director, Movement Alliance Project (Moderator)

4:00-5:00pm | Closing Panel: Reflections and New Directions
What is the horizon for social movements today and tomorrow? Where do our movements go from here and with what media? This closing panel offers reflections on and collective possibilities for a coordinated movement of movements based on the themes of the conference, and the various interventions offered by panelists and participants. 
Maurice Mitchell, National Director of the Working Families Party 
Helen Gym, Former City Councilmember at-Large, Philadelphia mayoral candidate 
Sarah J. Jackson, Presidential Associate Professor, Annenberg School for Communication, MIC Co-director (Moderator)
Todd Wolfson, Associate Professor, Rutgers University School of Communication and Information, MIC Co-director (Moderator)
Disclaimer: This event may be photographed and/or video recorded for archival, educational, and related promotional purposes. We also may share these video recordings through Annenberg's website or related platforms. Certain events may also be livestreamed. By attending or participating in this event, you are giving your consent to be photographed and/or video recorded and you are waiving any and all claims regarding the use of your image by the Annenberg School for Communication. The Annenberg School for Communication, at its discretion, may provide a copy of the photos/footage upon written request.