Sarah J. Jackson studies how media, journalism, and technology are used by and represent marginalized publics, with a focus on how communication arising from Black, feminist, and activist spaces contributes to US progress.
Sarah Jackson is a Presidential Associate Professor at the Annenberg School for Communication. Her work engages deeply with critical theories of the public sphere, race, media, and social movements. Jackson's first book, Black Celebrity, Racial Politics, and the Press (Routledge, 2014), examines the relationship between Black celebrity activism, journalism, and American politics. Her co-authored second book, Hashtag Activism: Networks of Race and Gender Justice (MIT Press, 2020), focuses on the use of Twitter in contemporary social movements. In 2020, she was awarded an Andrew Carnegie Fellowship to support research on her next book, A Second Sight, which traces the power and innovation of African American media-makers.
Her research has also appeared in the Journal of Communication, Feminist Media Studies, Information, Communication & Society, Media, Culture & Society, and New Media & Society, among others. She has received awards and fellowships from the Harvard Shorenstein Center for Media, Politics and Public Policy, the International Communication Association, the National Communication Association, the Logan Nonfiction Program, New America, the European New School of Digital Studies, and the McGannon Center. She has been called on as an expert by local and national media outlets including NPR, PBS, NBC News, CNN, The Associated Press, The New Yorker, Wired, Boston Review, The Washington Post, USA Today, Politico, The Philadelphia Inquirer, The Boston Globe, and Vox, and has published op-eds and essays in the New York Times, Los Angeles Review of Books, and The Atlantic.
Jackson serves an associate editor at Communication Theory and sits on the editorial boards of six other major communication journals. She is a founder and advisory board member of the Center for Critical Race and Digital Studies. Previously, she served as the Commentary & Criticism editor of Women's Studies in Communication, served on the advisory board of the Social Science Research Council's MediaWell initiative, and was a Faculty Associate at the Berkman Klein Center for Internet and Society.
Jackson is co-director of the Media, Inequality & Change Center which explores the intersections between media, democracy, technology, policy, and social justice. MIC produces engaged research and analysis while collaborating with community leaders to help support activist initiatives and policy interventions.
Before joining the Annenberg faculty, Jackson was an associate professor of Communication Studies at Northeastern University. She holds a Ph.D. in Mass Communication from the University of Minnesota and a M.A. in Communication from the University of Michigan.
Education
B.A., University of Utah
M.A., University of Michigan
Ph.D., University of Minnesota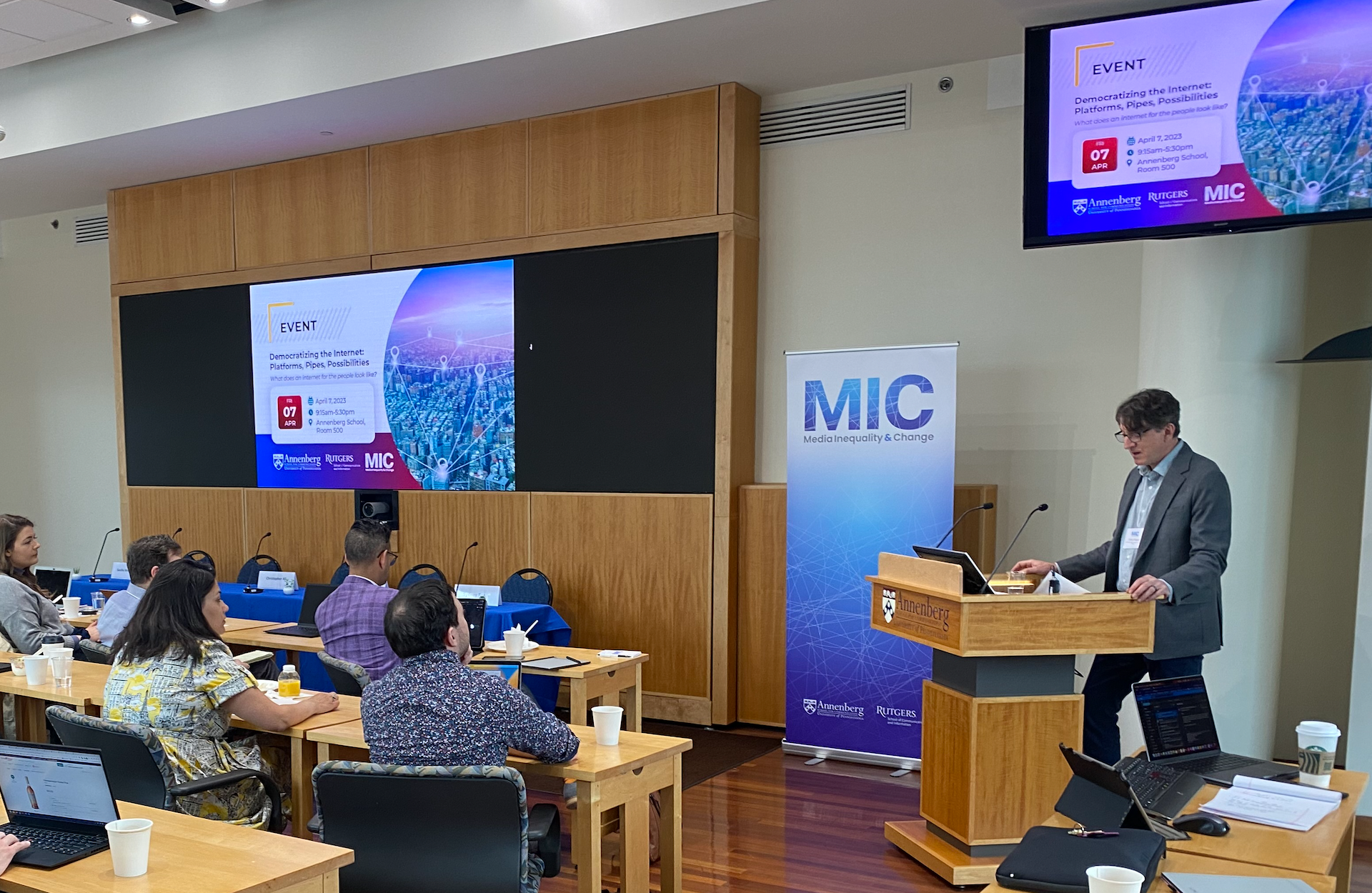 News
It's easy to forget how much the internet affects our daily lives. But our opinions, our health, our education, even our democracy are all heavily influenced by a global system of cables, routers...
Sarah J. Jackson on Video