Annenberg Alumni Make the Calls on Election Night
Kristen Conrad, Ken Winneg, Talia Jomini Stroud, Melissa Herrmann, and Eran Ben-Porath worked behind-the-scenes at ABC and CBS.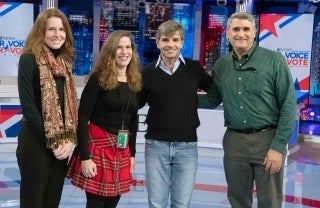 George Stephanopolous cuts off his co-anchor with a raised index finger. "I've got to pause so the rest of the nation can join us." A serious announcer voice declares, "This is an ABC News election update."
"ABC News can now predict that Democrats will win enough seats to gain control of the House," Stephanopolous says as the on-set graphics turn royal blue.
It was a big moment Tuesday night, one that Kristen Conrad (MAC '92) had spent a focused six hours working up to, aided by two other Annenberg alumni, Ken Winneg (MAC '85, PhD '09) and Talia Jomini Stroud (PhD '06), who were still busy calling individual House races.
When the news networks determine the winners of major elections, it can feel to the viewer as if some unseen oracle has manifested a verdict. In reality, there are groups of PhDs and survey research experts intently poring over election returns and statistical models, following the data until they feel confident in their predictions. Making the wrong call, they all know, would be a disaster.
"I'm blown away by the brain trust in that room — people who live and love politics and data and really appreciate the contribution we're making to the American fabric," says Conrad.
On election night 2018, five Annenberg alumni were behind the scenes at ABC and CBS, helping to make sense of a mind-boggling quantity of precinct-level returns and exit polling.
Conrad, the Director of Custom Research for survey research firm LHK Partners, has called the House of Representatives for ABC in all but one election since 1994. Winneg, Managing Director of Survey Research at the Annenberg Public Policy Center and a lecturer for the Annenberg School, worked on exit polls between 1986 and 1994 as part of his former job at Chilton Research. He has been on the ABC Decision Desk calling House races since 2006.
As part of a team of six calling the House of Representatives, they sat in a windowless, monitor-filled room at ABC News Headquarters in New York from 5pm until about 2am, plied with endless coffee and a dinner of chicken marsala. They are purposely kept away from the chatter of the TV pundits so their decisions are made purely by the data.
They even spend the weekend prior to the election doing rehearsals based on hypothetical returns, warming up and getting the kinks out of their communication and IT systems.
"I'm blown away by the brain trust in that room — people who live and love politics and data and really appreciate the contribution we're making to the American fabric," says Conrad.
"It was an exhilarating experience to see the data coming in and know how many important decisions are being made by the American public," says Stroud, an Associate Professor at the University of Texas at Austin's Moody College of Communication and a first-timer on the ABC Decision Desk.  "It's an honor to be involved in something that's so important to the public, the media, and the government."
Another major component to election night analysis is exit polling, which is done by an army of pollsters standing outside election precincts nationwide, asking people who they voted for and why. This firehose of data is pooled by ABC, CBS, NBC, and CNN, with analysts extracting all manner of insights from it.
Melissa Herrmann (MAC '96) and Eran Ben-Porath (PhD '08) have been doing exit polling analysis for CBS since 2014. By day, both are on the leadership team of survey research firm SSRS — Herrmann as President, and Ben-Porath as Executive Vice President. SSRS regularly conducts polling for CBS, ABC, The New York Times, CNN, and many other clients, including the Annenberg School. Ben-Porath is also a Lecturer for the Annenberg School, advising some of its honors thesis students.
On Tuesday, Herrmann worked with CBS News's exit poll team, analyzing the exit polling data and helping provide insights about voters and the election results. Ben-Porath also worked with the exit polling team, including reporter Ed O'Keefe and Penn alumna Nancy Cordes, on Senate races. The insights they plucked from the data were then reported on the air.
While about two-thirds of Annenberg alumni go into academia, the skills taught at the Annenberg School also lead a significant number to pursue market and survey research, helping to gather and understand public opinions on everything from politics to products. While working at Chilton Research, Winneg was actually responsible for hiring Herrmann and Conrad.
"I know that graduates from Annenberg not only have the skills necessary to do the number crunching, but also the intelligence and analytical ability to do a good job," says Winneg.
And in addition to Herrmann and Ben-Porath, Glen Mills, Pa.-based SSRS also employs alumni David Dutwin (PhD '02), its Executive Vice President who will be teaching at Annenberg in the Spring, and Senior Research Director and Vice President Susan Sherr (PhD '01).
Media Contact
Michael Rozansky
(215) 746-0202
michael.rozansky@appc.upenn.edu