Annenberg Faculty, Students, and Alumni Win Divisional Awards at ICA
Among those honored were Emily Falk, Marwan Kraidy, Klaus Krippendorff, and Jessa Lingel.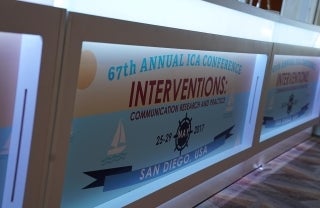 Numerous Annenberg faculty and alumni won divisional awards this past weekend at the International Communication Association (ICA) 67th Annual Conference in San Diego.
Klaus Krippendorff, Ph.D., Professor Emeritus and the Gregory Bateson Professor of Communication at Annenberg was the inaugural recipient of the ICA Mass Communication Division's Innovation Award for Methods.
The Mass Communication Division created the award to honor innovations that have served to improve the study of mass communication. The award focuses on a body of work, not a single research effort.
Through the course of his distinguished career, Krippendorff has created a large and influential body of work on content analysis, notably the classic book Content Analysis: An Introduction to Its Methodology, originally published in 1980 and now in its third edition, having been cited more than 23,000 times. He is widely considered one of the founding fathers of the discipline of Communication.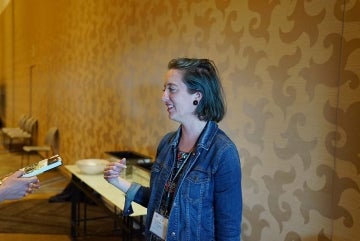 Assistant Professor Jessa Lingel, Ph.D., was a co-recipient of the James W. Carey Urban Communication Award, along with her collaborator, Germaine Halegoua, Assistant Professor at the University of Kansas. The award of $2,500 will be used to fund their project, "Invisibility and hypervisibility: Failures of imagination in urban broadband networks."
The project looks at the politics of two kinds of urban infrastructure — on the one hand, invisible "dark fiber" or internet cable that's been installed but never turned on, and on the other hypervisible wifi projects like Link NYC that demonstrate the limits of seeing both the internet and the street as neutral to privilege.
In addition to winning ICA's Outstanding Book Award for 2017, Marwan M. Kraidy, Ph.D., also won the ICA Division of Global Communication and Social Change's Best Book Award for The Naked Blogger of Cairo: Creative Insurgency in the Arab World.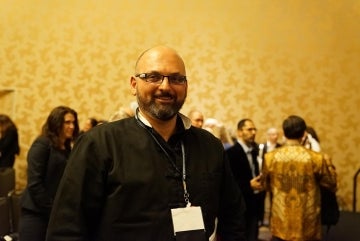 Kraidy is the only person to have won this award twice, previously having received it for his 2010 book, Reality Television and Arab Politics: Contention in Public Life, which also won the the 2011 Diamond Anniversary Best Book Award from the National Communication Association, and the 2011 Roderick P. Hart Outstanding Book Award from the Political Communication Division of NCA.
He is the Anthony Shadid Chair in Global Media, Politics & Culture and the Director of the Center for Advanced Research in Global Communication at Annenberg. 
Also from the Division of Global Communication and Social Change, alumnus Omar Al-Ghazzi (Ph.D. '16) received a dissertation award for, "Communicating History: The Mnemonic Battles of the 2011 Arab Uprisings." Starting this fall, Al-Ghazzi (currently at the University of Sheffield in the United Kingdom) will begin as an assistant professor in the Department of Media and Communications at the London School of Economics and Political Science (LSE).
Current and former members of Annenberg's Communication Neuroscience Lab, led by Emily Falk, Ph.D., won three top paper awards at ICA:
"Neural Activity During Anti-Smoking Message Exposure Predicts Subsequent Message Elaboration" (Authors Yoona Kang, Ph.D.; Prateekshit Pandey; Christin Scholz; Matthew Brook O'Donnell, Ph.D.; and Emily Falk, Ph.D.) was a Top 5 Paper in the Communication Science & Biology Interest Group.  
"Neural Activity During Antismoking Message Exposure Predicts Subsequent Message Elaboration" (Authors Rui Pei; Matthew Brook O'Donnell, Ph.D.; Elissa Kranzler; and Emily Falk, Ph.D.) won a Top Paper Award in ICA's Information Systems Division
"Who Likes to Be Reachable? Availability Preferences, Tie Strength, and Perceptions of Social Capital" (Authors Penny Trieu; Joseph Bayer, Ph.D.; Nicole Ellison; Sarita Yardi Schoenbeck, and Emily Falk, Ph.D.) was a Top Paper in the Communication and Technology Division
In addition to these divisional awards, Associate Professor Emily Falk was honored with ICA's Young Scholar Award. Three Annenberg alumnae — Amy Jordan, Ph.D.; Robin Nabi, Ph.D.; and Karin Wilkins, Ph.D. — were inducted as ICA Fellows. Jordan is Associate Dean for Undergraduate Studies and an Adjunct Full Professor at Annenberg.