Annenberg Graduate Students Host Roxborough High School Students for a Day of Communication Studies
Their recent visit included classroom learning about Communication studies and an advanced video editing lesson.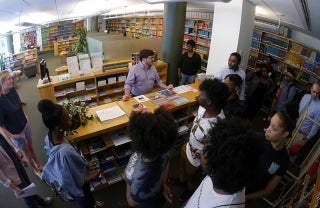 Thanks to the organizing efforts of a group of graduate students led by Rachel N. Stonecipher, the Annenberg School for Communication recently hosted a group of budding film students from Roxborough High School.
The high schoolers' projects, including this impressive anti-bullying PSA video, reveal their talents for video production. Their teachers reached out to Annenberg in the hope that its faculty and students could help build even more advanced skills.
Their recent visit, which marked the first time many had been in a college classroom, included classroom learning about Communication studies from graduate students Stonecipher, Elena Maris, Allyson Volinsky, Natalie Herbert, and John Vilanova as well as Professor Carolyn Marvin. The Roxborough students also learned some advanced digital editing skills from Waldo Aguirre, Annenberg's director of multimedia services. In addition, the high schoolers had lunch with current Penn students and got a tour of both the Annenberg School and the Penn campus. 
There are plans for the collaboration and mentorship to continue into the future.