The Annenberg School Welcomes 11 New Doctoral Students
Meet the accomplished incoming students in the 2016 doctoral cohort.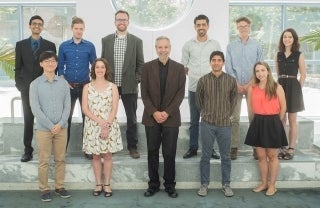 Among other things, members of the 2016 cohort describe themselves as exercise enthusiasts, chocolate lovers, and travel fanatics. Some like sports, while others prefer reading or watching movies. Ask them to list their dream jobs and you'll hear hip hop mogul, ice fisherman, and food blogger.
An accomplished group, approximately half already have earned master's degrees. Leann Siegel has an M.P.H. from the Harvard School of Public Health, and she plans to study health communication at Annenberg. Zane Cooper, whose research interests focus on the evolution of raw material flows, earned an M.A. in History from California State University San Marcos. Interested in environmental communication and journalism, Hanna Morris received an M.A. in Media and Communications from the London School of Economics and Political Science.
Many of the students have held interesting professional positions before coming to Annenberg. Kwanho Kim served in the Korean Army for two years; his academic interests include communication technology and quantitative methods. Interested in law and public policy research, Sanjay Jolly was policy director of the Prometheus Radio Project in Philadelphia. Eric Forbush was a language teacher in Tokyo and researches intercultural communication.
The group hails from countries all over the world. Mohammed Salih is from Iraq, where he worked as a journalist and received a master's degree in Journalism from the University of Missouri before coming to Annenberg to study extremist groups and protest movements.
Two students, Celeste Wagner and Prateekshit Pandey, hadn't been to the United States until they visited Annenberg on its prospective student's day. Previously a lifelong resident of Buenos Aires, Wagner researches political communication and opinion formation. Pandey joins the cohort from New Delhi and is working with Professor Emily Falk's group to study cognitive neuroscience and social psychology.
Interested in community structure and cultural production, Sean Fischer comes to Annenberg directly from his undergraduate years at SUNY Geneseo, where he received bachelor's degrees in Literature and Mathematics. Do Eon (Donna) Lee is extending her Annenberg stay, as she completed her undergraduate degree with honors here in 2016. She researches network dynamics and collective behavior.
Welcome new students!