Annenberg in Washington Supports Summer Internships in D.C.
The program offers competitive grants to help support undergraduate students during their internships.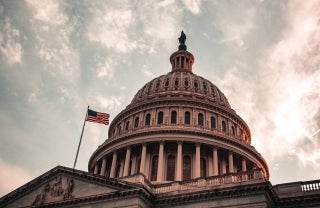 Whether or not one side can hear the other, there's no doubt that Washington, D.C. is the epicenter for our nation's political communication. Recognizing the value in experiencing that discourse firsthand, the Annenberg School for Communication recently announced the Annenberg in Washington (AIW) program to support summer internships in the nation's capital.
AIW grew out of the previous incarnation, Annenberg Summer Washington Internship, and gives students more flexibility in housing.
While students must find their own internships, it is often a challenge that many are unpaid, and housing costs in D.C. can be high. To make the experience more financially feasible, AIW is offering competitive grants for students to receive up to $150 per week for 12 weeks, as well as an additional $1,500 for students who require housing.
As many as 10 students are accepted each summer, and the funding is open to any Communication major – with preference given to those with a Communication and Public Service (ComPS) concentration – or undeclared majors who plan to declare in the following school year.
AIW also aims to enrich the experience by bringing all the student participants together on a weekly basis for the class COMM309: Washington Politics and Media, taught by presidential historian Alvin Felzenberg, Ph.D. The tuition cost for this class, which is for credit, will be waived for all participating students.
COMM309 is designed to enhance students' understanding of the role media play in influencing the course of public policy in the nation's capital. It provides students with opportunities to assess major issues in the news from the perspectives of Congress, the President, interest groups, the old and new media, lobbyists, and political consultants. Students explore how multiple media "narratives" that frame policy debates form and change over time. Readings and class discussions are supplemented by guest speakers who have played key roles in current and past policy debates.
Applications are due April 1, 2016. Late applications will be reviewed on a rolling base in the event that there is leftover funding. Students must also secure their internship before applying.
Questions? Contact Alison Feather at alison.feather@asc.upenn.edu.