Awards and Honors from ICA's 2018 Annual Conference in Prague
Fifteen faculty and students were recognized for their work.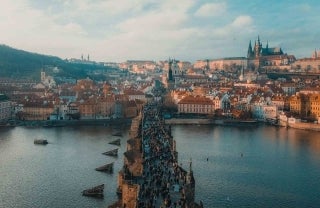 Over the past week, dozens of faculty and students traveled to Prague for the 68th annual International Communication Association Conference, held May 24-28 at the Hilton Prague.
More than 65 Annenberg faculty and students made presentations or participated in sessions, including some at preconferences held in Prague and Budapest.
At the awards ceremony held on Saturday evening, Professor Emeritus Elihu Katz received the Steven H. Chaffee Career Achievement Award, one of the six major awards given by ICA.
Katz, Distinguished Trustee Professor Emeritus of Communication at the Annenberg School, is an American Israeli sociologist and media scholar who is a founding father of the field of Communication, specifically in the areas of media effects, diffusion, uses and reception, and media events. Earlier this month, he received an honorary doctorate from Penn.
At ICA, the announcement of his award was greeted with a standing ovation from the hundreds of Communication scholars present. At the conference, he also delivered a plenary session talk on the legacy of Paul Lazarsfeld in a discipline where networks and the nature of voice have been transformed.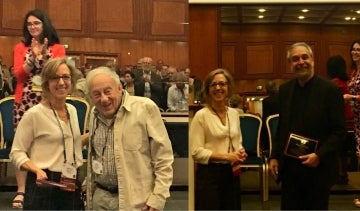 Dean Michael X. Delli Carpini also received a major honor at the conference as he was inducted as an ICA Fellow. Fellows status in ICA is a recognition of scholarly contributions to the broad field of communication. Delli Carpini is the eighth current faculty member to become an ICA Fellow. The others include Joseph N. Cappella, Robert C. Hornik, Kathleen Hall Jamieson, Elihu Katz, Klaus Krippendorff, Joseph Turow, and Barbie Zelizer.
Annenberg alumnus Stewart Hoover (Ph.D. '85), currently a professor at the University of Colorado at Boulder and a Fall 2016 visiting scholar with the Scholars Program for Culture and Communication at the Annenberg School, was also inducted as an ICA Fellow.
Eight Annenberg students, along with two faculty members and three current or former postdocs, received top paper awards at the conference. The awards are listed below.
Paper Awards at ICA 2018
| | |
| --- | --- |
| Rosemary Clark-Parsons | Top Paper Award, Feminist Scholarship Division: "My body, my choice!": Rape Culture, the Body, and Feminist Protest in the Age of Neoliberalism" |
| Zane Cooper | Top Paper Award, Philosophy, Theory and Critique Division: "Of Dog Kennels, Hard Drives, and Global Contaminations: Toward a Constitutional Logic of Big Data" |
| Douglas Guilbeault | Top Student Paper Award in Communication & Technology Division: "What Should We Do About Political Automation? Challenges for Policy and Research" |
| Eunji Kim (with alumnus Jin Woo Kim, Ph.D. '17) | Top Paper Award, Political Communication Division: "Switching On and Off: Rethinking Partisan Selective Exposure" |
| Rui Pei and Emily Falk | Top Paper Award, Communication Science and Biology Division: "Safety Versus Risk Endorsing Peer Attitudes Influence Adolescent Risk Taking Through Distinct Neural Mechanisms" |
| Revati Prasad | Top Four Paper Award and Top Student Paper Award, Global Communication and Social Change Division: "Digital Disruption? Journalism Start-Ups in India" |
| Revati Prasad | Second Top Student Paper Award, Media Industry Studies Division: "An Organized Workforce is Part of Growing Up: Gawker and the Case for Unionizing Digital Newsrooms" |
| Angeline Sangalang (former TCORS postdoc), Yotam Ophir, and Joseph N. Cappella | Top Four Paper Award, Health Communication Division: "The Potential for Narrative Correctives to Reduce Belief Echoes" |
| Christin Scholz, Bruce Doré, Nicole Cooper, Emily Falk | Top Paper Award, Information Systems Division: "Neural Message Engagement Predicts Susceptibility to Conversational Influence on Drinking Behavior" |