Brendan Mahoney Wants To Know How the Internet Affects Us
Mahoney, a doctoral candidate at Annenberg, examines the ways we communicate online and the corporations that host those conversations.
Brendan Mahoney grew up online. 
On his family computer in small town New England, he explored the still-new internet, fascinated by the way people communicate online.
"Conversation didn't come very naturally to me as a kid. I remember being very awkward," says Mahoney, now a doctoral candidate at the Annenberg School for Communication.
But online, conversation was different.
You could take your time to write out your thoughts; find people interested in the same things; escape the confines of your small town.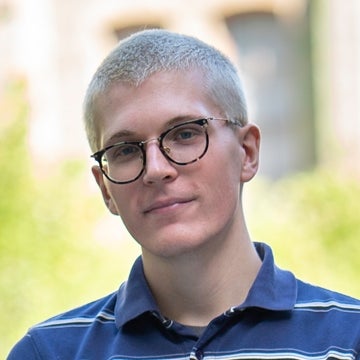 "It was impossible for my parents to keep me offline," Mahoney says. He played obscure online games; got hooked on YouTube. Online, he found community, information, support.
By the time Mahoney left New England to study economics and English at SUNY Geneseo, the internet was more accessible than ever. Social media was ubiquitous. Everyone had a Facebook account.
He found himself captivated by research on the way people use social media to communicate and slowly came to the realization that perhaps he could become one of the people doing this research.
"I had spent my life interested in how people talk to each other and learn about new things online," he says. "At some point I thought, maybe I could actually make a living by thinking about that. So why not try?"
He was inspired to apply to Annenberg by fellow Geneseo alum Sean Fischer, who is now an upcoming doctoral graduate at the School.
"He was doing work and asking questions that I found so fascinating — about the intersection of culture and technology." Mahoney says.
Now Mahoney is deep in his own research — studying the digital spaces where people organize activist movements and the corporations that keep those spaces online (or take them down).
A Web Domain Host Loved by the Far-Right
Recently, Mahoney has been investigating Epik, a domain registrar known for hosting far-right websites, like Gab and Parler, after they have been dropped by their original hosts for things like hate speech and inciting violence.
Early in the company's history, Epik's CEO Rob Monster often used the company's blog as his own, writing about everything from the price of silver to earthquake activity. 
In a recent paper, Mahoney analyzed years of those blog posts, unearthing signals that point to the company's willingness to host deplatformed websites years later.
"Epik company blog posts reflect a conservative libertarian worldview," he says, "which might have led the company to develop their domain registrar services for right-wing websites before they were actually necessary."
Mahoney has found that analyzing corporate blogs can reveal a lot about a company's worldview. He's analyzed the blogs of some of the biggest tech corporations in the U.S., including Reddit, one of the main platforms he studies.
"These blogs show how companies like Reddit want users to use the site — what they associate with users in terms of characteristics and desires. Essentially they show how they're selling us to advertisers," he says.
Subreddits and Activism
Mahoney's dissertation research-in-progress focuses on around 60 different subreddits dedicated to left-and-right wing political and social causes in the U.S..
He is using quantitative methods to analyze posts in subreddits that were activated after the 2020 murder of George Floyd and the protests that followed and coding them for different ideologies.
"My research is broadly trying to get at the question — 'What kind of political and social movement actors does social media work for?'" he says. "And specifically, what kinds of social movement actors are better able to produce and reproduce their ideologies online?"
One of his goals is to trace in how quickly individual subreddits — on the left and right — reach a shared consensus around what frames (like slogans, values, and beliefs) and ideas are most important to them when planning activist action.
Life Offline
When Mahoney isn't online, he's appreciating life in Philadelphia, whether that's finding new places to eat, getting involved with social movement organizing, or just baking for his friends.
"I've only ever lived in towns of 5,000 people or less before moving here,  so I don't have much of a frame of reference, but I like Philly," he says. "There's a lot of people here who really care about other people."