Center for Advanced Research in Global Communication Releases CARGC Paper 6
In this paper, Mariela Morales Suárez examines the motivations and challenges of Cuban journalists.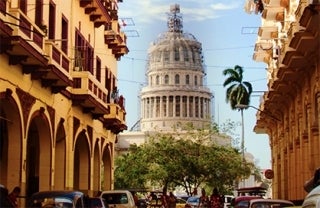 The Annenberg School for Communication's Center for Advanced Research in Global Communication Press (CARGC Press) is pleased to present CARGC Paper 6, "Emergent Voices and Evolving Agendas: Writing Realities in Cuba's New Media Landscape," by CARGC Undergraduate Fellow Mariela Morales Suárez.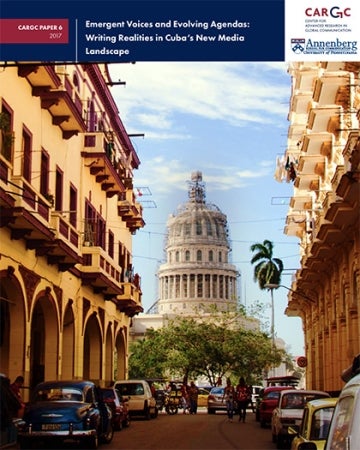 Drawn from Morales Suárez's Penn Honors Thesis about the evolution of the Cuban media landscape, this CARGC Paper presents findings from an empirical study of Cuban journalists, their decision-making practices, the motivations that drive them, the challenges they face, and the opportunities they crave. Morales Suárez conducted in-depth, semi-structured interviews with a group of independent Cuban journalists recruited from twenty non-governmental publications during the spring of 2017.
"Mariela Morales Suárez embodies CARGC's core values: linguistic know-how, on the ground research, deep expertise coupled with an accounting of broader contextual issues that affect the life and work of Cuban journalists," notes Marwan M. Kraidy, the Anthony Shadid Professor of Communication and Director of CARGC.
Morales Suárez was born in Cuba in 1989, just when the Berlin Wall was falling. Her childhood elapsed in a Cuba that was increasingly isolated from the rest of the world yet was experiencing many social and economic changes. She, unlike her parents, grew up in a Cuba where US dollars, foreign magazines, and American music were no longer persecuted and prosecuted by the Cuban government. She was also one of the four students in her province chosen to attend the School of Communication at the University of Havana. In 2009, at the beginning of her 3rd year of journalism school, she immigrated to Miami with her family. Morales Suárez attended Miami Dade College and transferred to the University of Pennsylvania in 2014, where she recently completed a bachelor's degree in Global Communication.