Dean Delli Carpini and Lenfest Institute Issue New Report on Information Needs and Habits of Philadelphians
The report identified seven opportunities and areas of growth for publishers and information providers.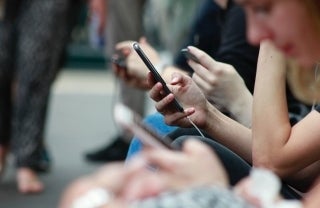 Despite the disruptions affecting journalism business models, shrinking newsroom resources, and growing local news deserts, Philadelphia residents say they are often overwhelmed with the amount of information that they get on a daily basis, according to a new report published today by The Lenfest Institute for Journalism and the Annenberg School for Communication at the University of Pennsylvania.
In February 2018, researchers convened 64 Philadelphia residents of different ages, income levels, ethnicities, and races in eight focus groups to learn how locals seek information in their daily lives. The study sought to understand what information they seek and why they choose the sources they use. The findings are outlined in the report, "Being Informed: A Study of the Information Needs and Habits of Philadelphia residents."
The report was co-authored by Annenberg School Dean Michael X. Delli Carpini, Lenfest Institute research analyst Mariela Morales Suárez, and Burt Herman, director of Innovation Projects at The Lenfest Institute.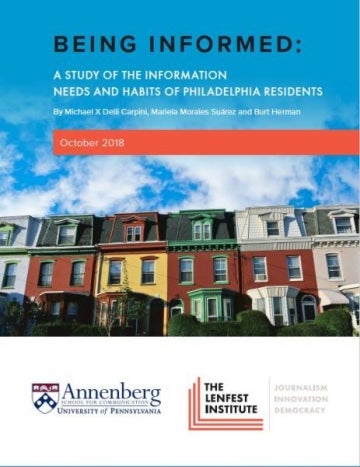 "The findings of the research were remarkably eye-opening for us as they should be for anyone working on the field of local news in the country," said Morales Suárez, who graduated from Penn in 2017 with a major in Communication. "The report produced an illuminating window into local information consumers' habits and offers several practical recommendations for publishers and information providers on how to further understand their audiences in an ever-changing media landscape."
"Small-scale, in-depth conversations such as the ones we conducted have their limits." said Delli Carpini. "Nonetheless the patterns that emerged paint a picture of people from all walks of life attempting to navigate a complex local, national, and global information environment that was simultaneously concerning and touching." The report identified seven opportunities and areas of growth for publishers and information providers to better serve the needs of all Philadelphians:
The future of news and other information is online and mobile: While this observation is not a new one, the study's focus groups showed the extent to which the shift to mobile news and information cuts across age, income, race and ethnicity. While issues of access remain important to consider, information must be presented in a form that takes maximum advantage of the strengths and limitations of digital information and communication technologies. In Philadelphia, the challenges, resources, needs and skill sets of local information providers vary greatly. This has meant that some have been able to adapt to the changing behavior of audiences faster and more effectively than others.
People need information curators as much as they need information providers: The most successful information providers will likely be those that are able to assist in curating information in a way that helps people navigate "the information jungle" and more easily identify the most relevant and reliable information they need to go about their daily lives. Doing so requires creative thinking regarding the information provided, its format and the design of technology used to deliver it.
The future of news and other information is social, interactive, and engaged: The days of providing information to passive consumers is over. People of all backgrounds react most positively to information that is provided within social networks and from individuals and organizations that are seen as members of that social network. Give people what they need by tying it to what they want: A particular dilemma for news organizations that emerges from the study is that much of the information that is necessary for people to meet their civic responsibilities feels distant and irrelevant to their daily lives. The irony, of course, is that their daily lives are deeply affected by the actions of the elected officials, governments, corporations, etc. that are the fodder of "hard news." If news organizations are going to be more relevant to people, more effort needs to go into explicitly showing how the actions of government and corporate institutions are relevant to the things people care about — the quality of schools, the safety of their neighborhoods, their health and the cost of living. They also need to present this information in ways that are both accessible and actionable.
Increase representation of all racial and cultural communities in the media: In an environment of news fatigue and decline of trust in media, the participants in our study consistently mentioned that they empathized and trusted people that looked and sounded like themselves. For Latino, Black and Asian participants this meant going beyond equal representation. It also suggested that anchors, influencers, business leaders or commentators understand their communities, share common experiences and cover their communities in new and refreshing forms. This, in turn, meant participants trusted and engaged more with those information sources.
Audience-centric information builds support and trust among consumers: As direct reader revenue, through mechanisms such as subscriptions or membership, becomes increasingly important to publishers' business models, it only makes sense that news organizations build direct and open channels for feedback to and from their audiences into their strategies. To the extent possible, these channels and feedback mechanisms should be with individuals (i.e., with specific journalists, commentators, and other information providers) rather than or in addition to institutions.
Research, experiment and test: There is no more effective way of incorporating and allocating audience feedback into workflows than through continued research, experimentation and testing. As the findings indicate, audiences are increasingly agnostic towards new and existing information products. Developing in-house strategies for market research and product testing before launching a product, however small, might prove incredibly beneficial for organizations. There are abundant examples of organizations adding these fundamentals of product development. In addition, fostering a culture of research, experimentation and testing inside news organizations could prove invaluable in a news jungle environment.
To read the full report, visit lenfestinstitute.org/beinginformed.