Eleven Undergraduates Present Senior Honors Theses
Their subjects span the field of Communication, from Cuba's new media landscape to the musical Hamilton.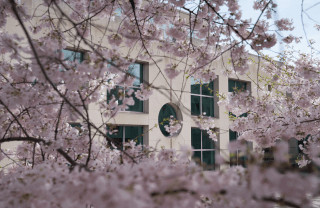 On April 12 and 19, 11 Penn seniors presented the culmination of their year of work on their Communication theses to a panel of professors, guests, and fellow students. The students wrote an honors thesis and/or a Communication and Public Service Capstone Thesis as a required part of their ComPS concentration. All will graduate with honors at Annenberg's ceremony on May 14.
The presentation is part of a two-semester course for seniors, taught by Kim Woolf, Ph.D. For the first semester, the students write research proposals that contain a literature review and detailed methodologies for their theses. During the second semester, the students complete data collection and write the thesis.
From Cuba's new media landscape to the musical Hamilton to China's influence on Hollywood, their subjects span the field of Communication:
Rebecca Brown
Elite, Exclusive, and Exceptional: A Case Study of Extracurricular Activities at the University of Pennsylvania
Thesis Advisor: Jessa Lingel
Through semi-structured interviews with both club members and non-members who auditioned but were not accepted, Brown explored the exclusivity in two campus clubs, Mask and Wig (all male comedy troupe) and CitySteps (group that teaches dance to children in West Philadelphia). Brown finds that participation in these competitive clubs provides community, belonging, identity, and exceptionalism to those who are accepted. Non-members spent longer trying to find their place at Penn, ultimately doing so more through classes and Greek life.
Nicholas Buchta
Goodbye, Farewell, and Amen: The Parting Presidential Messages of Generals Washington, Grant, and Eisenhower
Thesis Advisor: David Eisenhower
George Washington, Ulysses S. Grant, and Dwight Eisenhower were all military generals involved in major wars before being elected President in the ensuing peacetime. Through his textual analysis of their farewell addresses, Buchta sees commonalities among these three presidencies as military trusteeships that restored normalcy before handing rule back to the political classes.
Riya Chandiramani
Big Man on Campus: Contextual Influences on Masculinities at the University of Pennsylvania
Thesis Advisor: Sharrona Pearl
With male college students making headlines for issues like fraternity hazing and rape, Chandiramani explores how campus culture can determine gender identities, and specifically how Penn's culture contributes to masculinity among Penn's male students. She spoke with 11 men and 10 women about gender norms, finding the pressure to "work hard and play hard" pervasive. Fraternity men have more social power, Chandiramani finds, as a result of their control over alcohol.
Bookyoung (Michelle) Jo
How Companies Feed Children: An Analysis of Food and Drink Messages in TV Programs, Advertising and Corporate Social Responsibility
Thesis Advisor: Amy Jordan
Children between the ages of 2 and 11 spend an average of 22 hours a week watching TV, and it is known that TV influences children's food consumption. Jo analyses food messages in TV ads, TV content, and corporate social responsibility campaigns that target children, ultimately determining that it would be more beneficial to children's health to place healthier content within TV programs rather than in advertisements.
Liza Lansing
History Has Its Eyes on You: Hamilton's Fusion of Hip-Hop, the American Musical, and American Politics
Thesis Advisor: David Eisenhower
Lansing analyses six songs from the blockbuster Broadway musical Hamilton and finds that the lyrics related a story of American history with a diverse cast using the vernacular of modern life. It is an old story in a new setting, and a new story in an old setting, Lansing says, with enduring messages about challenges to immigrants, the fight for equal status for all, and perpetual divisiveness.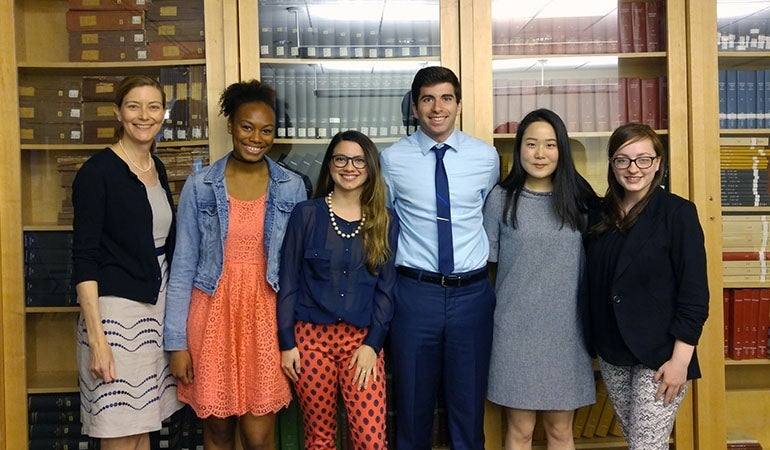 Hope MacKenzie
Television Beyond the TV: The Significance of Streaming Services in Television Consumption
Thesis Advisor: Paul Messaris
As we continue to see the decline of traditional TV and its advertising model, people still want content, says MacKenzie, who studies the new landscape and how its content is provided, discovered, and watched. Constant variety, she found, is the most motivating factor to subscribe to a streaming service like Hulu or Netflix, and up-to-date content is also valued. MacKenzie found, among other things, a robust use of illegal streaming.  
Jaslyn McIntosh
Identity in the Age of Swiping: An Exploration of Identity Formation on Tinder Social
Thesis Advisor: Sharrona Pearl
In her thesis, McIntosh studies Tinder Social, an offshoot of the dating app Tinder aimed at helping groups of friends connect with other groups in real life. Through platform study, profile analysis, and user interviews, McIntosh finds a predominantly male environment of people looking for hookups and conversation. McIntosh ultimately shows how a company's intentions may not reflect how real people use the technologies.  
Mariela Morales Suárez
Emergent Voices and Evolving Agendas: Writing Realities in Cuba's New Media Landscape
Thesis Advisor: Susan Haas
After the Cuban Revolution of 1959, independent media dwindled in Cuba, and by 1965, there was only state-run media. Morales Suárez looks at the independent media that emerged after 2010, when Raúl Castro encouraged more media openness in Cuba. She characterizes this emerging media in its style, format, motivations and intentions, difference from state media, and the background of its authors.
Morgan Pearlman
Making America Great Again…And Again: Reagan, Trump, and the Unmaking of a Republican Majority
|Thesis Advisor: David Eisenhower
Pearlman uses political science theory to explore the typologies of different presidents, categorizing some as "reconstructive" (breaking with the former regime to create a new one) and others as "disjunctive" (those who follow a crumbling ideology, mixing elements of the former regime with their own discordant proposals). Every reconstructive president has been followed by a disjunctive president of the opposite party, Pearlman finds. She sees Carter as a disjunctive president paving the way for a reconstructive Reagan, and sees Trump as disjunctive, paving the way for future Democratic era.
Blake Pittell
The Rise of Chinawood: China's Expanding Influence upon Hollywood
Thesis Advisor: Guobin Yang
In 1994, China began to allow foreign movie producers to keep some of the box office revenue for their films shown in China, which is a rising market for films at the same time the U.S. market declines. Through interviews with Hollywood executives and producers, Pittell looks at the way that the financial opportunity of China is influencing and changing Hollywood films, including subject matter, casting, genre, product placement, and location.
Jennifer Wright
Sex, Drugs, and Privacy Settings: How Online Privacy Relates to Youth Posting Risky Health Behaviors on Social Media
Thesis Advisor: Amy Bleakley
When it comes to 16-to-25-year-olds and their privacy preferences, actions speak louder than words. Wright found that their actions in posting on Facebook and Snapchat about risky behaviors (drugs, alcohol, sex) were more open than their stated privacy preferences. Teens perceived their friends' behavior in posting things online to be riskier than their own. Wright also found that males posted more risky behavior than females and young adults in their 20s were more likely to post about these subjects than teens.