Jo Piazza (C'02) to Speak at the 2022 Communication Major Graduation
An accomplished author, journalist, and podcaster, Piazza will deliver the alumni address to our graduates on May 15.
Jo Piazza has had a wildly successful career as an author and journalist because she knows how to tell a story, and she works her tail off. She has stayed in the business for 20 years — as many of her talented colleagues did not — because she knows how to pivot.
Print newspapers imploded, so she switched to digital. As digital media struggled to find a business model, she found podcasting. When social media came on the scene, she used it to help find an audience for everything she did. Along the way, she wrote 10 books – both fiction and non-fiction. 
Pivoting when the circumstances around you radically change? That should sound pretty familiar to those of us who've tried to accomplish, well, anything since March 2020. As the class of 2022 Communication majors leave Penn and enter a world in flux in so many ways, the entertaining and adaptable Piazza, a Communication and Economics double major from the class of 2002, might just be the perfect graduation speaker to send them off. 
She will take the Zellerbach Auditorium stage on Sunday, May 15 as the featured alumni speaker when the Annenberg School for Communication celebrates its graduating seniors. 
Hear her talk about it in our audio announcement:
Launching Her Career
Piazza spent four years on staff at The Daily Pennsylvanian, and during her senior year, she found a hand-written sign in the DP office seeking an intern for the Trenton bureau of the New York Times. When the Times didn't get back to her, she showed up at the bureau repeatedly and wore them down until they gave her a job. After graduation, she became a stringer for the Metro section.
She then decided to attend Columbia Journalism School, where she learned to write "beautiful, longform pieces." (In 2004, new media was still only an elective.) After getting a job at the New York Daily News as a gossip column assistant, she finished her M.A. part time while reporting on deadline and working to get the scoop on stories about the New York power elite.
"I'd seen media go through so many iterations and I learned that you never say no to something new."
At the Daily News, Piazza found herself at lunches with media mogul Barry Diller and designer Diane von Furstenberg, attending movie premieres, and covering the intrigue of the political world. She helped break the Elliot Spitzer prostitution scandal story that ultimately led to the governor's resignation while also keeping tabs on Paris Hilton, Britney Spears, and some new famous-for-being-famous socialites by the name of Kardashian.
"It was the best training to be a reporter, to be able to write about absolutely anything," she says. "Celebrities and the power structure that surround them are harder to crack than a lot of other people, but once they decide to trust you, all they want to do is spill everything."
Piazza also began to notice that the white male-dominated power structures that ran media were in denial about digital and social media taking over. 
"Our blogs were breaking news on an hourly basis and [corporate management] just did not care," she said. "I was part of the generation that knew that this thing was happening, and that got exhausting." 
Shifting to Digital
After a stint as the editor of the webpage of Al Gore's CurrentTV, she got an offer to be the Executive Editor of News for InTouch and Life & Style magazines, where she managed a team of reporters all over the world.
In 2014, she got a dream offer to help run Yahoo's digital travel magazine. She suspected the site wouldn't last, but over the next few years, she visited 32 countries, met her future husband on a boat in the Galapagos Islands, and while on her honeymoon climbing Mount Kilimanjaro for a story, found out (by text message!) that Yahoo! Travel was falling apart.
She left to write books full time when she was approached by How Stuff Works (since purchased by iHeart Media) to try podcasting. Having recently written a memoir of her first year of marriage, she proposed doing a podcast interviewing married couples, which became Committed.
"I'd seen media go through so many iterations and I learned that you never say no to something new," said Piazza. "You never know what you're going to love, and I loved it. Podcasting was the most fun I'd had in journalism since the internet completely ruined it." 
Instead of trolling for clicks with listicles, she could tell an hour-long story to engage the audience. 
Committed's success allowed her to develop additional podcasts for iHeart Media, including Fierce, which is about incredible and undervalued women in history, and Under the Influence, which goes behind the facade of Instagram influencers.
While Piazza acknowledges that there might just be too many podcasts in the world right now, she still believes that our phones are the future of content, and that's why podcasts are working. Her next solo fiction book, a tale set in Sicily and based on her great-grandmother, will feature a companion podcast that explores the true story behind it.
Authoring Her Future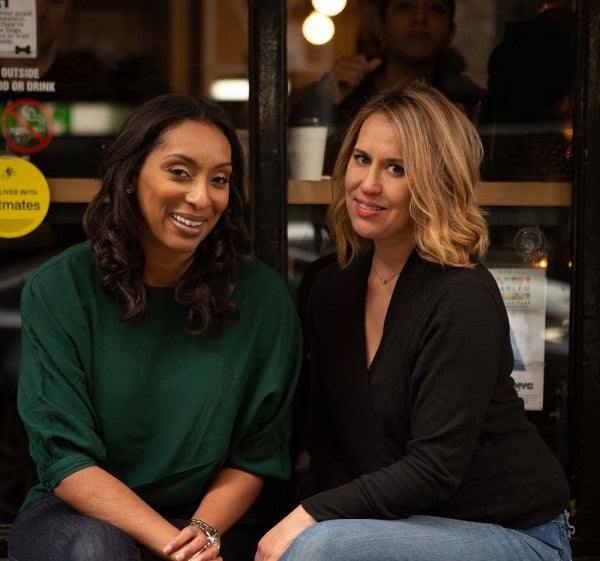 Meanwhile, she continues to spend nearly every night speaking with book clubs about her newest novel, We Are Not Like Them, co-authored with her longtime book editor, Christine Pride. It tells the story of two best friends in Philadelphia – one of them white, the other Black -- who become caught up in a police shooting. The book was a Good Morning America Book Club pick last October. Pride and Piazza have already sold the rights to their second novel together, You Were Always Mine, to Atria. They are also hard at work on the pilot for the television adaptation of We Are Not Like Them which was optioned earlier this year.
Even the queen of pivoting acknowledges how challenging it must have been to go to college during a pandemic, and themes of adaptability, she says, will show up in her graduation speech.
She also wants to focus on the wild media landscape, where creators are expected to have multiple skills and forge their own brand no matter how exhausting a prospect that might seem to be. 
"We have to keep discovering new ways of telling stories and thinking about how to find an audience," she says. "That can be really overwhelming, but it can also be really exciting, and you can choose to be frightened of it or choose every single day to embrace the excitement of it."
Jo Piazza will speak at the 2022 Communication Major graduation ceremony on May 15, 2022 in the Zellerbach Auditorium of the Annenberg Center for the Performing Arts.