New ISCAP Website Tracks Television Coverage of Republican Candidates
Chart tracks which Republican candidates got the most air time over 12 major networks.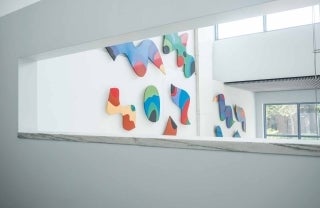 No matter your take on the 2016 Republican Primary, there's one thing that can be agreed upon: It's a real horse race.
Television is full of talking heads making predictions and parsing the latest poll. It's a dizzying number of thoughts and opinions.
While there remain infinite ways to absorb the latest political news, the Institute for the Study of Citizens and Politics (ISCAP) created a simple way to zoom out and look at the big picture.
On its recently-launched new website, ISCAP features a chart, updated daily and going back to May 2015, showing which Republican candidates are receiving the most air time on 12 major networks.
The results are fascinating, and sometimes even more so in retrospect, identifying moments where campaigns took off or jumped the shark.
Chris Christie and Jeb Bush were leading in the coverage until mid-summer, when the Trump juggernaut took hold and never let go. Since then, Donald Trump has received more coverage by far — at its peak, more than 80% of all of the coverage given to the entire field.
"You can see the exact moment Trump really hit the scene," says Diana Mutz, Ph.D., the Samuel A. Stouffer Professor of Political Science and Communication and Director of ISCAP. "Ever since then, he's been dominating the news."
Ben Carson briefly rivaled Trump for ascendency in October and November, but has faded away since then. As of February 18, Trump coverage is as low as it has been since last summer — around 40% — but it still outpaces Ted Cruz (19%), Jeb Bush (16%), and Marco Rubio (12%) by a large margin.
This data is, of course, not a poll of voters, but a reflection of media coverage, and arguably media's preoccupation with the most entertaining candidate.
It is powered by Searchable Television as Text (STAT) software — created by Mutz, Penn Math professor Robin Pemantle, and graduate student Phil Pham — which looks at all of the closed caption text for every program on 12 major networks. Through its interface, the team can track particular words as well as the proximity of one word to another.
Once the Republican nominee is decided, ISCAP may use STAT to feature other charts on its site, potentially tracking the coverage of Democrat and Republican nominees, or how they're linked to various issues.
One of Mutz's areas of research is globalization, and every day, STAT sends her a map of the world based on which countries are mentioned together, and which ones are getting more or less news coverage.
"This election is shaping up to be a lot about international issues," she says. "We're hearing a lot about immigration and trade. Trump is really into China-bashing. It's not going to be an 'It's the economy stupid' kind of election. The issues are global."
And so the tracking continues. Stay tuned!