Ph.D. Student Chioma Woko Wins Dissertation Award
The grant, awarded by the Health Policy Research Scholars (HPRS), provides up to $10,000 in dissertation support for selected HPRS fellows.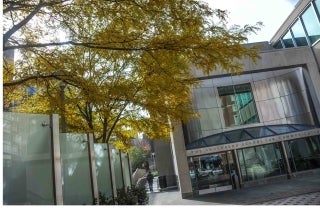 Doctoral candidate Chioma Woko has won a dissertation award from the Robert Wood Johnson Foundation's Health Policy Research Scholars (HPRS), a national leadership program for doctoral students who conduct research that supports health equity and well-being. 
Woko, an HPRS fellow, will receive up to $10,000 in support of her research. Her dissertation, "The Effect of Source Credibility on Promising Message Themes: A Message Pretesting Study to Address COVID-19 Vaccine Hesitancy among Black Americans", focuses on investigating public health communication strategies that can increase vaccine uptake in Black communities.
In addition, Woko was previously awarded a 2021 Russell Ackoff Doctoral Student Fellowship from the Wharton Risk Management and Decisions Processes Center. Her research has been published in Journal of Health Communication, The Journal of the Association of Nurses in AIDS Care, and Health Communication.