Chioma Woko Named Robert Wood Johnson Foundation Health Policy Research Scholar
Woko aims to inform policy development that will impact the health outcomes of marginalized groups.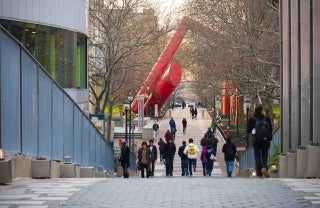 The Robert Wood Johnson Foundation announced this week that Annenberg School for Communication doctoral student Chioma Woko has been named to its 2018 cohort of Health Policy Research Scholars.
Designed for second-year doctoral students from underrepresented populations and disadvantaged backgrounds, Health Policy Research Scholars helps researchers from all fields — from economics to epidemiology — apply their work to policies that advance equity and health while building a diverse field of leaders who reflect our changing national demographics. The four- to five-year program provides participants with an annual stipend of up to $30,000.
Woko is a health communication doctoral student studying health behaviors online. She is conducting research on what factors influence people in social networks to carry out health behaviors, such as physical activity, contraceptive use, and tobacco-related behaviors.
Focusing on Black American populations, Woko's work is based on evidence that suggests that different demographic groups use online resources for health in different ways, which are inherently related to disparities in health literacy and access to health resources. Ultimately, she hopes that her work will inform policy development that will impact the health outcomes of all marginalized groups.
Woko's passion for combating health inequity stemmed from her undergraduate and professional work. She majored in biopsychology and conducted research on the use of a childhood obesity management program. After graduation, she took a position at RTI International, where she worked on government funded research projects on food, nutrition, and obesity policy. This experience motivated her to pursue a Ph.D. in health communication.
"I wanted to have a more significant role in moving the needle on health issues that disproportionately affect my communities," she says.
The Robert Wood Johnson Foundation offers the cohort of 40 Health Policy Research Scholars training in health policy translation, dissemination, communication, health equity, and population health. It also offers support and mentoring from cutting-edge thinkers to help maximize the impact of their work. The aim of the program is to accelerate the students' ability to build healthy communities, inform public opinion and policy, and contribute to building a "culture of health."
Woko will be advised through the program by Professor John B. Jemmott III.
"This is a great opportunity to be a part of this network of scholars who are all committed to changing the health landscape through their different disciplines," says Woko. "I also look forward to having the added support of an organization that is also excited about my goals and development as a scholar."