Political Communication Scholar Yphtach Lelkes Promoted to Associate Professor with Tenure
In this Q&A, Lelkes discusses how his research has evolved during his time at Annenberg.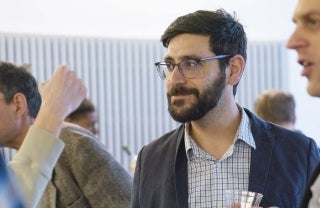 Professor Yphtach Lelkes was recently promoted to Associate Professor and received tenure at the Annenberg School for Communication at the University of Pennsylvania, effective July 1, 2021. A scholar of political communication, Lelkes studies the structure, dynamics, and causes of political attitudes, with a particular emphasis in polarization and American politics. On the occasion of this momentous milestone in his academic career, we asked him a few questions about his four and a half years at the Annenberg School and what his research, teaching, and mentorship look like now.
How has your research evolved since you joined the Annenberg faculty in 2016?
Perhaps the most important change is that I'm now interacting regularly with amazing students and colleagues. Even though I'm still researching similar things — public opinion, polarization, political communication — my research, because of the people around Penn and Annenberg has become more creative and rigorous.
Many of my recent projects were possible because of the smart and skilled people I've met since coming here. For instance, I've run several large group experiments wherein we randomize the design features of chatrooms or the environment in which we change the rules in which people making voting decisions. I certainly wouldn't be able to design and implement these experiments without Annenberg's amazing Ph.D. students.
What are some of the research projects you're working on right now?
One project that I'm particularly excited about is a project on dynamic media bias. We calculated the ideology of Fox News, CNN, and MSNBC for every day during a 10-year period based on the people who appeared on those channels. We find that the ideology of those channels is certainly polarized, and has polarized even more over the past few years, but that they also move in parallel. When Fox News becomes more conservative, so does CNN and MSNBC.
Doctoral Candidate Sean Fischer, Annenberg alum Amber Hye-Yon Lee (Ph.D. '20), and I just ran possibly the largest group experiment on the effect of voting systems on behavior and public opinion ever conducted. In it, people participated in an election with 20 other people. The rules of the election and the number of parties varied by group, however — some played in a plurality system (like in the US), some played in a proportional system (like in many European countries), and some played in a ranked choice system (which some believe will reduce polarization in America). We find that ranked choice systems with more parties reduced gaps between election winners and losers in perceived system legitimacy, and proportional systems and ranked choice systems with more parties reduces polarization. This research feels particularly prescient after the storming of the US capital by people who lost an election.
I have lots of other projects in the pipeline as well. For instance, many people have argued that personality affects political beliefs. People who are more close-minded tended to be conservative, for instance. We argue that the relationship is also reversed — people who are conservative change their personality to match their political beliefs.
What's it like to study American politics in a time when the national consciousness is intensely focused on political issues and our elected leaders?
It's nice to feel relevant.
Polarization, my primary research focus, is one of the central issues of our time, and understanding what causes it and what fixes it has never been more important. While the current political environment is depressing, academically it's an exciting area to work in. People from across academia are interested in this topic, and it's led to a number of cool collaborations. I have a bunch of new papers co-authored with people in engineering and ecology and evolutionary biology, for instance.
How do you approach working with students, including teaching and mentorship?
Teaching and mentorship is the most important thing I do. One learns how to become a researcher by doing research. Students I work with generally take the lead on a project, where they hone their skills on all parts of data collection, analysis, and writing. I actively engage in all parts of the process as well. I like to think that the finished project is a true collaboration.
I teach a number of methods classes as well as several more substantive classes. When it comes to methods, I champion an active learning approach. Classes are generally structured around labs where students apply skills. When it comes to substantive courses, I hope students leave not only knowing what the field knows, but what is left to be answered.
You lead the Democracy & Information Group (DIG) at Annenberg. What kinds of issues are group members studying right now?
Students are working on several projects that are at the intersection of political communication and computational social science. For instance, one student is trying to understand why people share negative information on social media. Another student is examining whether slacktivism (e.g., signing an online petition) decreases other forms of civic engagement. One student is developing tools to automate the coding of open-ended survey responses.
DIG is a great space for students to get feedback on their project in a friendly environment, and I encourage any interested Ph.D. student to join us!