Undergrads Explore Chinese Media Landscape with Penn Media Scholars in China
Led by Professor Guobin Yang, the students visited six internet firms and ten media agencies.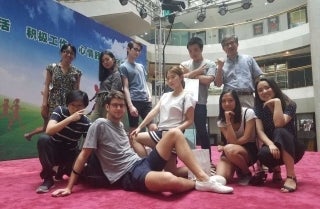 Penn Media Scholars in China (PMSC), a new summer institute directed and led by Professor Guobin Yang, recently took eight Penn undergraduate students to Beijing and Hangzhou to study media industries, institutions, and citizens' everyday media practices.
From June 5-30, PMSC gave students a first-hand understanding of the rapidly growing and developing media industry in China through site visits, interactions with media professionals, and conversations with students.
Yang, the Grace Lee Boggs Professor of Communication and Sociology, organized the study abroad experience that featured visits to six internet firms and ten media agencies, including CCTV, People's Daily, Tencent, Alibaba, Netease, Sohu, China Radio International, and Zhejiang Daily Press Group.
In Beijing, the program was hosted by the Penn Wharton China Center and the School of Journalism and Communication of Renmin University.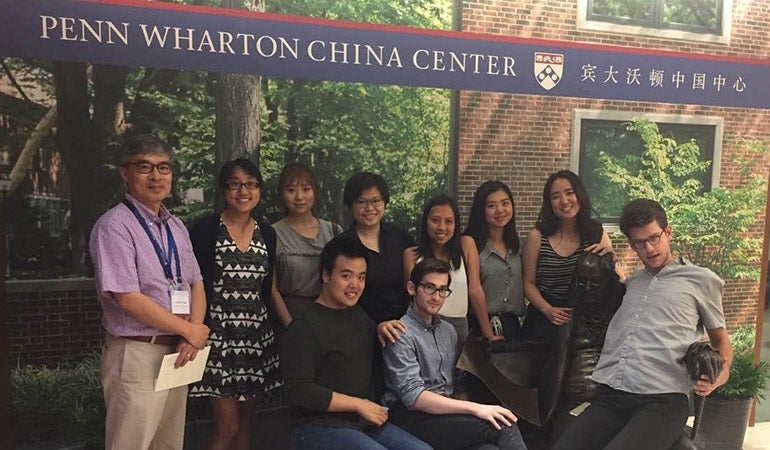 "This is a great opportunity for Penn undergraduate students to engage the world first hand," says Professor Yang. "We read about Chinese media often. I teach a class on China media and society to Penn undergraduate students. But it's a different experience talking to Chinese media professionals and seeing their work spaces up close. I'm proud of the vision of Penn Global and thankful for the resources the Penn Global office and the Annenberg School provide for the program."
Throughout the trip, the students observed how Chinese media operate, how they struggle to adapt to the digital age, and how those media systems influence citizens' everyday lives.
"This trip was an interesting experience in learning how isolationism and China's Great Firewall have allowed it to develop its own independent media," says Nick Joyner C'19. "China has created social media platforms that are similar to Twitter, Facebook, and more, but that are unique in the way that they integrate daily tasks like payment and ride sharing."
In Beijing, PMSC students conducted a focus group interview with journalism and communication majors at Renmin University about social media practices among Chinese college students. Professor Xin Zhong of Renmin University gave a lecture to PMSC students on Chinese media's strategies of international expansion. Students also attended Professor Zhong's graduate seminar on international journalism, which featured Reuters journalist Benjamin Lim as guest speaker on "Reporting China at Reuters."
While in Beijing, Karen Yang C'20, Youlim Lee C'18, and Nicholas Hunsicker C'19 were interviewed by China Radio International, where they spent an hour on the program "Today" discussing their paths to college and their experiences as Communication majors at the Annenberg School and students at Penn more generally.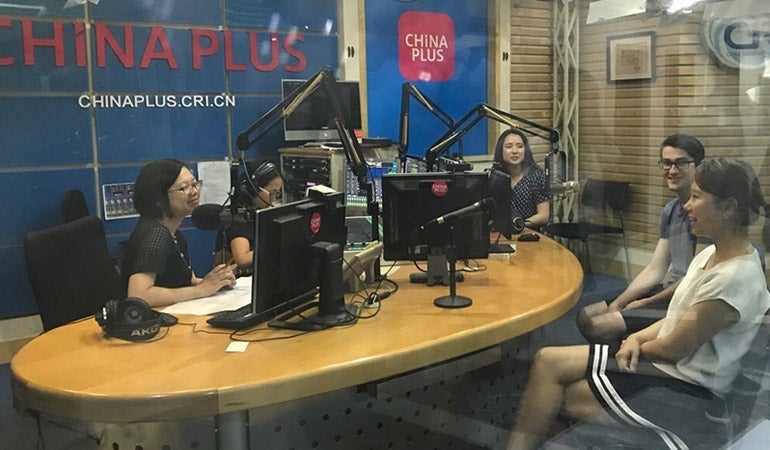 Before leaving Beijing for Hangzhou, a city that is home to Alibaba and Netease as well as important provincial and municipal press groups, the students participated in a conference at the Penn Wharton China Center, organized by Professor Yang in conjunction with colleagues at the University of Wisconsin-Madison and Zhejiang University in China. "The Symposium on Digital Formations and Chinese Experiences: Creation Appropriation, and Circulation" featured 19 China scholars and about 40 other participants, in addition to the Penn undergraduates.
In Hangzhou, PMSC was hosted by the College of Media and International Culture of Zhejiang University. Professors Fangfang Gao and Yu Zhao of Zhejiang presented to the PMSC group on the media scene in Zhejiang province. PMSC students made a presentation on American media to their peers in Zhejiang University. Following their presentation, the PMSC students engaged in a two-hour discussion with students from Zhejiang University on both media landscapes and political attitudes among college students.
Karen Yang found that experience the most stimulating and insightful of the trip. "We explored — in great depth — topics like Western views of Chinese journalism versus Chinese views of Western journalism, the purpose and value of free speech versus censorship, personal views on the future of China, etc," she says.
"The varying views of censorship in different regions and universities are fascinating," says Gene Pak C'20. "There are students that view censorship as important in the way China functions, and there are students that ultimately view censorship as a barrier for further development."
"Our PMSC students were stellar," Professor Yang says. "They were sharp and engaging in discussions and tough and adaptable in managing a foreign environment. Some of them were in China for the first time. They were excited by the challenge to understand differences in values and perspectives on media and society. Just the smartest group I know. I'm so proud of them."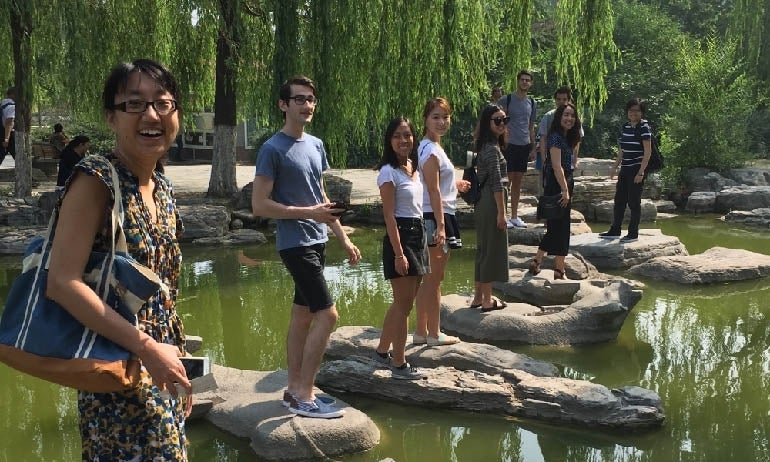 The group also had opportunities to experience China outside of the media. On the way to China Radio International, they stopped at the Beijing Sculpture Park and watched as locals engaged in their morning exercise. Another afternoon, on their way back from Netease, they visited the Summer Palace in Beijing, a site whose history dates back to 1153 and today incorporates lakes, gardens, and palaces. They also visited West Lake in Hangzhou and the tea fields of Longjing Village outside the city.
While in China, PMSC fellows completed an independent research project on an aspect of Chinese media, and they will present their findings at a final capstone presentation this fall.
Other participants in the program include Danielle Goh C'20, Skylar Tang C'19, and Joy Lee C'20, and the group was accompanied by Sociology Ph.D. student Ran Liu, who was the program's Teaching Assistant.
In an ongoing Q&A series on dotCOMM, a blog run by undergraduate Communication majors, the PMSC students are discussing their impressions from the program. These posts will periodically appear through the summer.
Funding for PMSC was provided by Penn Global's Penn China Research & Engagement Fund.
For more photos, check out our Facebook Album. The program will also run in the summer of 2018.